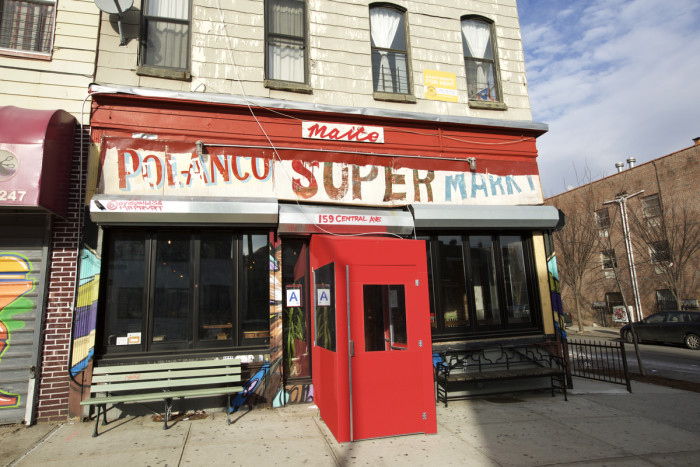 For many New Yorkers, myself included, the Brooklyn neighborhood of Bushwick was long held constant by a certain image of its warehouses. In them, dumpster-diving, sweaty freegans lived in semi-legal semi-squalor, and artists and musicians dwelled in households of ten while making art, chain-smoking and donning endless iterations of cool vintage wear. All that plus a vibrant Latino community, with plenty of options for cheap tacos, were to be found a few stops on the L train from Manhattan. That all may be something of an exaggeration and certainly is built on some stereotypes, but what's true is that Bushwick was certainly not a place where people traveled to eat and drink incredibly well at New Yorker–reviewed, Michelin-starred, Instagram-popular establishments.
Until now. Restaurants, like art galleries a few decades before them, are transforming industrial neighborhoods across America. Downtown L.A., Wynwood in Miami and Pittsburgh have all seen regeneration occur through the arrival of vibrant food scenes. In Bushwick, this trend started with the no-reservations pizza joint Roberta's, which skyrocketed to such fame that it's nearly impossible to get a table with anything less than a two-hour wait. And as of very recently, Bushwick has become home to upscale destination restaurants run by some of the most hardscrabble chefs and restaurateurs, who want to cook in that neighborhood above all because, to them, it feels like home. Some of them have lived in Bushwick for a long time, others once did, and many of them speak of a deep appreciation for Bushwick's art scene, its Latino culture, its raw, industrial atmosphere. Accordingly, each new place has molded itself to Bushwick culture through food, drink and design.
Recently opened is Syndicated, a movie theater showing films for just $3 and serving on-trend gastropub fare as well as creative cocktails. Managing Partner Tim Chung confesses that it was not easy to convince the contractor to keep the large glass windows accenting the high ceiling, one of the only indicators that this massive space was once a warehouse. We chatted while seated at the beautiful marble bar, tasting drinks made by mixologist Kenneth Vanhooser. Both Chung and Vanhooser once lived in Bushwick; in their previous lives they were a film producer and jewelry craftsman and printmaker, respectively.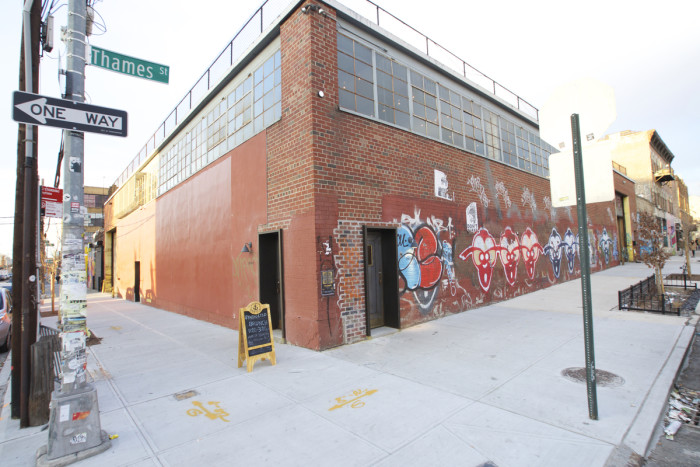 As I sip the "Up in Smoke," a frothy concoction of tequila, mezcal, maraschino liqueur and orange blossom — a display of a current trend in mixology to mix two spirits, as if blending grapes in a wine — Vanhooser explains that his cocktails are meant to be food-friendly, hence the healthy dose of acidity in every drink. But furthermore, Vanhooser also wanted to reflect the "laid-back" attitude of the neighborhood, and so offers "cocktails of a caliber you'd get in a serious bar" while striving toward approachability, not pretentiousness.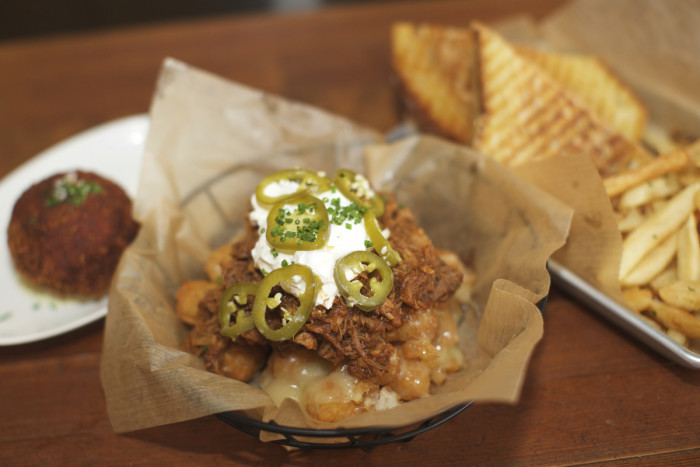 Food at Syndicated is rich, snacky and heavy: duck confit nachos with house-made chips, fried pasta with salty green olives and arugula, beer-battered and fried mushrooms with a buttermilk sauce, and a bacon-butter meatball are highlights from chef Bret Macris. "Bushwick residents are adventurous," Chung says about his choice to open Syndicated here. Chung explains that he wants his cinema-restaurant to feel like a part of the neighborhood, "not a corporate chain" — hence the low prices on food and tickets alike, the cozy booths along the circumference of the restaurant, the brightness from those big windows. Syndicated is where everybody will want to meet friends for happy hour, where cinephiles will feel at home and where innumerable first Tinder dates are bound to occur.
Bushwick, though its boundaries are somewhat blurry and extend into the Queens neighborhood of Ridgewood, is spread out over approximately one square mile. From Syndicated, a ten-minute walk along streets lined with graffiti murals and dotted with industrial workshops will take you to Faro, one of Brooklyn's most talked-about restaurants since husband-and-wife team Debbie and Kevin Adey opened it in 2015. The couple moved to Bushwick about seven years ago, drawn in by the "small-town feel." When they were planning Faro, they envisioned it having a "neighborhood vibe," but more importantly, they "wanted it to be the best it possibly could," says Adey, the chef, house butcher and pasta maker. Debbie, who learned hospitality during her tenure at fine-dining institution Jean-Georges, says that she urges the staff to "treat everyone like a VIP."
High standards like these at Faro have earned it recognition across the city. In the minimalist dining room — no art on the white walls, as if commanding you to focus on the food and your companions at the table — people hailing from near and far snap Instagrams of the simple, fresh bowls of pasta. These are not only handmade; Adey also mills the grain for extra freshness. Adey, who worked for years at another Bushwick stalwart, the restaurant Northeast Kingdom, crafts beautiful meat dishes, working only with pasture-raised animals direct from the farm. Not a single restaurant in the immediate vicinity comes close to this level of artisanship.
"Syndicated is where everybody will want to meet friends for happy hour, where cinephiles will feel at home and where innumerable first Tinder dates are bound to occur."
Two new restaurants lie somewhat "deeper" into Bushwick, and they not only reside on the same quiet corner but are linked by the fact that they are both owned by a female power duo — in one case, mother-daughter, and in the other, life partners. At the three-months-old Le Garage, Rachel Allswang teamed up with her mother, Catherine, a veteran chef and native of France who opened farm-to-table Gallic restaurants in edgy parts of San Francisco in the 1970s. Most nights at Le Garage, you can find the seemingly ageless Catherine in the kitchen, making perfect roast chicken and foie gras dishes with utmost contemporary flair, while Rachel works the dining room. (Catherine, too, will sneak away from cooking to chat up whomever is at the bar.) The feel is reminiscent of a bistro in one of Paris's up-and-coming neighborhoods. With fresh and lively French wine, on-trend cocktails and innovative dishes like the insanely snackable fried panisse, made of chickpea flour, or the perfectly seared hangar steak with duck fat potatoes and béarnaise sauce, you really will believe that you're in the Marais — except this is Bushwick. Don't miss the clafoutis, a signature French dessert, at Le Garage.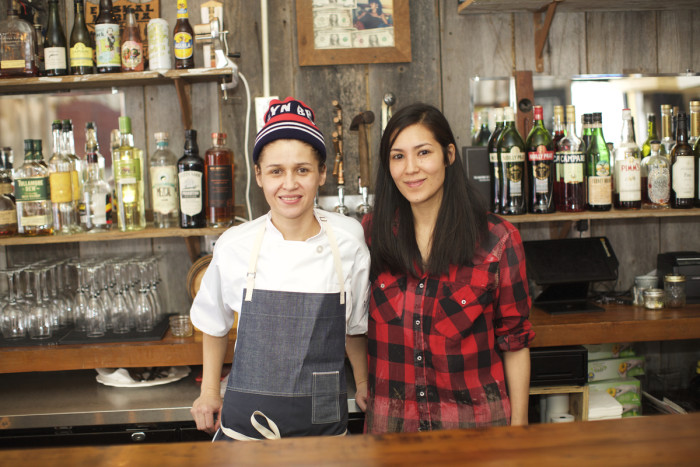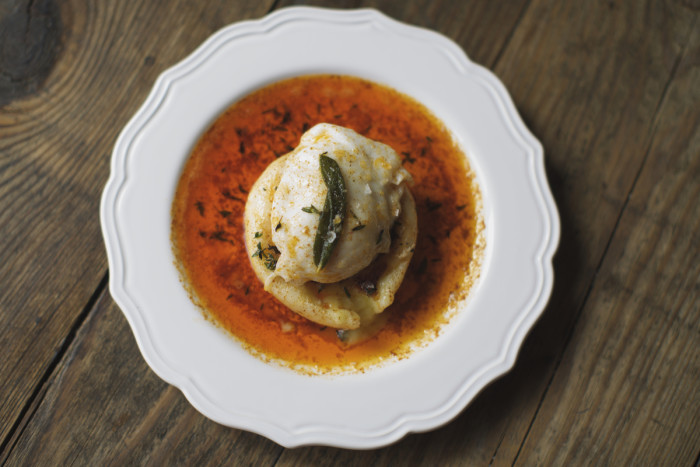 Around the corner, Maite, which debuted in spring 2015, is a Basque/Colombian-inspired restaurant with on-trend cocktails, an eclectic DIY decor, and a welcoming vibe. The food is astonishingly original, featuring dishes that chef Ella Schmidt learned from her mother while also highlighting her experience as the pasta and pastry chef at Il Buco, an acclaimed Italian restaurant in Manhattan. Colombian arepas, unlike their Venezuelan cousins, are topped instead of stuffed; Schmidt serves the cornmeal cakes topped with a duck egg and a buttery Manteca sauce. They pair perfectly with one of the Basque ciders served at Maite. A dish of gnocchi stuffed with taleggio and mushrooms reflects Schmidt's training in handmade pastas; the maltagliati arrives steamy and soft under a rabbit ragu. And Maite boasts one of the most perfectly decadent burgers in town, made from rib eye trimmings and served with a lightly fried Scotch egg that oozes as you push the buns together.
"We wanted Maite to be approachable to everyone," says Schmidt when I meet with her and her life/business partner, Kano Mitchell, to chat about the neighborhood. For them, Bushwick was always an accepting neighborhood, "artsy, Latin, with great tacos," in Schmidt's words. Schmidt designed Maite with antique objects and personal items collected over time. "It's a place where you can be you," continues Schmidt of the restaurant. "Anybody can walk in, have beer and empanadas. Bushwick needed that."
The newest arrival to Bushwick's dining scene is a tiny, unassuming café called Fair Weather Bushwick that is launching a 10-course tasting menu several nights per week for just $65, with craft beer pairings for an extra $30 (and à la carte dining on other nights). Located further out into Brooklyn, near the Myrtle-Wyckoff subway stop, Fair Weather will be way ahead of the curve in that neighborhood, where dining options are basically limited to taco trucks. And chef John Creger is fully aware that Fair Weather will be an outlier, but that's just what he finds exciting. The menu features unexpected flavor combinations like the harissa maple glaze on a slab of pork belly made succulent from 18 hours of sous vide cooking, and deconstructed plates like a bite of grilled clam and bacon chowder, beautifully presented inside a clam shell and topped with trout roe. It's hard to believe, when you try the food, that you're not in Manhattan. But the simplicity of the space, the casual atmosphere, the soft murmur of the train rumbling by — and the low price tag for such artistry — suggest that you couldn't be having this meal anywhere else besides Bushwick.