We're always on the lookout for restaurant news here at Food Republic. And news we often receive — we're constantly pitched on restaurants that have pledged to open their doors in the near future, only to eventually learn about inevitable roadblocks and delays. Such is the unpredictable nature of the restaurant world. We've worked diligently to assemble this short roundup of promising restaurants that we are certain have recently opened for business. Take a look and be sure to reserve your table today!
Now Open
New York City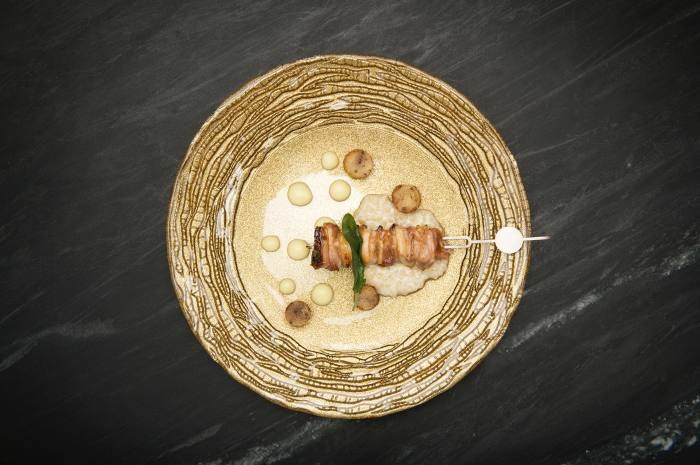 Teisui
The first restaurant of its kind in the U.S., Teisui is designed to re-create the experience of a Japanese ryokan hotel in New York City. At this type of hotel — unique to Japan — guests come primarily to dine, often in their rooms, and to relax and experience nature. The restaurant features a 10-course tasting menu composed of small, elegant dishes that comprise a sensuous experience. Prepared by a highly skilled team of Japanese chefs, the menu has a yakitori kaiseki tilt, with a focus on yakitori dishes. There are secrets and surprises, however, such as a uni royale plate featuring warm egg custard with edamame puree, foie gras and sea urchin; watercress touched with goma-ae sauce, chicken with burdock and King crab; and miso-cappuccino-topped rabbit breast and leg. Other courses may include smoked duck, chicken with Israeli couscous and eggplant, and a seasonal selection of sushi.
The space is both modern and industrial-chic, enhanced by a Japanese architect-designer with grahite tabletops, steel-gray stools and chairs and contemporary lighting fixtures. A 17-seat dark stone counter at the center faces the open kitchen and the sculpted maple wall behind it. The beverage program features an extensive list of more than 100 sakes and wines. 246 Fifth Ave., New York, NY 10001; teisui.nyc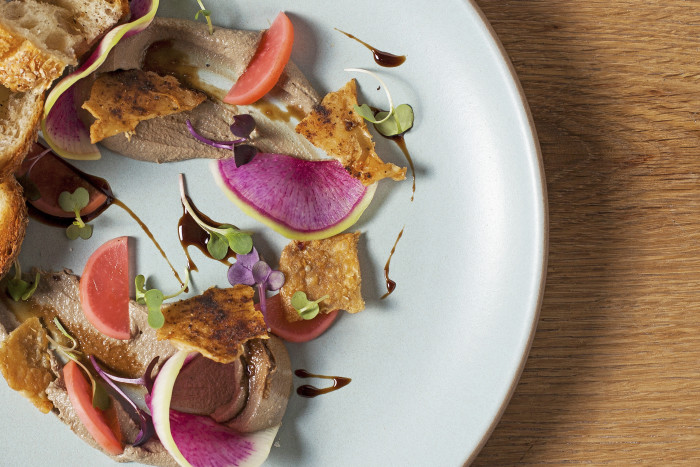 Covina
Tim and Nancy Cushman recently made waves by opening a second location of their critically acclaimed Boston Japanese restaurant O Ya in New York City. Their latest project — opened last week — serves seasonal American fare with Mediterranean influences at the attached Park South Hotel. Incorporating elements from chef Tim Cushman's travels, the menu begins with a "small plates, greens and grains" section featuring a Hungarian fry bread topped with smoked salmon, kefir ranch and fresh herbs. House-made pastas and pizzas play a big role at Covina, with options like house-milled farro farfalle with braised greens, garlic, pine nuts and Parmesan; and salsicia pizza with roasted red peppers, mozzarella and San Marzano. Other entrées include lamb kofte skewers with charred garlic yogurt, sumac, parsley and onion; a whole daily fish with white root puree and celery salsa; and a wood-grilled, grass-fed, dry-aged rib eye served with uni butter.
The beverage program highlights smaller wine producers and lesser-known varietals and bottles, as well as a mix of classic and contemporary cocktail options. 127 E. 27th St., New York, NY 10016; covinanyc.com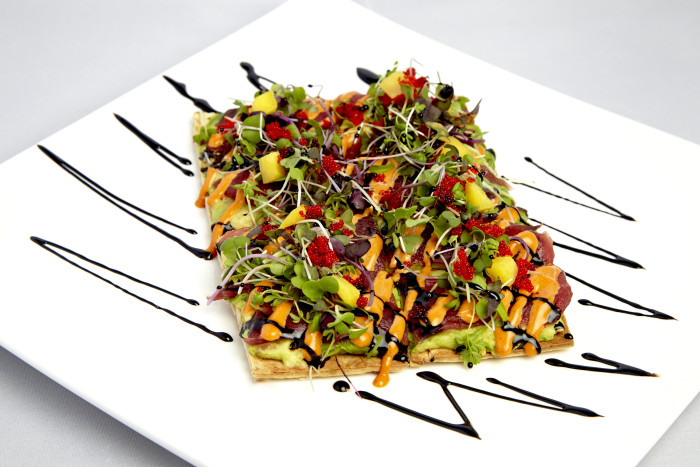 Natsumi Tapas
Many places are quick to describe their food as "fusion," but few are able to successfully fuse two different cuisines. Restaurateur Barbara Matsumara (previously of Haru and Joe's Shanghai) is at the helm of an ambitious new venture in Gramercy, with a menu that combines Japanese and Italian flavors. There is a focus on small plates for grazing and larger plates for sharing. Think green tea ricotta flatbread; meatballs with spicy teriyaki basil pesto; grilled salmon with tomato sauce, olives, capers, scallions and boy choy; shrimp fettuccine with yuzu tobiko in alfredo sauce; and chicken-katsu penne.
The beverage program includes beer, sake, an international wine list and a list of handcrafted cocktails made with fresh juices and purées. 323 Third Ave., New York, NY 10010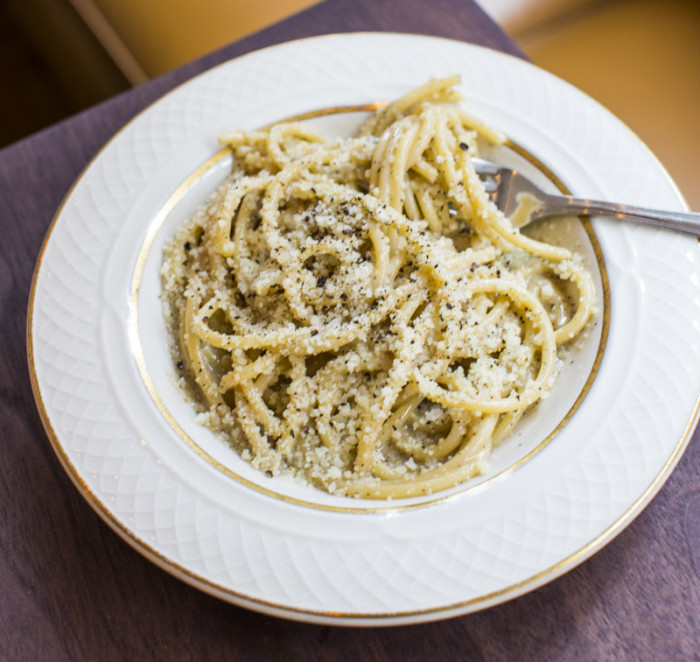 Perla Café
Gabriel Stulman is one of New York City's busiest restaurateurs, building a small empire of neighborhood spots in the West Village. In 2016 alone, however, he has made a number of monumental changes, closing one restaurant and eliminating tipping at another. He's also relocated Perla, moving a few blocks northwest and across from his Bar Sardine. The menu continues to build on changes made last summer, when it went in a lighter, more affordable direction — the Italian-inspired restaurant focuses on everyday-friendly fare that highlights homemade pastas.
The addition of "café" to the Perla name reflects the casual atmosphere that it hopes to achieve, as well as the fact that the restaurant will soon serve lunch and brunch. As with all his restaurants, Stulman designed the new space himself, selecting artwork that includes photography from Sports Illustrated archives and hip-hop portraits. 234 W. 4th St., New York, NY 10014; perlanyc.com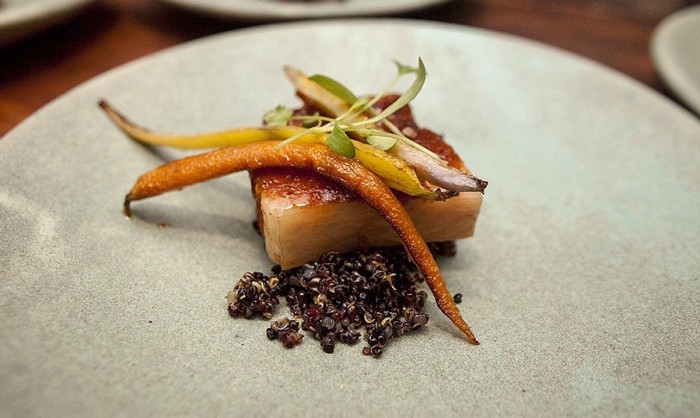 Fair Weather Bushwick
Originally operated as a daytime neighborhood coffee shop, Fair Weather Bushwick officially transformed into a full-service restaurant last night. Chef John Creger honed his culinary skills at Artisanal and Le Cirque and is serving an affordable ($65) ten-course tasting menu during the week, as well as an à la carte menu on Friday and Saturday nights and brunch on weekends. During the week, there will be just one seating at 8 p.m., with the chef presenting each seasonally changing dish individually (the opening menu included deconstructed clam chowder and pork belly glazed with harissa and maple, served with saffron-poached carrots and black quinoa). A more casual weekend dinner menu includes quinoa fritters; potato gnocchi with chanterelles, black garlic, Meyer lemon and gremolata; and beef short ribs with smoked gouda polenta. The intimate brick-walled space was renovated to open up additional kitchen space for the transformation; works by local artists will adorn the walls and rotate monthly. 274 Wyckoff Ave., Brooklyn, NY 11237; fairweatherbushwick.com
Los Angeles, California
Le Relais de l'Entrecôte
Those who have dined at the original l'Entrecôte in Paris (or at one of its several locations worldwide) know to expect a unique experience. Guests are served an appetizer of a simple salad with mustard vinaigrette, followed by a generous portion of steak frites topped with a signature butter-based sauce — the only choice at lunch and dinner is the temperature at which the meat is served (rare, medium or well done — nothing in between). The bistro's silky house red wine is affordable, making it the perfect accompaniment. The L.A. location has been in the works since 2014 and just opened its doors last week, sporting a wood-lined room that is hung with artwork to go along with multicolored tablecloths and its iconic red awning. 8755 Melrose Ave., West Hollywood, CA 90069; relaisentrecote.us
Cape Seafood and Provisions
Award-winning chef Michael Cimarusti (of Providence fame) is opening a shop selling fresh, seasonal and sustainable seafood today in Fairfax Village. The market aims to provide guests with sustainable wild-caught whole fish and custom filets, in addition to a variety of prepared items including house-made stocks and sauces and grab-and-go dishes such as chowder and lobster rolls. Gourmet pantry items will also be available. For those who prefer turf over surf, the shop will also carry natural and USDA Prime steaks and chops from West Coast Prime Meats, which also supplies product to Providence. In addition to daily selections of the freshest seafood available from sustainable fisheries, the market will also sell a selection of "under-appreciated" species of fish, most notably California Groundfish. Cimarusti has always been a strong advocate for sustainable seafood, having testified before Congress in 2014 regarding mindful fishing practices. 801 N. Fairfax Ave., Los Angeles, CA 90046; cape-seafood.com
San Francisco, California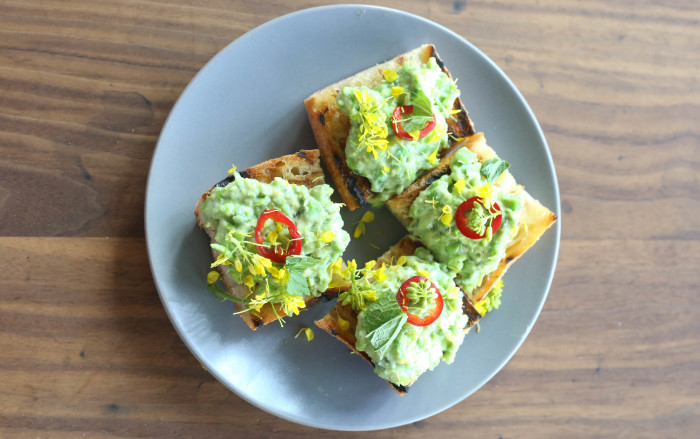 Waxman's
Jonathan Waxman has played a vital role in introducing the country to California cuisine. In addition to running kitchens in New York City, Atlanta, Nashville and Toronto, the Berkeley native has finally put his cooking on display closer to home with the opening of his eponymous restaurant in San Francisco's historic Ghirardelli Square. In keeping with his culinary style, Waxman is highlighting the Bay Area's seasonality and ingredients. Diners can expect an accessible menu of ingredient-driven pastas, wood-roasted farm-stand vegetables, meats and fish, plus fresh salads featuring local bounty. Small plates include Petrale sole crudo with avocado and orange salad; and chicken liver parfait crostini with pickled spring vegetables. Among Waxman's classic pastas are gnocchi with turnips, radishes, Thumbelina carrots and green garlic; and risotto di mare with mussels, squid and Dungeness crab. The entrées section of the menu features wood-roasted steelhead with treviso and romesco salsa; grilled steak with arugula and salsa piccante; and, naturally, Waxman's signature JW chicken with salsa verde.
The wine program is curated by James Beard Foundation Award winner David Lynch and balances an emphasis on California and West Coast producers with eclectic choices from around the world. In addition to 20 wines available by the glass, there are local beers and seasonal cocktails. The impressively designed 6,500-square-foot former warehouse includes original brick walls from the 1890s, double-height ceilings and expansive windows overlooking the plaza and North Point Street. A 60-seat outdoor patio complements a 110-seat dining room with walnut, cypress and redwood tables. 900 N. Point St., #201, San Francisco, CA 94019; waxmanssfo.com
Bethesda, Maryland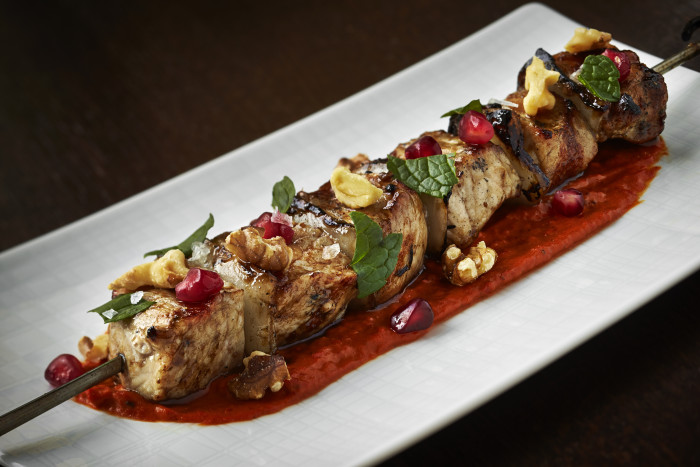 Kapnos Kouzina
Chef Mike Isabella is best known for his restaurants in and around the Washington, D.C., area (and for his frequent television appearances). Kapnos Kouzina marks the chef's first opening in Maryland and an expansion of his Greek concepts, which include Kapnos in D.C. and Kapnos Taverna in Arlington, Virginia. Isabella has turned to executive chef George Pagonis to create a menu centered on home-style, comforting Greek classics with a focus on rustic small plates and shareable platters for two to four guests. Signature items moussaka with roasted eggplant, allspice-cinnamon braised mushrooms and béchamel; charred octopus with beluga lentils, slow-roasted tomato and heirloom carrots; and a range of Greek spreads with flatbread. An express lunch option on weekdays features signature gyros, along with a choice of side and house-made soda for $15.
An expansive bar program highlights a diverse selection of new and Old World wines with a focus on Greece, Israel and the Eastern Mediterranean, local and Greek beers, and classic tipples that include favorites from Kapnos and Kapnos Taverna. The light-filled and cozy dining room features warm honey oak and white-washed wood surfaces and dark olive green accents, seating 160 with additional patio seating. 4900 Hampden Ln., Bethesda, MD 20814; kapnoskouzina.com