How Christina J. Wang Combines Food, Travel And Fashion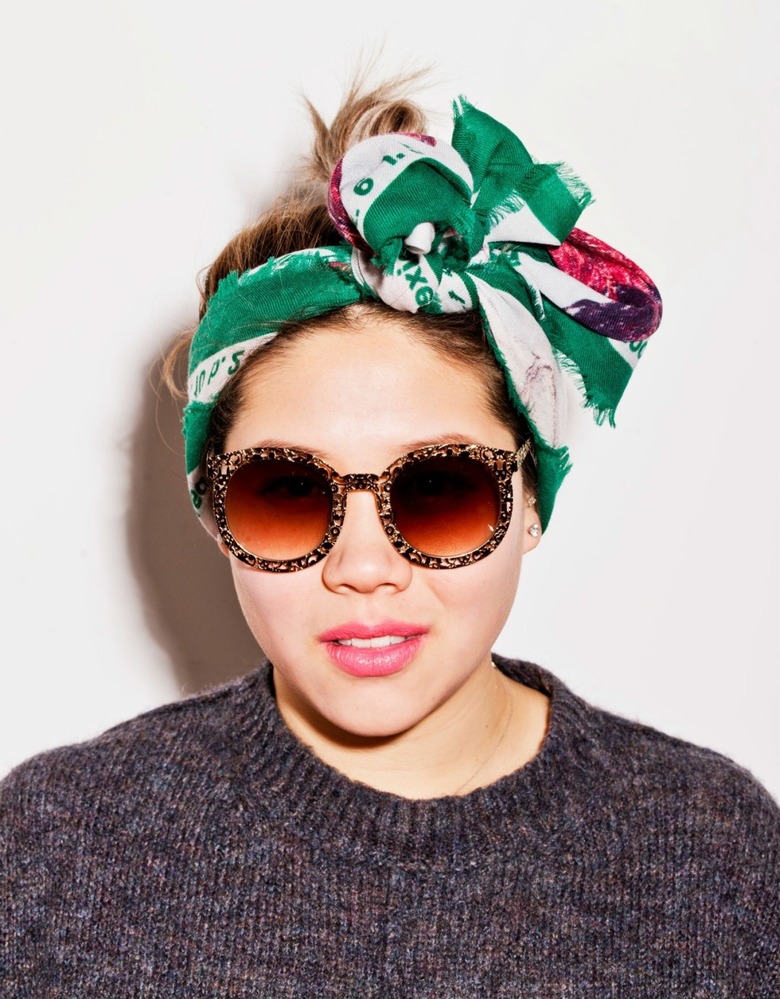 Christina J. Wang's fashionable scarves sum up some of her favorite thing from her travels.
Most fashion designers would never think to put an automated Japanese toilet on one of their designs, but that's precisely what makes Christina J. Wang's whimsical, colorfully illustrated scarves so desirable.
Since launching her line of printed silk, cashmere and lightweight wool scarves in 2014, the New York City–based painter turned designer has produced various limited-edition collections that reveal both a cheeky sense of wanderlust and an expert's insight into a particular city or place. Last December, Wang debuted a special scarf emblazoned with various treats from NYC pastry chef Christina Tosi's Milk Bar. Her latest spring collection, a tribute to Hong Kong, Japan and New York, features a mash-up of quirky cultural symbols and objects — such as the Japanese toilet, or the diverse foodstuffs of Asia's World City — that make the scarves more than just souvenirs, but rather zeitgeist-y depictions of some of Wang's favorite things. "That's important for me in every scarf and everything I do, for it to have an authenticity and personal connection behind it," explains the 29-year-old designer.
We spoke with Wang, who was on vacation skiing in Chamonix, France, about the genesis of her brand, her new spring collection, travel and foods she really can't wait to get her hands on once she's back in NYC.
What are you doing in Chamonix right now?
I come here to ski. I've been coming here since I was a child — we have an old family friend who lives under the mountain. I definitely try to spend as much time during the winter skiing. It's one of my favorite places to go.
Your line of scarves developed out of your work as a painter. Is there a correlation between the two mediums in terms of subject matter?
There's 100 percent correlation, I'd say. The scarves are really a manifestation of the art, mostly paintings of objects, of things that I love, things that I encounter in my day-to-day life that capture my attention and delight. I used to paint the interiors of cakes — a Momofuku Milk Bar cake used to be one, with all the different layers.
Are any of the scarves prints of your earlier paintings?
The early purpose of the scarves was to bring attention to my art, so I was thinking of using my paintings to turn into prints, but as I was starting to do them, I realized that really wasn't my proper creative "scarf" voice. It took me a little time to arrive at that point. I was actually at an artist's residency at Vermont at the time. It reminded me a lot of boarding school because it was very cold; I couldn't go anywhere. So I started drawing all these foods that I really missed and wished I could eat. One day I did an artist's visit and we talked about my scarf project on the side, and she said, "Well, have you thought about using some of your casual drawings as part of the designs?" So I thought, maybe these are more than just "desire doodles." It's a faster drawing process. It's more immediate, so it has a more playful quality than the paintings.
Are scarves a major part of your own wardrobe? Were they before you launched your line?
Scarves are to some extent part of everyone's wardrobe. You need them out of necessity. The reason why I started with scarves was, I did not have a fashion background. With scarves, I feel I have a pretty good understanding of what makes a great scarf. It's got fewer moving parts so it's easier to start from a business standpoint. It's not as complicated. There's no fit issues; there's no sizing issues. In hindsight it made a lot of business sense why I chose scarves, but at the time it just felt like a very natural product I gravitated toward because the 2-D nature was very similar to painting.
Your newest collection (spring 2016) pays tribute to New York, Hong Kong and Tokyo. Why those three places?
I'd say those are my three most favorite cities in the world. This season was about favorite places, and the idea of going on an adventure to places you might consider your extended home. Hong Kong was where I was raised — I was born in Hawaii — for my formative childhood years, and my family still lives there, so it's my given home. And New York is my chosen home. And Tokyo and Japanese culture is something I love and enjoy visiting a lot. In general, with the scarves and any design, I try to impart a little bit of expertise...or things I know and have a little bit of insight into. That's important for me in every scarf and everything I do — for it to have an authenticity and personal connection behind it.
How often do you travel?
I probably travel three to four months away from New York, throughout the year. There are places I'll go for long periods of time — like Hong Kong, when I go back to see family and friends. And Chamonix, I go for a bit longer. And now I'm very lucky with work, because we started trade showing in Paris, so I can go there too. I travel with my family on vacations, and I travel with my fiancé on trips, so I do get a good amount of travel in, and I like to justify now that it's a part of the work — a part of the creative process. I always bring my colored pencils with me everywhere I go, so wherever I am I can sit down and draw prints.
Where are you off to next?
I'm going with my fiancé to Hawaii. His company is taking them on a retreat to Maui, so I'm going along for that, too. I'm excited to do something a little different, and not have to plan it. I can just show up and roam around and enjoy the sunshine. I was born in Hawaii, so it's always great to go back.
So many of the prints on your scarves are references to food. Are you missing any NYC foods right now?
So many things. Right now I really want to eat sushi. I love Brushstroke in Tribeca. Also the attached joint, Ichimura, I really love. The food is very decadent, but at the end you don't leave feeling very heavy. It's very flavorful, but also very clean. I love Roberta's in Brooklyn. Actually, I love their non-pizza items more than the pizza. I live right across from Chelsea Market, so that's probably where I eat and shop for the bulk of my food. I love the taco stand inside Chelsea Market, Los Tacos No. 1, and also in my neighborhood Rocket Pig makes these awesome pork sandwiches. The Chinese food down Chinatown at Oriental Garden is pretty high on the list.
As of right now, not thinking too much about any French foods. I had some pretty spectacular French food while I was in Paris, and some more down-home French cooking while up in the Alps. I'm ready to get back into my New York routine and New York foods for sure. And also, I really miss making my own smoothies in the morning. It's a little embarrassing how much I miss having them.
What do you love at Oriental Garden? We're always looking for good Chinatown recommendations.
Oriental Garden is more seafood-driven. They have this Canadian king crab that's live, and then they steam it with a little garlic and ginger, and it is out of this world. Most of the crab you get is frozen and thawed, so there's this saltiness to it. But when it's live-steamed, it is just so sweet and so delicious. I'll warn you — it's a pricey crab, so you should get a couple people to go, because it's also really big. That's actually how I met my fiancé — trying to get myself a free crab dinner. Somehow I got myself invited to this dinner to eat free crab, and that's how we met.
CJW x Milk Bar — $178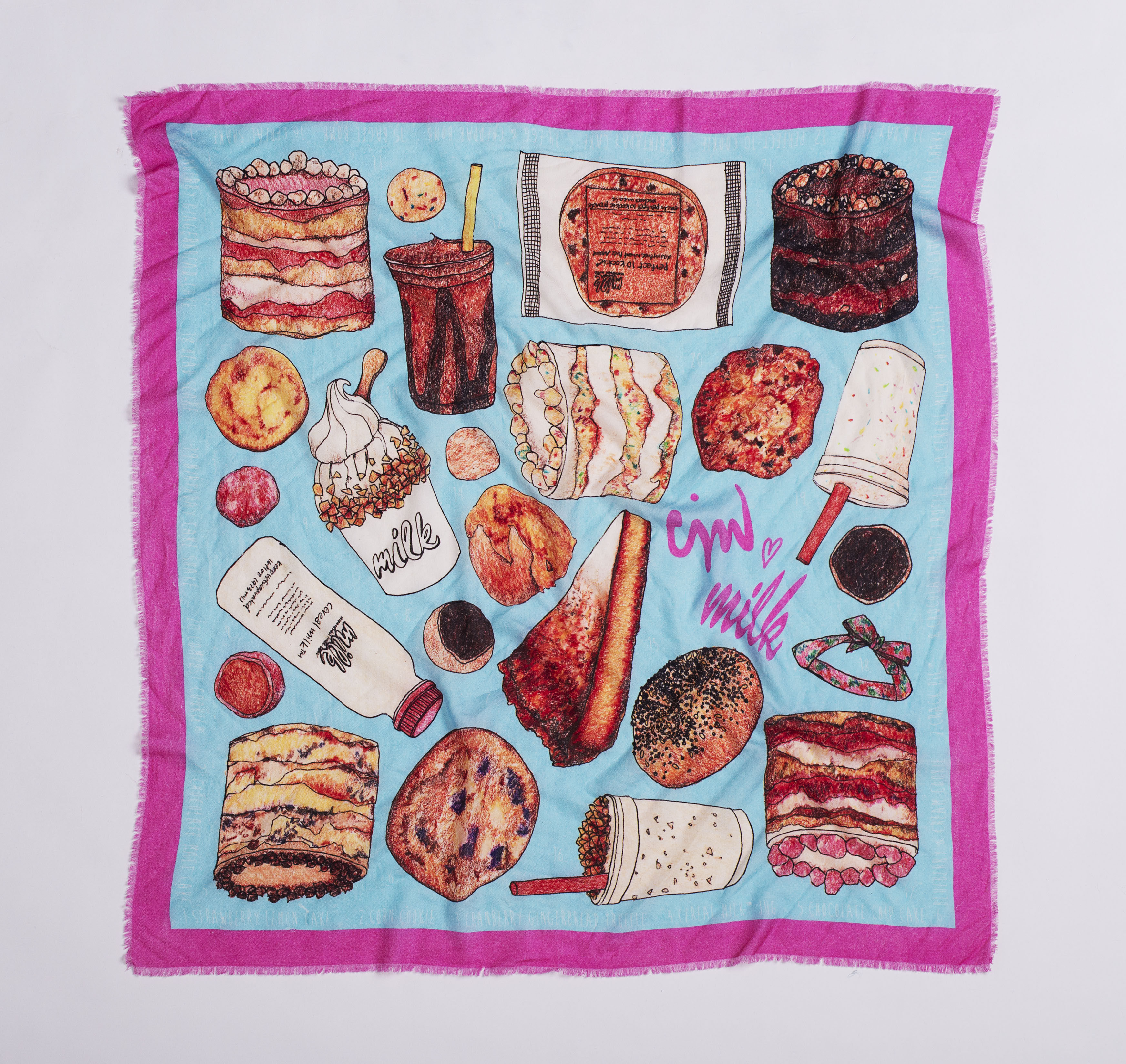 The cjw x milk bar scarf combines artist and designer Christina J. Wang's love of food and fashion with milk bar chef, founder and owner Christina Tosi's delectable creations, creating the perfect accessory that can be worn in a multitude of ways. made from 100% Australian featherweight wool, the cjw x milk bar scarf looks and feels delicious.
S/S Produce — $250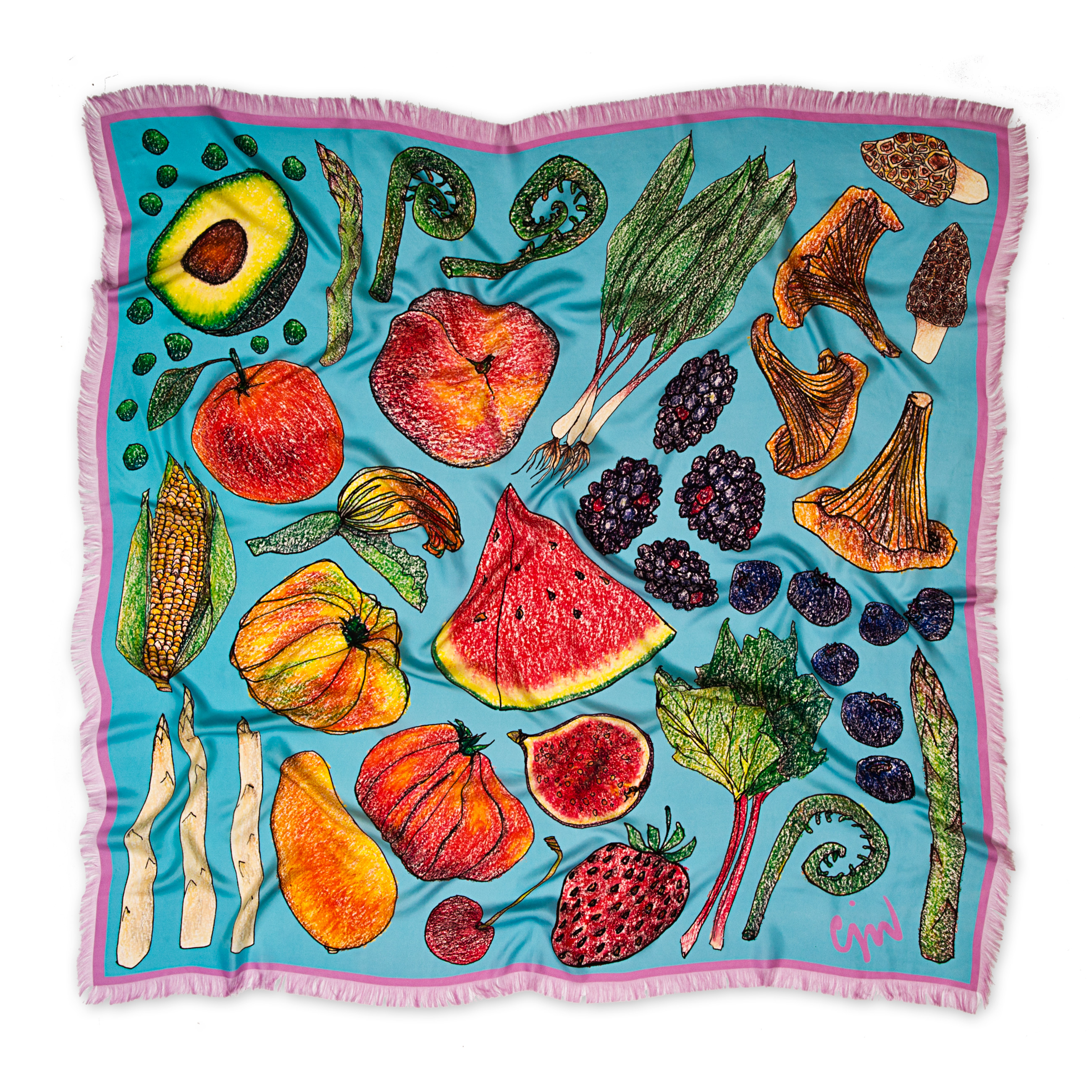 Made of 100% twill silk. This style includes all of Christina J. Wang's top produce picks for Spring.
Tokyo — $225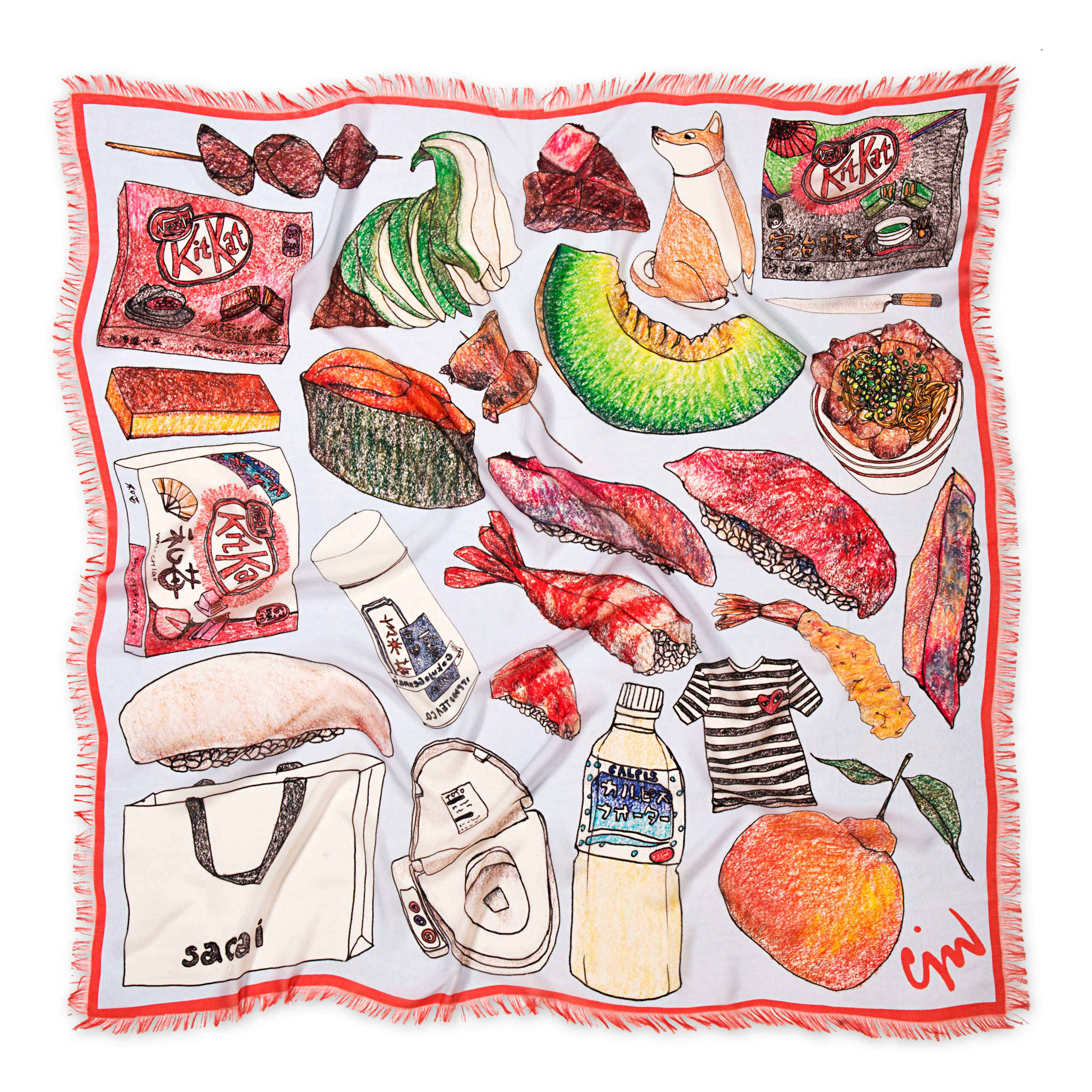 Made of 100% chiffon silk. The tokyo scarf includes all of Christina J. Wang's favorite items that she purchased in Tokyo on one of her many travels.
Chocolate Fudge Cake Mini — $175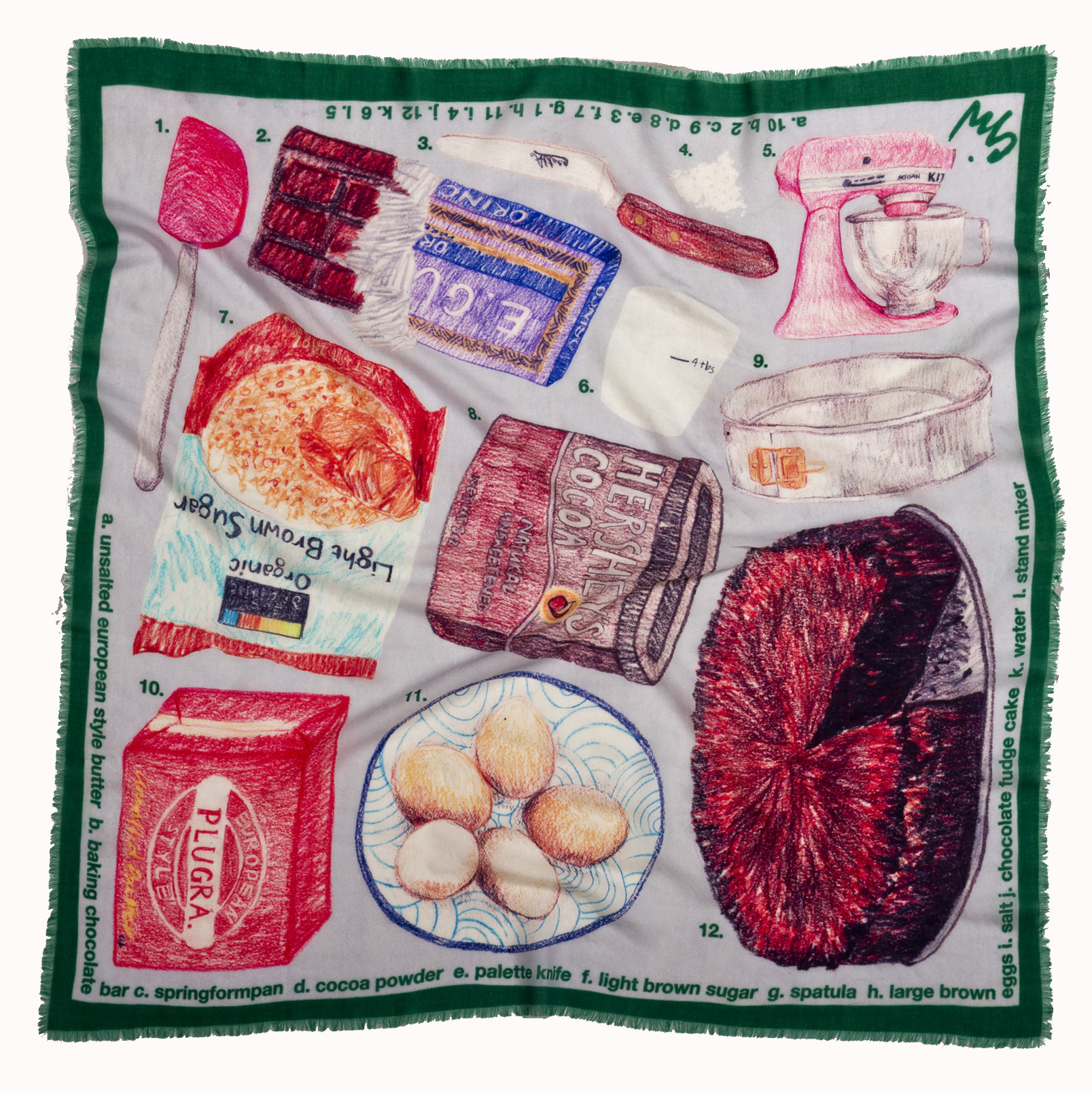 The chocolate fudge cake scarf is based on all 13 ingredients it takes to make an Ottolenghi chocolate fudge cake.
Hong Kong — $225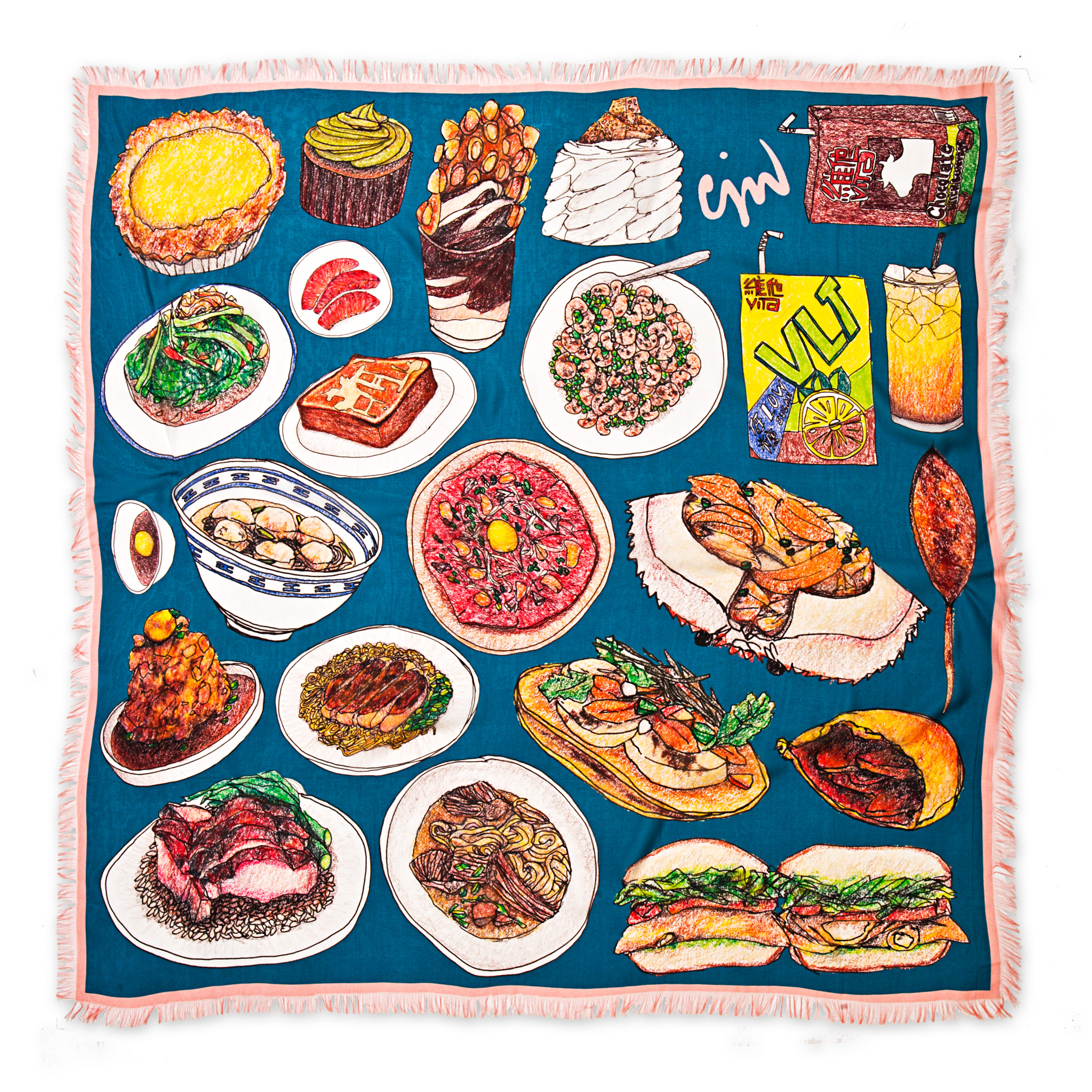 Made of 100% chiffon silk. This style features all of Christina J. Wang's favorite dishes from her native homeland, Hong Kong.