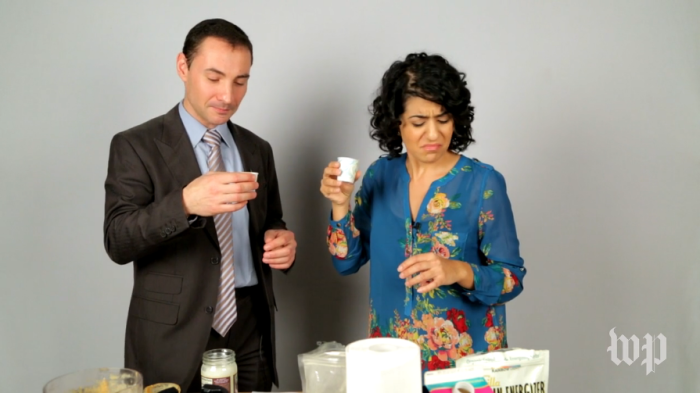 Gwyneth Paltrow, actress, healthy-lifestyle connoisseur and a person who seems to always have some sort of beef with homemaking goddess Martha Stewart, recently posted a recipe for a morning smoothie on her site, Goop, whose ingredients will run you a cool $200. (The recipe actually puts "smoothie" in quotes. What are you trying to tell us here, GP?)
In a recent video, Washington Post reporter Elahe Izadi did the journalistic thing and asked Dr. Mikhail Kogan from George Washington University's Center for Integrative Medicine about the ingredients in the "smoothie" and taste-tested it with her colleagues. Kogan generally said a lot of stuff in there is useless or "doesn't make sense" in the form of a "smoothie." One of the ingredients, a Chinese medical herb called he shou wu, has even been blamed for five cases of liver failure.
Upon tasting the peculiar potion, Izadi says, "It tastes like gas station coffee that's been sitting out for four hours and is a little cold."
The video continues with a series of taste reactions, most of which were scrunched-up, confused and concerned faces.
Washington Post employees described the cup of goop as "pureed puppy dog food" and a "dirt smoothie." One person said, "This tastes like if gray was a food."
Check out the silliness below.