Ever go to a dinner party and think to yourself, "What this gathering really needs is some spirited political discussion" before remembering that such interactions rarely end well? Do you happen to have a crush on a fellow politically inclined guy or gal, but just don't know how to make your feelings clear?
Then worry not, fellow news pundit: Washington, D.C.–based chocolatier Harper Macaw and graphic design studio Design Army have collaborated to create the Political Collection, a limited series of six delicious and rather opinionated boutique chocolate bars with visually striking packaging that belies the imaginative flavors inside.
Conceived as a way to bring a little sweetness to politics and to highlight the talents of D.C.'s quietly dynamic creative scene, the collection is a well-considered series of chocolates that playfully runs the gamut of U.S. political sensibilities, with complementary flavors to match Design Army's trademark wit on the packaging.
Thus, the GOP's Red State bar is a mix of conservative dark chocolate and red berries, wrapped in a depiction of a capitalist white elephant attired in a raspberry-studded smoking jacket. The Democrats get a Left Wing bar, with a diverse blend of Harper Macaw's painstakingly sourced dark chocolate combined with liberal lashings of hazelnuts and a wrapper design evoking the left's ongoing campaigns for equal rights.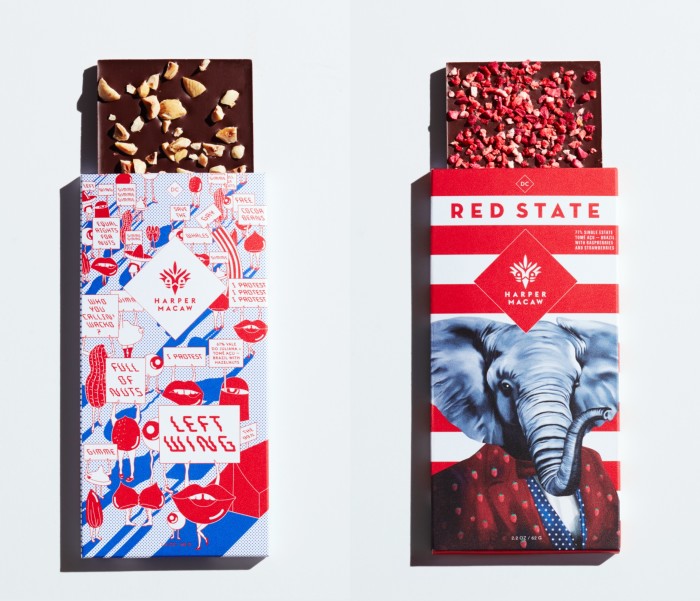 Beside the two main parties, others are also represented spectacularly. The Tea Party's gorgeous whaling boat design gets the chocolatier's signature 74 percent single estate Vale do Juliana cacao infused with Earl Grey tea, while the frankly delicious sounding Flip-Flopper bar gets a blend of dark milk chocolate with butter toffee and sea salt, for a flavor that switches between sweet one moment and salty the next.
The collaborators even managed to poke fun at themselves with the Taxation Without Representation bar, depicting the sentiments of long-suffering D.C. dwellers who still a lack a single voting member of Congress. It's a bitter 85 percent dark chocolate bar studded with the tart bite of cocoa nibs.
This isn't the first time the companies have teamed up. While the well-established Design Army has been representing D.C. since 2003 (having worked with the likes of the Washington Ballet and Lucasfilm), newcomer Harper Macaw looked to the veteran studio when designing the packaging for its first bars, a visual knockout and an endearing representation of the chocolatier's vision of turning chocolate into a force for tropical reforestation.
The duo has even launched its own campaign to get others involved with politics, with a #votechocolate hashtag making the rounds. You can pick the chocolates up at Harper Macaw's store or order online starting this week.