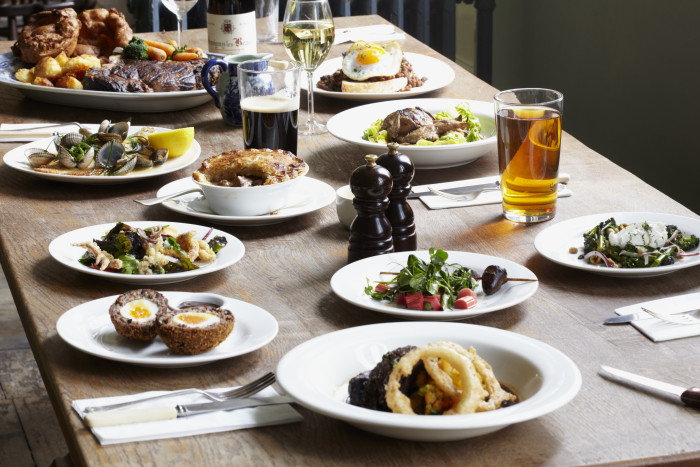 You'll find a few geezers down London way looking to have a good ol' moan about posh nosh taking over the slap-up pub grub of days gone by. But for many of the other 8.5 million Londoners, the proliferation of gastropubs across the capital has been gobbled up with glee. Kicking off the eat-the-whole-animal revolution, these food-focused drinking dens have upped the quality of food in England to such a degree that even the French would probably agree that British cooking has legitimately found its footing at an international level. To find out what the fuss is about, pop in for a pint and a bite at some of London's best boozers for food: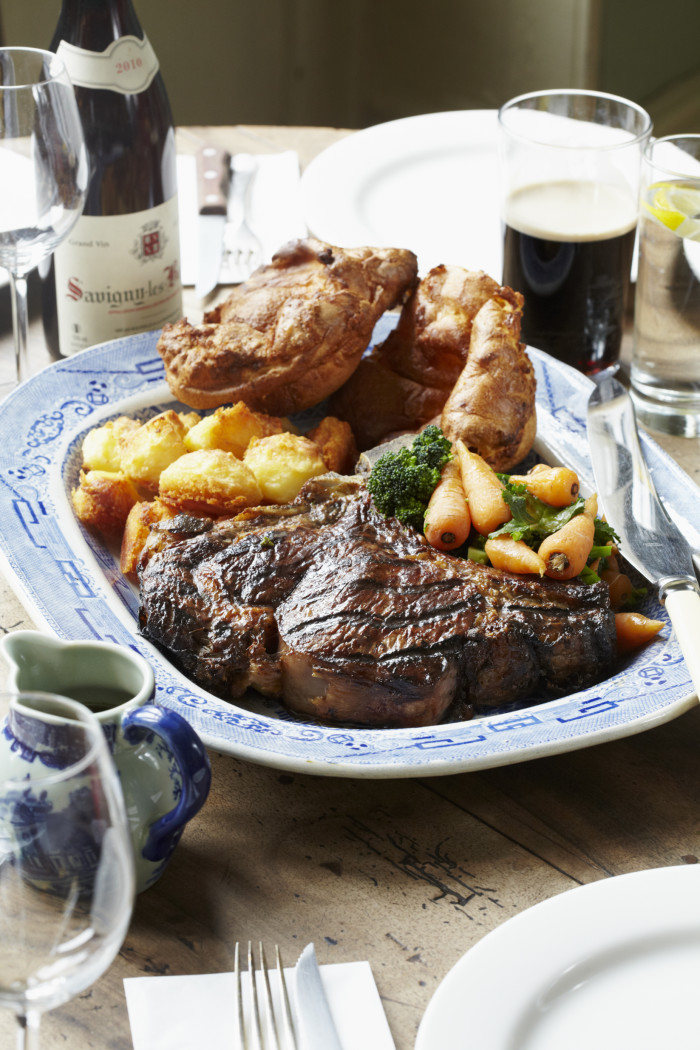 The Drapers Arms — Islington
Improving on the cookie-cutter gastropub formula is no cakewalk. Try too hard in this genre and you'll be chalked up as "just another restaurant" in no time. The very concept grew from long hours, humble home cooking and salt-of-the-earth customers.
Inventive beyond the boilerplate, the Drapers Arms walks this line with apparent ease. The place doesn't just serve wine — instead, twice a year, the proprietors invite you to "drink the list" so you know exactly what to order when you tuck into their suet crust pig's cheek pie (where 50 pence goes to Action Against Hunger). Nor do they just serve offal — they created Glandstonbury, a festival in its honor, with a name that hat-tips another of Britain's great loves.
You won't get traditional fish and chips or sausage and mash, but simplicity is key, with a menu loaded with interesting fish dishes, exotic nose-to-tail cuts and hearty sharing plates featuring whole chickens and ribs of aged beef.
In true gastropub style, ingredients are local, seasonal and ethical, but what ends up on your fork isn't there because of a producer's sales pitch. The Drapers Arms' staff digs deep and gets to know the backstory behind everything they proceed to home-cure, pickle or pop on your plate.
"The quality of what you can expect and enjoy across London is so good," says owner Nick Gibson. "If you want integrity behind the scenes and fun and generosity of spirit front of house, you have to really mean it." 44 Barnsbury St., Islington, London N1 1ER; +44 20 7619 0348; thedrapersarms.com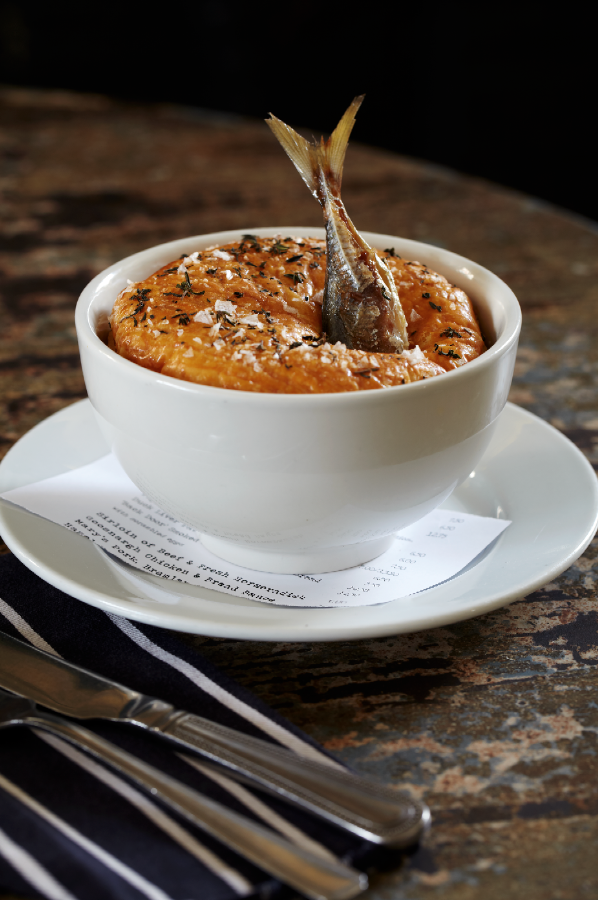 Parlour — Kensal Green
The Not-in-Hill? signature cocktail tells you almost everything you need to know about this well-kept Kensal Green secret. The operators know how to have fun, are obsessed with all things "local" (there are 32 British beers, 11 from London, behind the bar) — and while chef-owner Jesse Dunford Wood made his name in Notting Hill's the Mall, Parlour is definitely Not-in-Hill, hidden neatly off the tourist track in residential Zone 2.
"The locals are very protective over the place," says Wood — which probably ups the recommendation stakes even more than the place's new Michelin inclusion.
Regulars breeze in here for reimagined English classics, including favorites like Mary's pulled pork with a savory apple crumble and crackling, which comes glazed in scrumpy cider and just the right amount of humor to make it the best of British. Even Mary is the real deal — "a lovely woman from Somerset who drives all the way to London each week to deliver us half a pig."
"Some gastropubs are basically a restaurant in a pub building," says Wood. "I like the everyday-ness of what we do. It's very accessible — as a pub should be, you can drop in anytime."
Anytime, that is, except for when Wood serves up his chef's-table dinners, which are booked two or three months in advance. Well worth the wait, these legendary dinner parties have even gone viral with their dessert theatrics. 5 Regent St., Kensal Green, London, NW10 5LG; +44 020 8969 2184; parlourkensal.com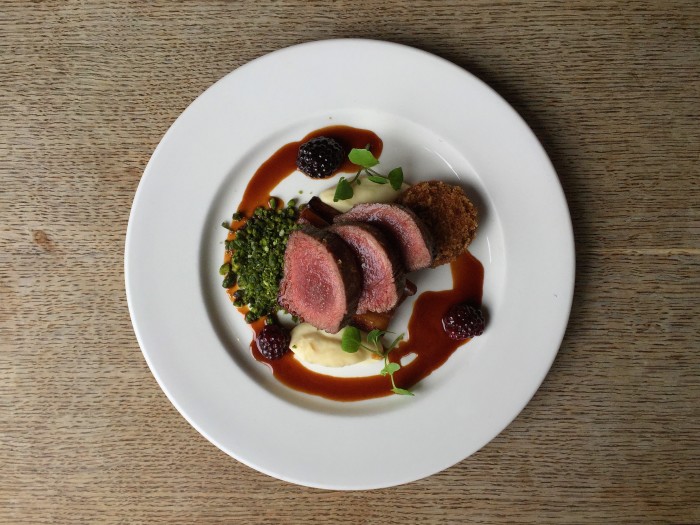 Bull & Last — Highgate
One hundred and twenty covers may not sound relaxed, but after climbing the ranks in restaurants weighed down with Michelin stars — including a heroic four-year stint with TV chef Richard Corrigan — Ollie Pudney could probably have sleep-cooked the Bull & Last into becoming the award-winning pub it is today.
Take a sojourn here to find fine dining beautifully dressed up in hunting-lodge clothing. "I don't think there's anything massively different about ours compared to any other British menu," says Pudney. "We wanted to create something more relaxed, where the chefs come to work in T-shirts, aprons and clogs."
But dishes like roast English venison, celeriac puree, game kromeski and a salsify and pistachio crumb speak for themselves — with further proof to be found in puddings like dark chocolate mousse with Italian blood orange and sorbet.
Fish and charcuterie boards fly out of the kitchen daily thanks to their generous portions and high notes such as duck prosciutto ham (cured in house), home-baked bread and mackerel home-smoked on a bed of chamomile flowers.
Pudney describes his menu as "British with a French and Italian influence." But with a chef from Nobu now on board, you might see the odd Asian highlight sneaking through. 168 Highgate Rd., London NW5 1QS; +44 20 7267 3641; thebullandlast.co.uk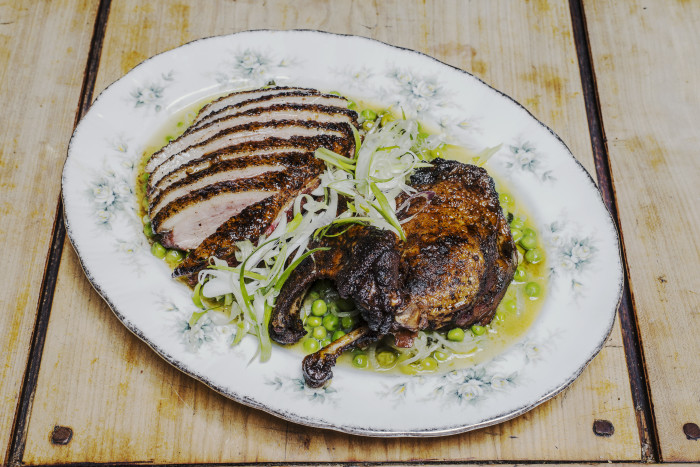 The Camberwell Arms — Camberwell
Success breeds success, as the saying goes — and that's certainly true of former Anchor and Hope prodigy Michael Davies, whose two-year-old venture already pulls punters from all over London and has managed to scoop up an Observer Monthly award for its Sunday roasts.
Join the weekly pilgrimage to his luxed-up version of this big old South London Victorian boozer for sharing plates loaded with fire-roasted chicken, Hereford beef forerib or slow (seven-hour) roasted Saltmarsh lamb.
Pitch up any other time of the week and start with the famous pork fat and Scotch bonnet on toast. You can follow Davies around the world with a taco pork pibil and the Asian-influenced double neck chop, Tokyo turnips, spring onion, sesame and ginger. Or make room for Brit-inspired comfort fare, like rolled brisket, mash, beetroots and horseradish finished off with a sticky toffee pudding. If you really want to go wild, have an Anglo-American holiday fling with donuts, rhubarb and clotted cream before you roll home. 65 Camberwell Church St., Camberwell, London SE5 8TR; +44 20 7358 4364; thecamberwellarms.co.uk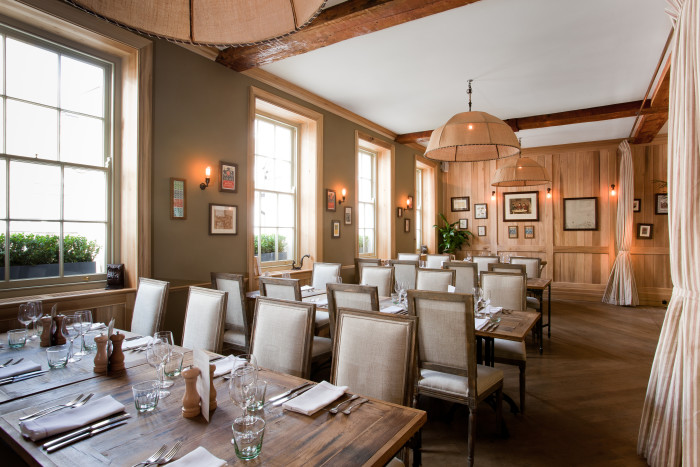 The Grazing Goat — Marylebone
Amid the hustle, bustle and drizzle of Oxford Street, where traffic roars and the populous fight their way past nasty tourist chains and overpriced coffee shops, is exactly where you'll most crave a stylish, unpretentious pub lunch. It's also the place you're least likely to find one.
So stumble upon the incongruously cozy wooden-clad bolthole that is the Grazing Goat and you may well wonder if you're dreaming. Check out the awards — best pub from Harden's, three stars from the Sustainable Restaurant Association and a Catey for being one of the U.K.'s best employers — and the mirage theory seems even more plausible.
But the joyful reality is the Grazing Goat is a bona fide inner-city godsend with some of the best pub grub the city has to offer and a revolving door of exotic local craft beers and rare organic and biodynamic wines to match.
Dishes feature, for the most part, local, sustainable, organic ingredients bought from small British producers. The Sunday roast comes highly recommended — there's a full breakfast menu (a real novelty in the pub world) — or come for lunch to enjoy the crispy-skinned glory of traditional roasted pheasant, sweet potato dauphinoise, kale, bread sauce and pomegranate jus.
Wind down your day with a venison loin and pie, white pudding, savoy cabbage, chestnuts and bacon jus for dinner, or ask for something from the dedicated rotisserie and grill menu. For pudding, plump for the Yorkshire rhubarb, white chocolate and cashew macaron or mandarin and brown sugar "baked Alaska," and you'll probably find yourself booking a room at the hotel just to have a little lie-down. 6 New Quebec St., London W1H 7RQ; +44 20 7724 7243; thegrazinggoat.co.uk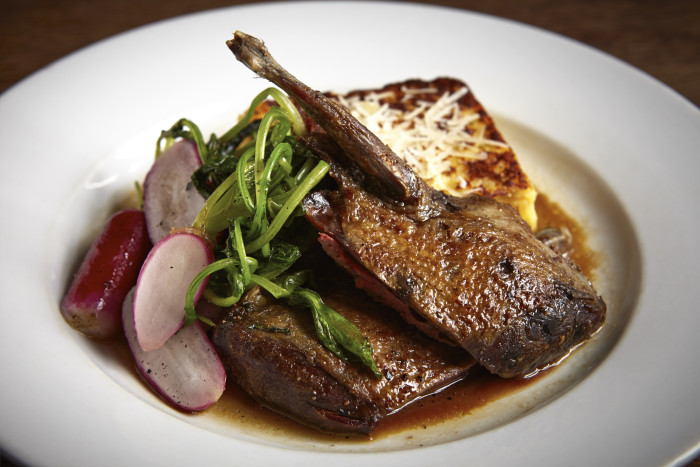 The Anchor & Hope — Waterloo
Famous for whipping up some of South London's finest nose-to-tail cooking for more than a decade, the Anchor & Hope is fast becoming an institution. Maybe it's the high-maintenance pre- and post-theatre set (from the nearby Old and New Vic) that keeps the staff on its toes, or head chef Jonathan Jones's dogmatic work ethic, but locals and visitors still tumble out of here raving about the food in as high numbers as they ever did.
The first-come, first-serve policy does sometimes mean a wait but keeps things refreshingly pubby and fair all around, while the worker's lunch menu offers great value during the week. When you do manage to nab a table, you can be sure to find robust smoky flavors shot through the menu in apps like baked vacherin on garlic toast, salsify, celeriac, chestnuts and flower sprouts. The international flair shines through in dishes like slow-roast lop porchetta, fennel, chickpeas, rocket and thick yogurt and creative combinations like salad of raw romano courgettes, sea salt, blood orange and olive oil. If you're looking for something flavorsome but simple, there's plenty that conforms to a "less fuss, more charm" formula here — try the romanesque cauliflower, buttered almonds and Parmesan.
While most well-regarded London gastro-haunts have since followed suit, the Anchor & Hope was one of the first to put sustainability and ethics as high up on the agenda as flavor and can lay claim to a generous slice of the pioneering glory for the way London's eating habits have changed. And hearing Jones talk through the sweat and smarts needed for three chefs to indulge 150 people a night, it's clear that his pioneering passion hasn't waned one bit — a fairly awe-inspiring achievement considering he's already cooked his way into London's culinary history books. 36 The Cut, London SE1 8LP; +44 20 7928 9898; anchorandhopepub.co.uk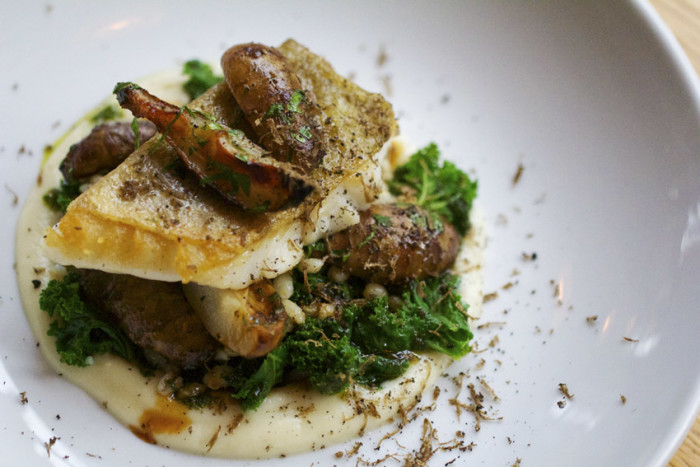 The Empress — Hackney
With two prized AA rosettes, a Michelin bib and five stars from Time Out in just three years under head chef Elliott Lidstone, the Empress is clearly doing its best to impress.
The menu isn't extensive; then again, it can be slightly worrying when it is lengthy. But among the five main courses, you'll always find one vegetarian and one fish option.
In pubs mostly focused on the meat-lovers renaissance, these can sometimes end up being an afterthought, but the Empress neatly bucks that theory with creative twists in dishes such as cod, charred onion tabbouleh, salsa verde and monk's beard. Even the bar snacks are innovative, with far-out dishes like cod tongues and spicy aioli raising eyebrows here and there.
That said, the menu takes a clear turn back to the cookbook classics for dessert, where chocolate cake, mango sorbet and passion fruit or the prune and almond tart will leave you rounder, jollier and ready for a nightcap on the town in trendy East London.
Having morphed into one of London's hippest areas, Hackney draws an interesting mixed crowd. But what's really refreshing here is that you don't need deep pockets to relish this pub's success. Drop by on a Monday and you can fill your face for a tenner, Tuesday is BYO (bring your own bottle) night, and if you sign up on the website you can be first in line to hear about the regular Frugal Feasts where three courses are yours for £20. 130 Lauriston Rd., London E9 7LH; +44 20 8533 5123; empresse9.co.uk