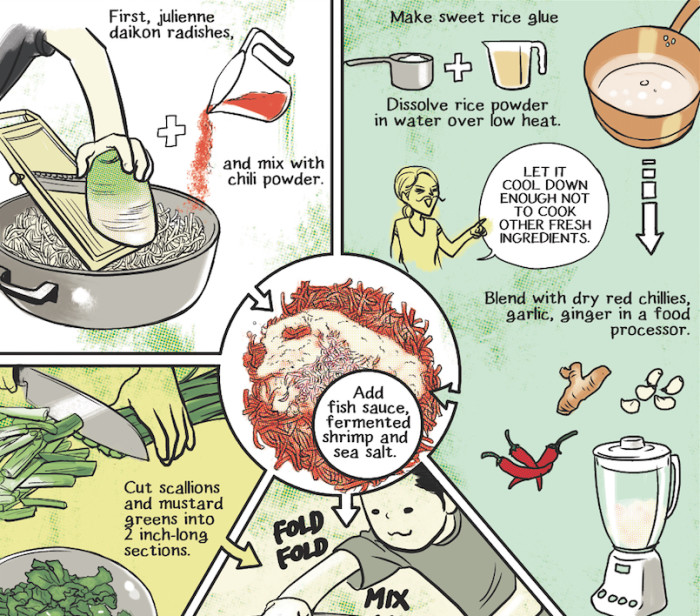 Brooklyn-based artist June Kim draws food, and not just any food — the cuisine that has impacted her life most. Whether it's pasta in Little Italy in the Bronx, the adventures of a ramen master in Manhattan or even the hot, flaky offerings of her local empanada truck, Kim takes inspiration from the delicious nature of life in the city.

"I'm a storyboard artist by day," says Kim. "It was after reading comics like Cooking Papa and Iron Wok Jan that I tried cooking for myself as a teenager, but I had never thought of creating food comics until more recently. I've started playing around the subject: first with fiction, inspired by Michael Pollan's writings, and then with short essays, all under the title Sporks! New York is abundant with great topics, and I went with whatever excited me at the moment."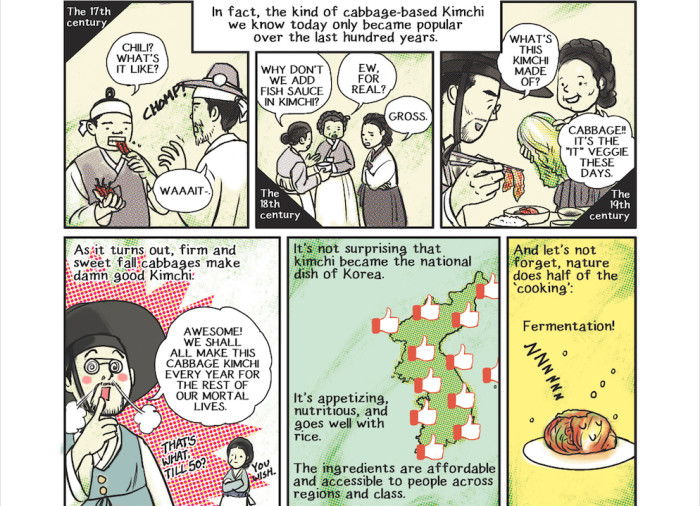 Known to all Koreans is the history, science, culture and importance of the kimchi-making season, specifically, Kimjang Day, a day in the fall when family, friends and neighbors all team up to get this complex, time-consuming process under way in order to have plenty to last through the year. It's a social occasion, one to collectively celebrate this fundamental staple of Korean cuisine, and one that signifies you're a responsible adult who can provide for a family that can consume a lot of kimchi.
"When I was drawing Kimjang Day, I had to do lots of research so that I could explain the complexities of kimchi in the simplest way possible to people who are not at all familiar with it," says Kim. "I don't like wordy comics, so editing out all that fascinating information was challenging. Even though only about 10 percent of what I learn from researching a topic ends up on the page, I love the process as it gives me a whole new appreciation for the subject."
Break out the rubber gloves (you'll need them!) and try out Kim's family recipe for yourself. Obtain the following ingredients and gear, peruse the detailed illustrated process on her website (plus tips on how to cook and eat this tangy, pungent, spicy treat) and see how the story unfolds.