Where To Eat In Bushwick, Brooklyn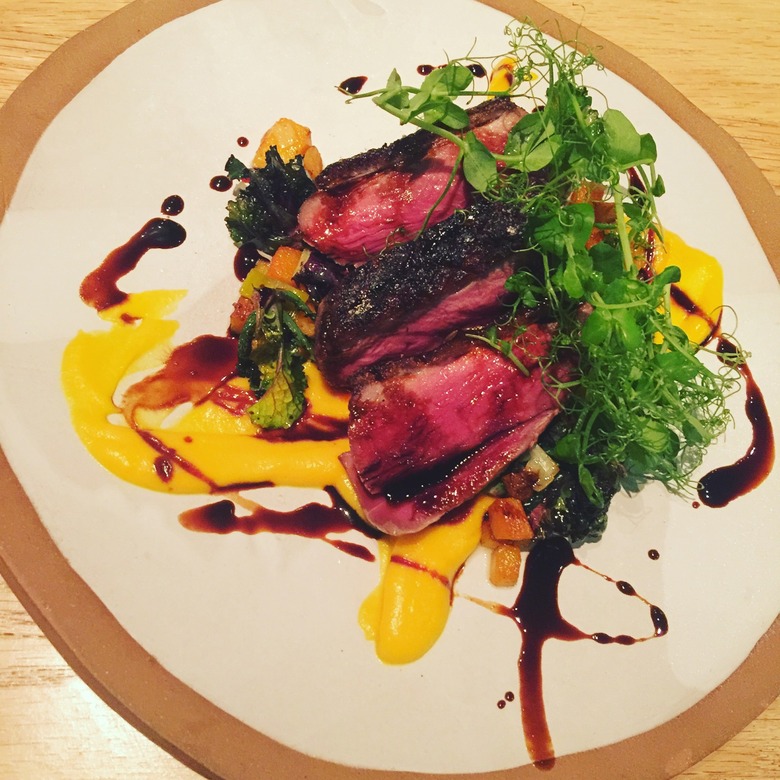 Faro's dry-aged duck breast with farro is hard to resist.
New York pastry chef Pichet Ong grew up in Thailand, Hong Kong and Singapore. He has toured the world extensively in search of the best things to eat (many of them on the sweeter side of the flavor spectrum). Here, he examines one of the hottest areas in all of NYC: Bushwick, Brooklyn.
Brooklyn has long been home to small-batch product startups, from fashion to food, art to handicraft. Chef-driven restaurants are the norm for many neighborhoods, like Park Slope and Williamsburg — and now we can add Bushwick to that list. Before it became the photogenic and hip neighborhood weknow today, the area was mainly known for manufacturing plants, industrial warehouses and auto shops, with a highly diverse population, including sizable Latin American and Caribbean communities. Now, with Brooklynites spilling out of nearby Williamsburg and transplants coming from neighboring Queens as well, Bushwick is geographically the ideal destination for city folks seeking a cool place to hang out and eat good things. While the secret is already out about Bushwick standbys Roberta's, Momo and Blanca, here are some newer ones to discover:
Maite
Maite is a labor of love for both partner Kano Mitchell and chef Ella Schmidt. The Basque-inspired menu with Colombian influences features many dishes I could easily have every day, such as empanadas, duck egg with arepa and manteca colora, maltagliati with rabbit ragu, lamb chop with quince jam, or burrata on toast with squid ink. Chef Schmidt was formerly pastry chef at popular Italian spots Al di La and Il Buco. As such, she is skilled in both pasta and of course desserts. For something different, try the dulce de leche with Straciatella cheese and granola and panela. 159 Central Ave., Brooklyn, NY 11221; 718-366-3090; maitebushwick.com
Le Garage
Stepping into Le Garage can be a transporting experience, whether it's because of the music, the hospitality of owners Catherine and Rachel Allswang, or the aroma of the food. The mother-daughter team own and operate many restaurants in Paris, including La Laiterie. Here in Bushwick, many neo-French bistro classics can be found on the menu; I went with the mother's suggestion of their specialties: foie gras torchon, radishes with sesame salt, pork shoulder braised in milk and ending with a lemon mille-feuille, which came deconstructed. 157 Suydam St., Brooklyn, NY 11221; 347-295-1700; legaragebrooklyn.com
Montana's Trail House
If you're like me and into all things Americana, including a country-heavy playlist and a lumberjack-chic design scheme (salvaged wood, axes and taxidermy), you might like Montana's Trail House instantly. Beyond that, the food, which is oddly described as "Appalachian comfort food," is solid — think fried chicken, kale salad, pot pie, and brisket — and in expected Bushwick fashion, designed to go with serious handcrafted cocktails. 455 Troutman St., Brooklyn, NY 11237; 917-966-1666; montanastrailhouse.com
Cafe Ghia
Brunch is so good and fun at Cafe Ghia that the restaurant does it all week long. There are many egg options, but one can also get sandwiches, mac and cheese, or a killer grass-fed burger. In a city with a serious shortage of breakfast-driven restaurants, there should be more places like this. With only 25 seats, be prepared to wait on weekends. Deal alert: On weekdays, coffee is free for everyone. 24 Irving Ave., Brooklyn, NY 11237; 718-821-8806; cafeghia.com
Foster Sundry
Every neighborhood deserves a gourmet grocery like Foster Sundry. This store would easily be a hit in any part of the city, but for me, having it in Bushwick with smaller crowds makes it even more special as one can take time to peruse the carefully procured merchandise. In addition to a nice selection of cheeses, owner Aaron Foster also carries pasture-raised meats, excellent coffee, and fine small-batch products and seasonings that one can use when cooking at home. I have yet to return for sandwiches — can't wait! 215 Knickerbocker Ave., Brooklyn, NY 11237; 718-569-8426
King Noodle
This seems like the ultimate hipster restaurant: psychedelic in decor, loud electro-pop music, with past menus that were all over the map. Now with a focus on Southeast Asian noodles and a street-food theme, one can opt for laksa or nasi lemak with lamb and sambal. Spam fried rice, mapo chili tofu smothered fries and the fabulous tiki cocktails remain — and of course the dizzying array of lights so perfect for several selfie moments. 1045 Flushing Ave., Brooklyn, NY 11237; 718-456-6543; kingnoodlebk.com
Okiway
With Japanese imports being the hottest NYC commodities at the moment, I'm quite surprised we haven't seen a proper okonomiyaki joint in the city. While newly opened Okiway may seem more like an izakaya with some of its typical offerings, the Osaka-style pancakes here are excellent, with some traditional selections and localized combos such as pulled pork bbq and "Mexican" with guacamole and chorizo. As you like it, but always the okiway with Kewpie! 1006 Flushing Ave., Brooklyn, NY 11237, 718-417-1091; okiwaynyc.com
Syndicated
Fancier movie theaters with reclined seats that serve food are popping up all over the country now. At Syndicate, the only cinema in Bushwick, there is also a restaurant with a menu beyond finger foods. Much of chef Bret Macris's cooking is seasonal hearty American fare, like buttermilk fried chicken, salads, popcorn tuna with maitake, and apple bread pudding with bourbon maple glaze. This could be a one-stop date night — with dinner and a movie. 40 Bogart St., Brooklyn, NY 11206; 718-386-3399; syndicatedbk.com
Faro
This is easily my favorite new restaurant, not just in Bushwick but in all of NYC. Husband-and-wife team Kevin and Debbie Adey put so much care into every detail of Faro, and it shows. Most elements are locally made, including the furniture, the plates by Sarah Ritz and, naturally, the ingredients, such as wheat from upstate that's milled in house. Everything on the wheat-heavy menu is a standout, but hard to resist are the bucatini with chicken confit, candele with boar ragu and dry-aged duck breast with farro. The menu changes frequently, so I usually mix and match something familiar with something seasonal. 436 Jefferson St., Brooklyn, NY 11237; 718-381-8201; farobk.com