This Malaysian Restaurant Is Serious About Coconut. Very Serious.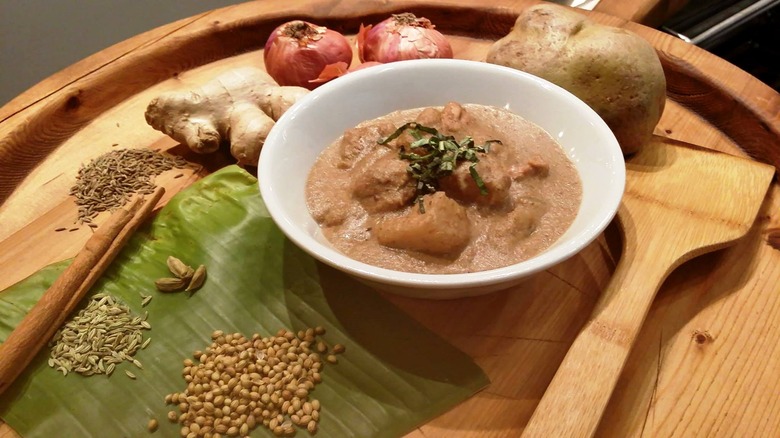 There's no questioning the workhorse nature of the coconut. Its water is a purported hangover helper, its milk an intrinsic ingredient in countless curries, and its shell serves as both a tropical cocktail vessel and a makeshift bikini top should you find yourself on a desert island. But at Saté Kampar, a new Malaysian saté specialist in South Philadelphia, owners Ange and John Branca are fully embracing trunk-to-top coconut cooking.
"The flesh of coconut is used to make coconut milk, we drink the water, we use the flesh for cooking, the outer husk is used for gardening, and the shell that's inside the husk is used for charcoal," says Ange, breaking down Malaysia's multifaceted love for the fruit.
Skewered meats and Kuala Lumpur–style coffee and tea drinks make up the majority of the menu at this sleek BYOB set up in a former takeout beer spot, but it's the humble coconut that serves as the backbone of the operation. The kitchen is outfitted with a custom-made saté grill that's fired with coconut charcoal imported from Malaysia. Bright green dwarf coconuts from Florida line the bar, ready to be cracked for sipping, and nearly all of the items on the menu employ the fruit in one form or another, whether it's the handwoven coconut leaf pouches for steaming a rice dumpling called ketupat, or just sprinkled over kerabu, a salad of river herbs and vegetables.
Composed of Malaysian home-cooked classics and coffee shop drinks, the menu at Saté Kampar is designed to educate with eye-catching graphics and in-depth explanations. That's because the food that Ange is focusing on here is fiercely traditional, made up of rarely seen recipes from her childhood, when she cooked with her mother, grandmother, cousins and a slew of aunties.
Ange's career in international business landed her in Philadelphia back in 2000, but re-creating the food she was raised on was always a serious side gig. During her downtime from her jet-setting corporate life, Ange would host dinners for Malaysian students at Drexel and Penn who missed the flavors of home. "We're so far away from home," she says. "It's not like we can just go tomorrow— it's a really long trip."
---
"Even though there are Malaysian restaurants here that get close to getting that authentic flavor, we go further to get the right ingredients to get flavor to make it taste like home."
---
In a roundabout sort of way, it was homesickness that inspired Ange to open Saté Kampar. After moving to the suburbs of Philadelphia back in 2000 without the comfort of friends and family, Ange decided that she needed a hobby ("I don't go to bars," she says) and ended up at a rock-climbing gym, where she met John, who was running the facility at the time. The two hit it off (both on and off the rock wall) and after their first visit to to Ange's motherland, they began talking about opening their own spot.
"It started quickly after John's first trip to Malaysia," Ange explains. "He tasted the food, and I was surprised, but he really loved it. And when he came back here, he felt just as homesick as I did. We both started to crave the food. I'd cook at home, but we both wished that there was a really authentic place, the sort of spot that transports you back to Malaysia. We kept saying someone should do it, and one day we said maybe we should do it since no one is doing it."
The couple came across a prime piece of Passyunk Avenue real estate and began renovations, breaking through the back of the building to install a hood to contain the coconut smoke from the grill-centered open kitchen. But for Ange, re-creating the recipes etched in her memory was where the real challenges arose.
"There were many phone calls, many trips back home and a lot of WhatsApp calls in the middle of the night," Ange says. The issue didn't lie with the recipes themselves — Ange had been cooking the same dishes with her family for as long as she could remember. The issue was sourcing ingredients.
Fish from the South China sea has an inherently different consistency from those caught in Atlantic waters, charcoals from hard woods burn differently from those made of coconut shells, and while tamarind might be a passable substitute for gelugor, there's really no comparison when it comes to the sour nature of the fruit of this rainforest tree.
Ange is the first to admit that she drove her purveyors crazy in pursuit of the perfect mackerel for her otak-otak nyonya, a steamed fish soufflé with kaffir lime and betel leaves. She chased down coconut charcoal to import after realizing that all charcoal is not created equal, and each one of her sambals is made in house with spices ground to order. Coconuts brought in for drinking are a Malaysian dwarf variety grown on stubby trees in South Florida. Skewers of saté are marinated in delicate (and protein-appropriate) spice blends, rested and carefully cooked so that the unique aromatics entice in a fully sensory fashion. She brings not one but three varieties of ginger into the kitchen, the knobby common rhizome, rosy galangal and the small, aromatic sand ginger.
But it's the ketupat, a tamale-esque rice dumpling steamed in a handwoven coconut leaf packet, that best embodies Ange's allegiance to authenticity. "I've been trying to teach people how to make it, but it's not easy. Even in Malaysia it's not easy to find people who can make ketupat because weaving those baskets is a dying art. Most of the time you'll find ketupat that's boiled in plastic bags," she says.
For now, she's the only one at Saté Kampar with the skills to weave those little baskets, limiting the production to about a dozen a day. But for Ange, the endgame is all about preservation of recipes and techniques and not production.
"The reason I have it on the menu is just to try and preserve the art and to try and get people interested," she says. "Once we stabilize our operation I can try and get people to learn about it. I would like people to come and volunteer their time to weave the baskets."
Just shy of a month into the operation, all of that painstaking sourcing, grinding and weaving is paying off, and Saté Kampar is beginning to achieve that transportive dream that the Brancas began with.
"The flavor brings you home," says Ange. "Even though there are Malaysian restaurants here that get close to getting that authentic flavor, we go further to get the right ingredients to get flavor, to make it taste like home. And a lot of the Malaysian and Indonesian customers have mentioned that it takes them home. I'm so happy to do that because that's the trouble that we go through."
Saté Kampar
1837 E. Passyunk Ave.
Philadelphia, PA
267-324-3860