What Is Jackfruit And How Do You Cook With It?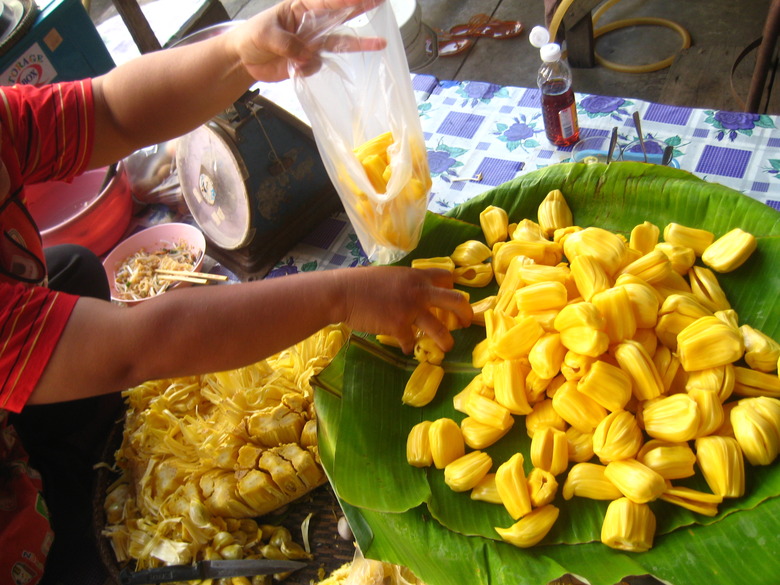 We may receive a commission on purchases made from links.
Even the most die-hard produce lover might be intimidated by the magnificent jackfruit. It is the largest tropical tree fruit in the world — each one can weigh up to 100 pounds. Both the flesh and juice have been used in numerous culinary applications, and modern-day preparations range from chips to ice cream to fake meat. In its green form, it's a vegetarian's dream, and the ripe, yellow fruit is delicious solo or in desserts. Play with jackfruit in the kitchen and surprise your guests with the fruit's subtly sweet flavor that smacks of banana, peach, tangerine and mango.
Where It's From
You'll mainly find jackfruit in India, the country where it's believed to have originated. Despite its roots, the name "jackfruit" isn't exactly a Hindi word. Most likely the fruit got its name from the Portuguese jaca. You will also find it under the monikers chakka pazham in Southern India, kanun in Thailand and nangka in Malaysia.
Jackfruit traveled from Asia to markets in Europe around the 1700s, then made its way west after a French ship bound for Martinique was captured in 1782. This vessel ended up in Jamaica, and the plant was an instant success — it's grown on the island today. Most of the samples you'll find in the North American markets come from the Caribbean and occasionally Florida.
Jackfruit falls in the Artocarpus family, a group that also includes the mulberry, breadfruit and fig (which are kind of odd relatives when you think about it). After all, the mulberry and fig are such tiny things when compared to the monstrous jackfruit, and from the outside, they have almost nothing in common. When sliced, however, all of these fruits share a certain gooeyness.
The ingredient is slowly gaining popularity in the States. As more people look to replace meat in their diets, hearty fruits and vegetables that can mimic the texture of chicken or beef have started finding their places in the culinary scene. Outside forces are also trying to increase consumption of jackfruit, especially in poorer areas that need more food. Last year, in an attempt to feed more people and strike interest in this giant fruit, the University of Agricultural Sciences in Bangalore, India, held a symposium. It might not be the most popular fruit on the market, but don't be surprised if you start seeing it more and more on menus and in grocery stores.
When It's In Season
You can find jackfruit coming out of Florida and Jamaica in the late summer and early fall. In Asia, the season runs from mid-spring to late summer, all depending on the weather patterns.
What To Look For
Chef Rhonda Baird of Natural Epicurean Academy of Culinary Arts in Austin says the nuances of the ingredient are due to the different packaging you can get it in. Buy it whole and raw if it's available, or you can find it pretty easily in a can. "I have personally found the young canned jackfruit in brine works best for cooking savory dishes," says Baird. As for the fresh jackfruit, simply peel and prepare it raw. For the most part, you will find fresh jackfruit at Asian markets or at Whole Foods stores in most major cities. Canned jackfruit in brine or syrup is in most specialty shops as well as Asian, Indian and Mexican markets. Another type to look for: vacuum-packaged versions both plain and marinated.
How To Store It
Once cut, fresh jackfruit can be stored in a container in the fridge for about a week, depending on how ripe the fruit was in the first place.
How To Prepare It
"I think the best thing about cooking with jackfruit is its versatility," says Baird. "You can use it as a pork or chicken replacement, and it holds up well to long marinating times."
To start, if you are using packaged or canned jackfruit, rinse it really well under water and drain it completely. If you're cutting into a fresh one, Baird suggests donning some heavy-duty gloves to protect your hands from the prickles, and make sure to have a sharp knife lubricated with coconut oil. Why coconut oil? Given that the inside of a jackfruit is extremely sticky, the oil will protect the blade. As a bonus, the small, soft seeds, which are found in both the canned and raw fruit, are totally edible, and you can cut them up with the flesh.
"I tend to make savory dishes with canned jackfruit because that's what it lends itself to the best," says Baird. "You could easily salt and pepper it and sauté it with a little oil, onions and garlic and add it to soup, stews or salads."
One of the things Baird likes to do with this versatile fruit is whip up savory vegan carnitas (recipe below). "I think the texture of jackfruit looking so much like pulled pork is also a nice visual cue as to what you will be eating," she says. "With vegan and vegetarian food, it's a constant battle of creating not only something that tastes good, but also providing a texture profile that resembles the food you are trying to re-create." She also uses the fruit to make "chicken" and as a "meat" in chili.
Of course, you can eat jackfruit raw, too. Fresh fruit can be firm, with a pleasing crunch to the flesh, and overall it's not too sweet. Slice it into salad, add it as a topping to ice cream or just pop the tasty fruit in your mouth for a quick, easy and healthy snack. If you have the canned version, it also goes well on desserts or mixed with other fruits. You can use jackfruit in place of pineapple or mango; it pairs with the same meats and offers a similar tropical flavor. Think kebabs, on the grill, topping a pizza or even in a casserole.
Jackfruit Carnitas
Use as a taco filling, top off a bowl of rice or stuff into a burrito. Once you have these made, you can do anything with your creation.Adapted from Vegan Eats World by Terry Hope RomeroIngredients
1 20-ounce can of green, brined jackfruit
2 teaspoons chili powder
1/2 teaspoon ground cumin
½ teaspoon ground coriander
1 teaspoon sea salt
2 cups pineapple or orange juice
1/4 cup water
2 heaping tablespoons tomato paste
2 chipotle peppers in adobo, finely chopped
4 garlic cloves, peeled and minced
1 shallot, minced
2 tablespoons soy sauce (or tamari for gluten free)
1 tablespoon lime or lemon juice
1 tablespoon maple syrup
2 teaspoons liquid smoke
2 fresh bay leaves
2 tablespoons vegetable oil or coconut oil
Directions
Drain the jackfruit wedges and rinse with plenty of cool water.
Use your fingers to pull apart the pieces into shreds. The more you shred the jackfruit pieces, the more carnitas-like it will look.
Put the jackfruit pulp into a mesh strainer and push and squeeze the pulp to remove any liquid. This will help the jackfruit absorb the marinade.
Place the jackfruit pulp into a large mixing bowl and add chile powder, cumin, coriander, and salt. Use your hands to rub the spices into the jackfruit and set aside.
In a large bowl, whisk together the pineapple juice, water, tomato paste, chipotles, minced garlic, minced shallot, soy sauce, lime juice, molasses, liquid smoke, bay leaves and oil.
Add the jackfruit and massage the liquid marinade into the the pulp. Make sure it's well coated. Cover and refrigerate at least eight hours, overnight is best.
Using a Dutch oven, heat to medium-high heat. Pour the jackfruit and the marinade into the pot and cook for 2 to 3 minutes, until it's heated through.
Reduce heat to low and simmer the jackfruit for 50 to 55 minutes, partially covered. Make sure you stir occasionally so the sauce doesn't burn on the bottom. When it's done to your taste and a little crispy, and the sauce has evaporated some, turn off the heat. Remove the bay leaves before serving.