What is the current state of natural wine? That question was exhaustively (and exhaustingly) answered on the last weekend of February, when the Big Glou wine fair launched at the Wythe Hotel in Brooklyn. The hotel's event room, a cavernous brick rectangle decorated with large mirrors that make it look bigger still, hosted a hundred winemakers over the course of two days. Four rows of tables formed two long aisles, along which throngs of eager tasters flowed like corpuscles through a clogged artery. A charming vaulted basement room lit with chandeliers (and with more mirrors) held about a dozen more wineries that couldn't fit in the main space; based on the crowds packed down there, they didn't suffer any lack of love.
Lee Campbell, wine director at the Wythe and organizer of the Glou, was visibly relieved that all her hard work had paid off so handsomely. "I'm in a great place now," she beamed. "A couple days ago? Not so much." Severine Perru is wine director of the Ten Bells wine bar, which hosted the second day of sister fair Vivent Les Vins Libres on Monday. "Natural wine is a huge family, and Lee did a great job of bringing that positive energy to the event." The Vins Libres tasting featured 22 producers on Sunday and Monday, including a few from the Glou.
The Glou sold 350 tickets for each day, and there were about 100 producers and importers on the floor as well. The result, while thoroughly good-natured, was cramped quarters (especially with all the spitting). Already planning next year's Glou, Campbell says that while a larger venue would be nice, she's not sure she wants to add too many more producers so it can stay manageable. "It's not a trade event; it's a wine event. It's for the public."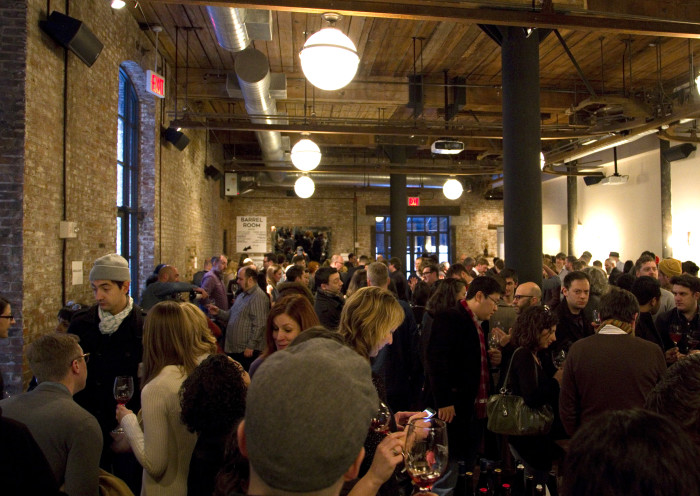 Natural wine has come a long way in both quality and public acceptance, as this fair clearly demonstrated. Campbell feels that the next step would ideally be stronger labeling laws. "I hope we get to the point where the word 'natural' is no longer needed. Wine is so carefully regulated and taxed once it's bottled, but there's no scrutiny while it's being made. Without ingredient labels, producers can put all kinds of crap in there." Today, without knowing specific importers and producers, there is no way to determine whether a bottle of wine is really a chemistry set; even organic examples can be heavily adulterated.
As with any juried show, one hears discontented murmuring about those not included. And I missed a few favorites, especially Eminence Road in New York's Sullivan County and Franco Terpin on Italy's Slovenian border. But this fair was beautifully curated; everyone I asked had effusive praise for Campbell and the other organizers. And there was something for every palate, from diesely Rieslings (especially Clemens Busch and Jochen Beurer) to fat, jammy reds like Ludovic Bonnelle of Domaine du Pech's blend of Cabernet Franc, Merlot and a little Cabernet Sauvignon, which offers a nimble, transparent interpretation of a Bordeaux flavor profile — welcome news to anyone turned off by that storied region's transformation into an oenological Superfund site over the last couple of decades. Like many at the fair, Bonnelle ferments his wines for a long time; his reds spend 24 to 36 months in barrique, only going in bottle when they're done. "The 2009s aren't ready, so I'm pouring the 2010s," he said.
Vino di Anna, a collaboration between Aussie Anna Martens and Frenchman Eric Narioo on the north side of Sicily's Mount Etna, stood out in a strong field. Etna's other great natural producer, Belgian Frank Cornelissen (who was not at the Glou), makes wines that can be hit or miss. When they're on, they're magnificent; when they're not, they possess flavors that are at best an acquired taste. Martens's wines showed beautifully across the board, offering cerebral and visceral pleasures galore. Like an increasing number of natural winemakers at the fair, she recently began fermenting some of her wines in large buried terra cotta qvevri, the Georgian amphorae in which some of civilization's first wines may have been born.
The featured California wineries — everything by the Living Wines Collective (especially those made by Martha Stoumen), Evan Lewandowski (based in Utah but using Cali fruit), Chris Brockway, Dashe Cellars, and Dirty and Rowdy (at Vins Libres) — are producing hands down the least Californian wines it has ever been my considerable pleasure to taste. A common contributing factor, besides being organically dry-farmed, is that many of the vines in question are grown at higher altitudes and/or are more than 100 years old (Dashe's Mourvèdre, Carignan and Zinfandel are all about 130 years old). None exceeded 14 percent alcohol by volume, and most stayed well south of that. The work of these young people augurs extremely well for the domestic natural scene.
"The energy is very different from any other industry tasting I've attended; it's lifted and electric. There's a tangible sense that we've really arrived. Natural wine isn't just fringe hippie juice made by average winemakers."
American Michael Schmelzer's Monte Bernardi in Chianti was a lovely surprise; blessed with excellent terroir and obvious skill in vineyard and cellar alike, his wines — almost all Sangiovese — call forth all sorts of rubescent metaphors. On the denser end of the red spectrum, another Italian standout: the aptly named Cascina delle Rose, whose Barberas and Barbarescos deliver bunches of roses, octaves of fruit, and chewy latex stretched on an armature of silky tannins that linger like the last kiss of a very long night: the vinous equivalent of Slim Pickens's immortal "Sheeit. A guy could have a pretty good weekend in Vegas with all this."
Exceptional sparklers included Massimo Croci's delightful Lubigo frizzante (100 percent Ortrugo) and Laurent Saillard's POP, a pet nat rosé blend of Cab Franc and Pineau d'Aunis. The several champagne houses showed that natural practices work just fine in that other famous region notorious for chemical interventions. Fleurie was the first certified organic champagne in 1989; their blanc de noir was particularly gratifying, with a sensuous, creamy chewability and bright fruit. At the next table, Champagne Tarlant's Cuvée Louis stood out; half Chardonnay, half Pinot Noir, it's made from a low-yielding old vineyard and tasted appropriately concentrated and focused.
I could go on and on, but the point is not to enumerate every producer doing admirable work. They all are; that's why they were invited. The real story here is that most of these wines, from every region, could easily beat their chemically adulterated neighbors in a blind tasting. Many had no discernible natural notes, though fans of sweatier, horsier flavors could still find satisfaction in the artfully modulated volatile acidity of Domaine de l'Octavin or Costadilà's un-disgorged Proseccos. His 2014 ("A difficult year," he acknowledged) definitely had acetic leanings, but the 2012 was marvelously clean. The trick with VA, which Alice Bouvot of Octavin knows so well, is to keep it subtle, a mouthwatering hint of tart umami that whets the appetite for wine and food alike.
This being Williamsburg, there were some resplendent beards in attendance, as well as some archetypal man buns (though, mercifully, I saw nobody wearing both). One man bun in particular, straight from central casting, grabbed his free-range date and steered her toward Domaine Mosse from the Loire Valley. "These are awesome!" he asserted. Sadly, his taste in wine mirrored his tonsorial choices; I found these wines to be among the small handful at the whole event with clearly discernible flaws. The Anjou blanc had a nail polish–y nose (ethyl acetate, a byproduct of the same bacteria that make vinegar, often results from too much oxygen contact during fermentation), and the Arena Savennières tasted cheesy.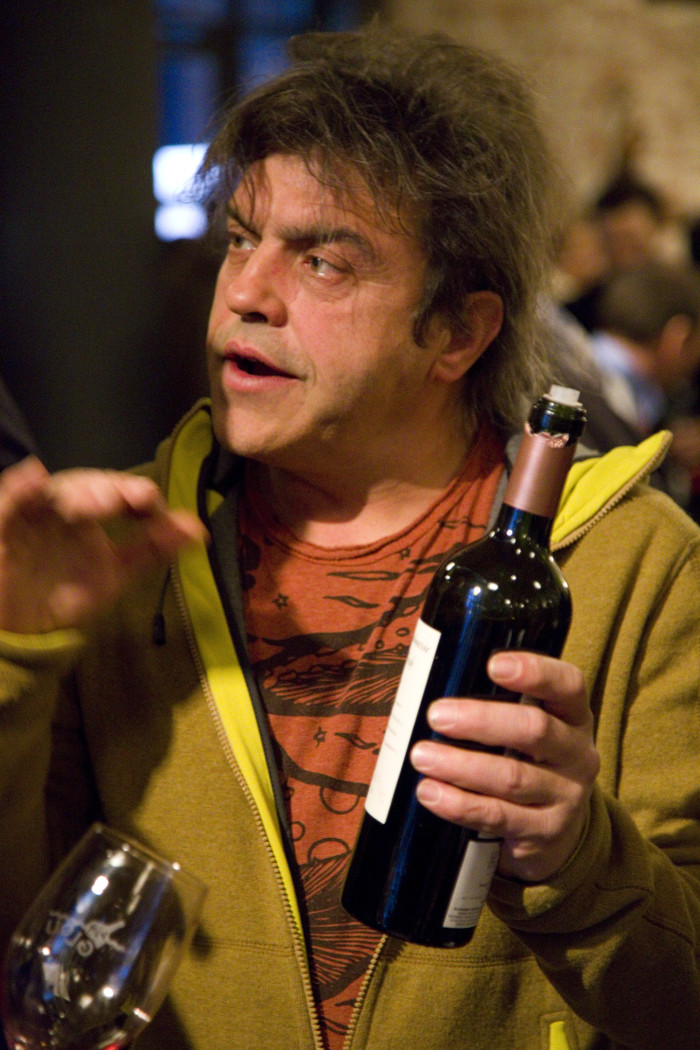 But that was the limit of any faddishness. Every winemaker I spoke to, which was very many, said he or she was thrilled by the sophistication of the crowd. In two days, I saw one visibly (and audibly) drunk person. When glasses broke (which was pretty often), people cheered amiably. Out in the wider world, though, all is not laughter and clinking glasses. Kim Engle from Bloomer Creek talked about the havoc this whipsaw of a winter has wreaked on their delicate microclimate, and Claire Naudin, maker of exceptionally fine Burgundies, unpacked the maddening travails of keeping her irresistible wines within the immovable French AOC bureaucracy late Sunday night at the Ten Bells. "The market is not enough," she shrugged Gallically. "The system doesn't care how much I sell, only that I follow the rules." Many French producers have voluntarily pulled their wines from their AOCs, allowing them to work however they like. But in Burgundy, declassification is a death sentence; the land is expensive, and a humble Vin de France can't fetch enough to pay the bills.
I bumped into a very pleased Michael Drapkin, proprietor of the Kingston Wine Company, one of the Hudson Valley's finest natural-wine stores. He summed the Glou up nicely: "The energy is very different from any other industry tasting I've attended; it's lifted and electric. There's a tangible sense that we've really arrived. Natural wine isn't just fringe hippie juice made by average winemakers. There's distinct expression, passion, and delineation in almost every wine. No replicas. No faults. Just really well-made and scrumptious wine that happens also to be natural and true to place."
Perru agreed that we're past the point of talking about natural; it's self-evident that these wines bring enormous pleasure beyond a clear conscience when buying them. And pleasure, far more than ethics or ecology, will always be the most effective motivation for change. "The question that these wines ask is: 'Do you want to finish the glass, and then the bottle? Do you feel good the next morning?'"
That, again and again, constituted the reality I happily encountered. None of these wines, not even the biggest reds, were cloying. None had the viscosity, the opacity, or the gag-inducing cough-syrup qualities so beloved by a certain score-awarding wine critic. Even after tasting upward of 500 wines in three days, my palate had not collapsed. And, most important of all, given the marathon duration of the days and the inevitable late-afternoon transition from spitting to just plain enjoying, followed by more drinking at and after dinner, I never had a hangover.