Behind The Scenes At France's Rungis Market, The World's Largest Wholesale Market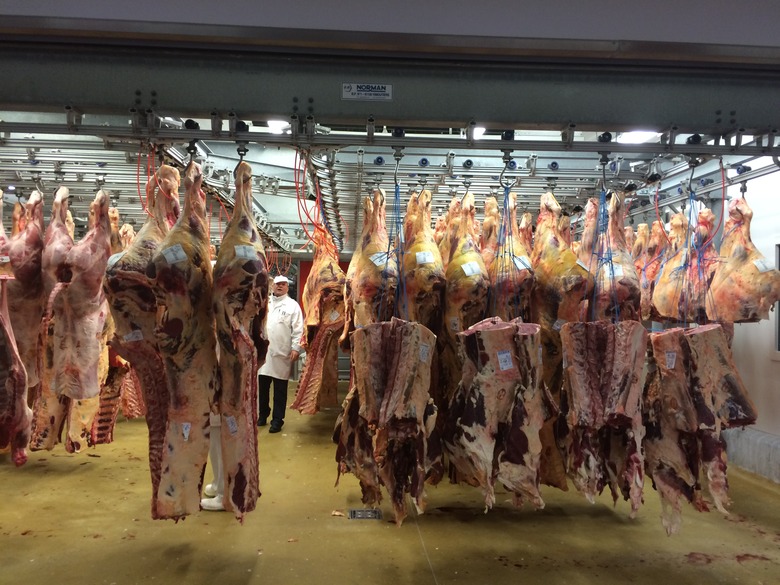 According to inspectors who visit daily, the price for beef is based on three things: fat, form, and color. (Photo: Katie Chang.
If you've never heard of Rungis Market, you're not alone. (I didn't know about it until my last trip to Paris, and that's only because I was traveling with some serious food writers.)
Let's start with the basics. It's the world's largest wholesale market, located in a suburb just seven kilometers south of Paris. It sprawls over 234 hectares (578 acres) and is so huge — there are 21 restaurants, banks and even a hair salon on site — that many liken Rungis Market to a city in itself. (It's larger than Monaco.) There are approximately 25,000 employees, with almost 1,300 companies and brands represented. It also supplies many of the top-tier restaurants in Paris and reportedly reaches 18 million consumers yearly. Because of its sheer size, the market is organized by halls, called pavillons, where you'll find mind-boggling quantities of quality meat, seafood, fruits and vegetables, dairy, flowers, gourmet foods and, as of last month, organic goods.
These facts alone make Rungis a destination for food-minded travelers, right? But it's not as simple as dropping by when you please. (Remember: This is a wholesale business. A very large, lucrative and powerful one to boot.) However, scheduled tours are available. And if you don't mind waking up while late-night revelers are turning in, enduring the necessary bone-chilling temps indoors, and being on your feet the entire time with no breaks (in close proximity to animal parts and blood, no less), you'll be rewarded with an eye-opening learning experience.
By the time I arrived at Rungis and slipped on the mandatory disposable white coat and cap over my regular clothes, most of the seafood at our initial first stop, le pavillon de la marée, was already sold. According to our guide, it wasn't worth going at this point. The time was 6 a.m.
So we began at the meat market, which is further broken down into halls dedicated to beef, poultry and wild game, and offal. Run by gentlemen — female employees are noticeably absent in this pavillon — clad in all-white uniforms, the area (save for the triperie, which is understandable) was surprisingly neat and orderly. I quickly learned that when it comes to determining the market price for beef on a given day, the inspectors, who come in daily, consider three things: fat, form (as in the shape of the muscle) and color (a bright, cherry-like red is desirable). Though the beef might look perfectly acceptable to the naked eye (to mine, at least), the inspectors are trained to take note of even the most minute details. And it's these nuances that can have one purveyor charge 6 euros per kilo, while his neighbor is charging 16, for the same cut of beef on the same day.
Next stop? Poultry and wild game. Like the meat market, everything was well organized, but there were no featherless, anemic-looking, plastic-wrapped chicken parts in sight. Instead, my eyes gazed over row upon row of neatly stacked cartons filled with fluffy rabbits, feathered pheasants and the famed Bresse chicken, considered by many to be the gold standard in the world of poultry.
The triperie, where offal is butchered and prepared, really surprised me. While horror films are far too intense for my viewing pleasure, watching craftsmen break down a variety of animals and salvage every bit with such care and precision in a virtual bloodbath was humbling, a necessary reminder of why French gastronomy is so revered in the first place. There's an unwavering commitment to quality first, even when it comes to something as common as organ meats. In fact, a tour highlight involved a butcher shimmying around a tête de veau, a French delicacy that involves cooking an entire calf's head, with a larger-than-life knife and a traditional metal chain mail apron (for personal protection), and briskly breaking it down in 30 seconds flat. While much of the tour group broke out in applause — trust me, it was warranted — our guide gently reminded us: "Please don't forget. It takes a lot of expertise and skill to prepare this. You have to be an artisan." Duly noted.
We briefly stopped by the about-to-open organic pavillon, which purveys not only fruits and vegetables but prepared foods as well. Though it wasn't quite finished, its existence proves a key point. In France, organic eating is serious business. How serious? Reportedly, 25 percent of French citizens eat organic produce weekly, while 9 percent consume it daily. And in 2014, the market segment experienced an impressive 15 percent increase in sales from the previous year.
As for the dairy pavillon, cheeses are the darlings. In light of what we recently witnessed at the triperie, this felt like a safe and happy zone for most, eliciting all sorts of happy gasps from the group. There are more than 400 varieties available, too, from massive wheels of nutty Comté to the once-controversial Mimolette. A cow's milk cheese that owes its rich, edible crust to cheese mites, it was formerly banned by the FDA for "unacceptable" mite levels. (Thankfully, you'll have no problem getting some in the States now.)
The warehouse-like fruit and vegetable pavillon — it felt like being in a Costco — demonstrates how the French understand and appreciate how appearance impacts what we eat. Especially during the digital age, when documenting everything on our plates is the norm, there's even more truth to the saying "We eat with our eyes first." Produce here is meticulously arranged by color, and some vendors go so far as to create patterns with their displays, for an extra sharp and eye-catching effect.
At this point, our tour came to an abrupt end. It was almost 9:30 in the morning, and we were running late for our Rungis-style breakfast. The group was more than fine with the executive decision. A lot of us had been awake for more than five hours already, with most of that spent on our feet. And after all we learned and saw, we were — you guessed it — hungry and ready to eat.