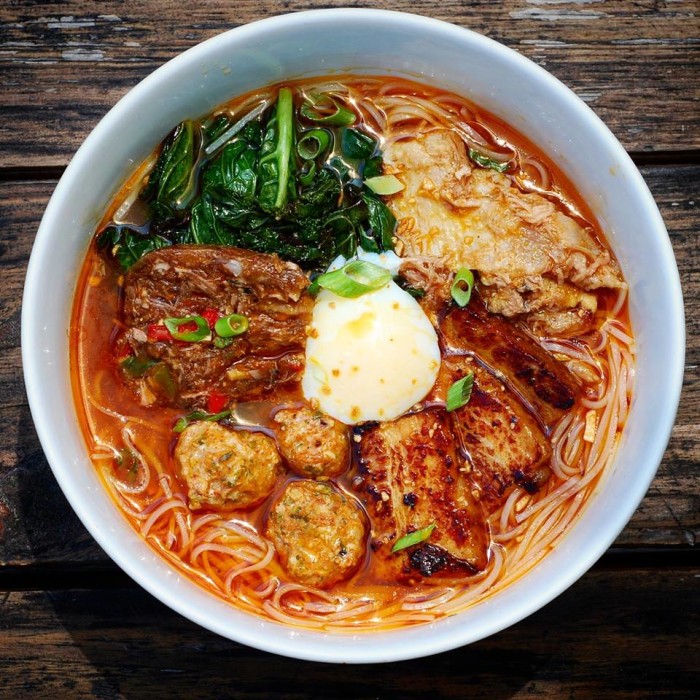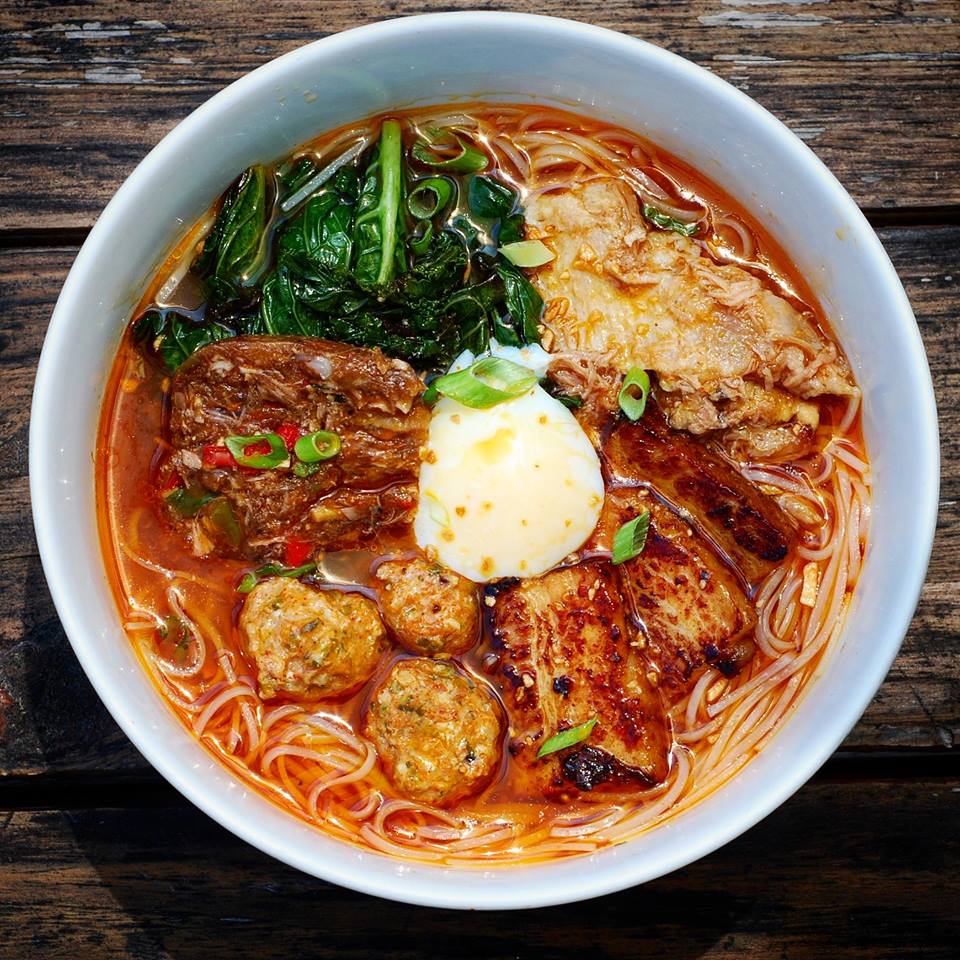 I've arrived in New Orleans with food on my mind, and MoPho is dishing what I crave: a fragrant, deeply spiced bowl of pho. As I sip my boozy bubble tea, the pièce de résistance arrives. Rich beef-marrow broth swims with rice noodles, house-made head cheese and delicious meatballs that taste just ever so vaguely of Creole spices.
Two-year-old MoPho is one of a handful of places blending local flavors with Vietnamese and Southeast Asian ones. Executive chef and partner Mike Gulotta is not of Vietnamese descent, but like many cooks in town, he developed a taste for that country's flavors while working in restaurants such as John Besh's haute spot Restaurant August. Cooking is "not exactly the healthiest lifestyle," Gulotta says. "All the industry types here eat a lot of pho — it's very restorative."
New fusion spots like Ba Chi Canteen (which playfully mixes everything from Japanese to Latin American touches into its lineup of pho and bánh mì), tasting-menu-only Kin and MoPho are the culmination of a Vietnamese-restaurant scene that's been quietly growing over the past three or four decades. It started in the mid-1970s, when about 2,000 refugees of the Vietnam War arrived in New Orleans, a number that's grown to more than 10,000 people with Vietnamese ancestry in the metro area. Though this population is small compared to that of cities like San Jose, California, or Houston, it's significant enough to have made a delicious impact on NOLA chowing. In the past few years, first-generation Vietnamese-New Orleanians have begun to open restaurants that offer sophisticated, contemporary spins on the food of their parents' homeland. These days, Asian-food hounds like me can count NOLA among the best U.S. cities for a pho fix.
One January day, I drive out to New Orleans East to meet Tuan Nguyen, executive director of the Mary Queen of Vietnam Community Development Corporation (MQVN CDC). The nonprofit is housed in a modern-looking stucco strip mall next to a modest residential neighborhood known as Versailles. Nguyen, who's in his mid-30s, grew up here, where the Vietnamese community numbers about 7,500 people and 100 businesses, centered around the Mary Queen of Vietnam Catholic Church. The neighborhood was one of the hardest hit by Hurricane Katrina in 2005, and the MQVN CDC was formed to help bring the community back to life. As a result, this tiny enclave bounced back more quickly than the rest of New Orleans East.
Slower to recover has been what Nguyen calls "the culture of agriculture." He tells me about playing as a kid along the levee, amid gardens that proliferated on the banks after Vietnamese immigrants found swampy, steamy Louisiana similar to the climate they'd left behind. Though the city has since banned levee-side plots, the MQVN CDC now oversees a community farm where lettuces, herbs, and even exotic crops like mizuna are grown to order for the likes of Besh Restaurant Group. The Vietnamese community here has aged and changed, but it's still the most vibrant in the city. The other significant Vietnamese community is on the city's West Bank (where there's reportedly some good food), but Nguyen says it's different. "They're more spread out," he says. "The only time they get together is for church."
Now it's lunchtime, and we're conveniently close to a couple of restaurants capable of enticing noodle nerds to drive the 30 or so minutes from central NOLA. There's Dong Phuong, whose bakery famously supplies po'boy rolls to some of the city's best sandwich shops. (Turns out, the po'boy and the bánh mì aren't all that different — blame it on the French influence in both Vietnam and New Orleans). There, the pho and bun bo hue, a thicker-noodled spicy soup, get Nguyen's endorsement. He also recommends Ba Mien just down the highway, which specializes in southern Vietnamese grub.
I end up at the latter, happily slurping the best bun rieu (shrimp-and-crab noodle soup) I've had outside of Saigon. It's tart and tomatoey and laced generously with crab meat. I also order the house specialty, nem nuong khanh hoa, a sort of DIY spring roll dish featuring firm strips of grilled pork paste and a tray overflowing with herbs — another winner.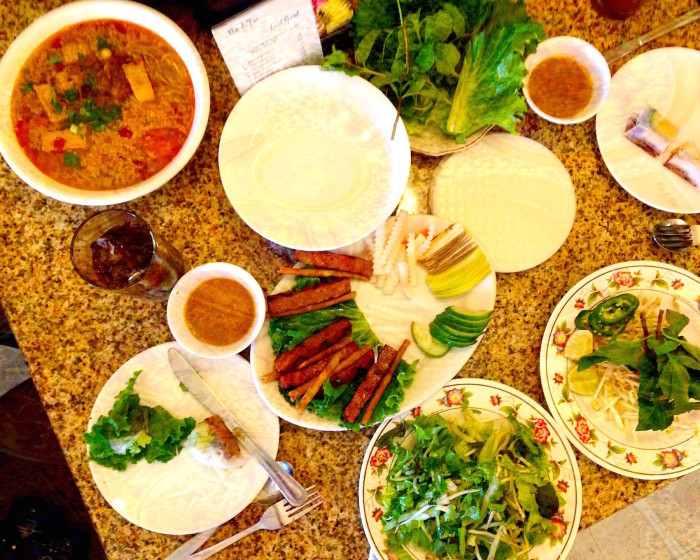 Ba Mien and Dong Phuong, plus beloved West Bank eateries like Tan Dinh, 9 Roses and the shuttered-but-reportedly-relocating Pho Tau Bay, represent the best of NOLA's Vietnamese old guard. In the last three or four years, a new wave of Vietnamese restaurants has rolled into the Crescent City, offering fusion dishes like Asian tacos or staples such as pho and bánh mì made with upgraded ingredients. 
First-generation Vietnamese New Orleanians are behind Magasin, which opened in 2011 offering filet mignon pho and ten kinds of spring rolls on Magazine Street Uptown; a second outpost, Magasin Kitchen, debuted two months ago in the South Market District. Ditto two-year-old Mint Modern Vietnamese, serving a bánh xeo (Vietnamese crepe) that gets Nguyen's thumbs up along with báhn mì and kim chee burgers, and Namese (which opened in late 2013), slinging Asian tacos and a Cuban bánh mì along with more traditional dishes. "Everyone kind of does their take, with a bit more modern twist to it," Nguyen says of the new crop of restaurants.
Riding this trend and the ever-expanding American appetite for Asian flavors, a number of longtime NOLA Vietnamese eateries have branched out with new locations in the past few years. Metairie standby Pho Orchid rolled out an "express" location in the neighborhood in 2013 and an Uptown branch with a fusion-y, contemporary menu the following year. Nine Roses, whose original West Bank location has possibly the most sprawling Vietnamese lineup in town, opened 9 Roses Cafe, with a pared-down menu, in the French Quarter last year. Even three-year-old  Ba Chi Canteen was opened by a member of the Tan Dinh family.
Nowadays, rice noodles are so much a part of many New Orleanians' diets that a place like Dry Dock Cafe, a casual bar and restaurant on the West Bank near the ferry, serves shrimp-and-pork spring rolls alongside more traditional Louisiana dishes like alligator sausage and barbecued shrimp. All perfect with a beer or a specialty cocktail, like a Sex on the Levee. From one delta to another, this is contemporary New Orleans food.
Jenny Miller is a food and travel writer based in New York. Follow her on Instagram and Twitter, or visit her website here.