"Well, I bet you eat really well" is often the response I get when I tell a stranger that we live in Barcelona, no matter who they are. Well, yes, we really do.
And as residents of Spain's second-largest city, we've gotten used to people arriving here with a bucket list of well-researched top-rated restaurants. With pretty much every meal reserved months in advance, they're more excited about visiting 7 Portes then the Sagrada Familia, and nothing will convince them to stray from their prescribed gastronomic schedule. Of course, it makes sense that some travelers have a culinary agenda when they come to Catalunya, considering that of the places on the annual World's Fifty Best Restaurant list have gone to Catalans.
On the opposite side of the celebrity restaurant seekers are the crowds that arrive en masse in Barcelona, more of them than ever. Often dispatched by cruise ships at the port, they head straight for the storied Ramblas, where the restaurants that cater to the package vacation crowd are waiting with typical tapas and English menus. And then there's KFC, where, for reasons I can't explain, there is always a line.
Where do people who actually live in Barcelona eat out? Here are some of our favorites. For this list, we've kept our choices to the city center and focused on mid-priced restaurants with an emphasis on market-sourced menus. 
This story has been updated in March 2023 to reflect closures and changing contact information.
El Mercader de l'Eixample
Slow food principles and traditional Catalan cuisine together drive the seasonal menu at the recently opened Mercader de l'Eixample, where shareable dishes highlighting products from the agriculturally rich region that surrounds the city are attracting locals nostalgic for classic home cooking. This is more of a loving update than a reinvention of the kind of dishes that mark a Catalan childhood: canalones, the chopped meat and potato dish called trinxat, rice dishes, sausages, and of course Iberian bellota ham and rustic bread rubbed with tomato. Despite a certain nostalgia, there's nothing folksy about the restaurant, located in a house in an area emblematic of the Barcelona bourgoisie that built this city. There's a kind of adolescent rebellion against the establishment implicit here, too, with the choice of small plates replacing what the menu calls the "dogma" of the usual starter and main course, and continuous hours from noon to midnight. Carrer Mallorca 239, Barcelona, Spain; elmercaderdeleixample.com
Bacaro
Bacaro is the right kind of noisy: continuous conversation in Spanish and Catalan, exclamations when food arrives at a table, and a partner in the restaurant who shouts a greeting from the back bar. That's Alfredo, who can also be heard making off-menu recommendations to regulars, which it seems is pretty much everyone who eats at this small restaurant known for Venetian-style cooking, pocketed on a hidden side street behind the famed, tourist-dense Boquería market. A popular lunch spot, at night Bacaro is an after-theater destination and actors' hangout. Alfredo will seat you until 11:45 p.m. and even later if you call ahead. Carrer de Jerusalem, 6, Barcelona, Spain; @bacarobcn on Instagram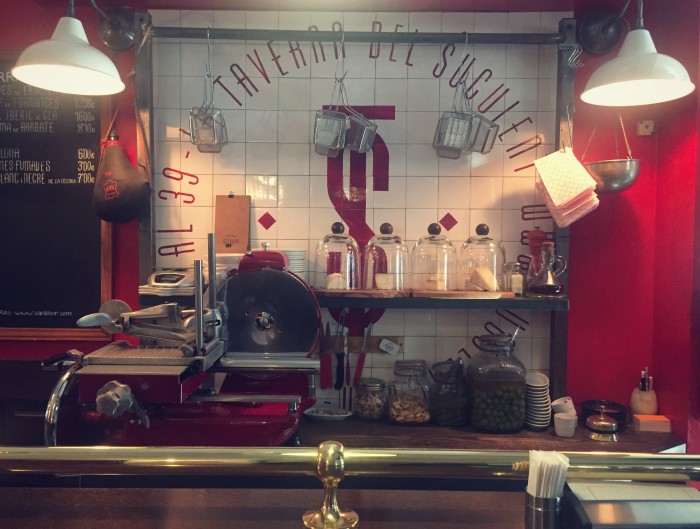 La Taverna del Suculent
Three outposts of empresario Javier Cotorruelo's Barcelona empire stand side by side in a trio of restored narrow buildings in the center of La Raval, a recently revived — okay, call it hipster — neighborhood not far from Las Ramblas. The main event here is at Suculent, presided over by co-owner and chef Carles Abellán, where the food is a stylized take on classic dishes, including the menu's star, steak tartare over marrow bone. The recently opened 4 Amb 5 Mujades presents a highly conceptual menu designed by chef Toni Romero. Based on locally grown vegetables, it involves cooking according to the phases of the moon.
At the more casual and very cool La Taverna del Suculent, which is decorated as a shrine to bullfighting and Spanish rumba, a laid-back barman presides. There are two dining rooms with a hidden speakeasy feel upstairs and through the kitchen, which offers a small but still "Suculent" menu of daily dishes and tapas. Food is delivered via dumbwaiter to the bar. For a uniquely Spanish brunch, with cocktails, come on Sunday afternoons, when a flamenco guitarist and singer turn up from 1:30 to 3:30. Rambla de Raval, 39, Barcelona, Spain; @suculent_restaurant on Instagram
Can Kenji
Can Kenji looks like a typical tiny sushi joint, but the playful menu reads like it could have been conceived by Dalí. Onigiri (a Japanese rice ball) has been transformed into a square of risotto served with seaweed; a "meatball" is a shiitake folded over lobster filling; a sardine tempura is served with a puree of eggplant, miso and anchovies. The Japanese-Mediterranean concept may sound like a risky gimmick, but Can Kenji does it deliciously and without pretense. Midday menus in the 10- to 20-euro range add to the appeal. This seven-table restaurant fills up fast; make a reservation. Carrer del Rosselló, 325, 08037 Barcelona, Spain; cankenji.com
Vivanda
In a city known for cuisine and style, Vivanda is the kind of neighborhood place that visitors would expect but don't always find (maybe that's because the neighbors want to keep it a secret.) A narrow interior leads to a big back patio, ideal for a warm night and equally perfect for beers and tapas with a group of friends or romantic dinners. When it's colder, you can wrap up in a blanket supplied by the house. Vivanda has resisted trends, keeping to modern Catalan cuisine that's dependable but creative. Carrer Major de Sarrià, 134, Barcelona, Spain; vivanda.cat