Hot Off The Press: Meet The Keurig Of Tortillas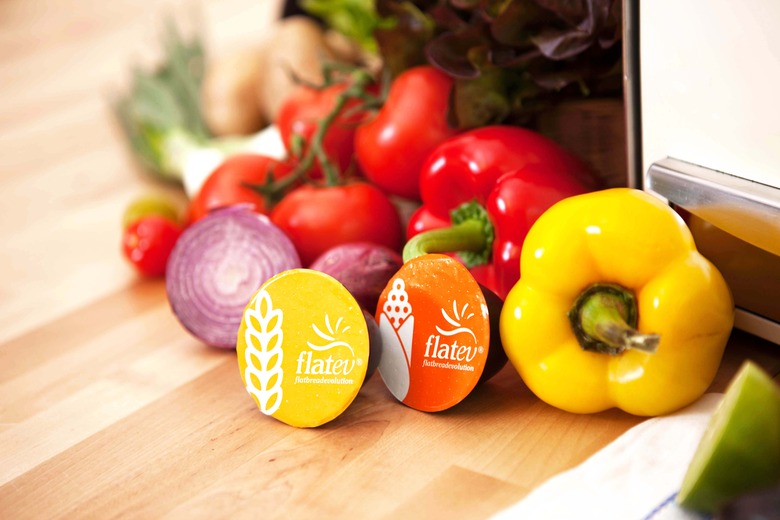 What if you could make fresh tortillas at home as easily as brewing single-cup coffee at the office? That's the pitch that inventors of the Flatev are making today during a seminal food-technology showcase in Brooklyn, New York.
The Swiss-engineered appliance — think Keurig, but using tiny single-serving pods filled with masa, not java — is said to crank out individual tortillas in less than a minute each.
Designers of the device will be making an equally fast 60-second pitch for their product at FoodBytes. The event, taking place this afternoon at chef Michael Psilakis's music and events space the Hall in Williamsburg, brings together innovators and investors in forward-thinking food businesses. It's the first East Coast event for FoodBytes! organizer Rabobank, joined by partners SF New Tech and Food + Tech Connect. Previous conferences were held in Northern California.
Other featured FoodBytes! presenters include Sophie's Kitchen, which produces ready-to-eat plant-based seafood substitutes using pea protein and the superfood konjac root; Kakaxi, which provides "smart-farm" technology to farmers; and DouxMatok, which has developed sugars with enhanced sweetness that allow manufacturers to reduce the total sugar in their foods without sacrificing the "full sugar experience."
For the makers of Flatev, which has been in development for a few years now, the conference is a chance to show off the machine's final design and hopefully drum up interest before making a fundraising push to finally bring the product to market.
Americans spend about $13 billion on tortillas annually, which is why the company has zeroed in on the U.S. market for the product's initial launch, according to Sandro Meyer, Flatev's chief marketing officer.
Once in production, Meyer says Flatev plans to manufacture its masa pods using only certified organic corn grown in the United States. Quality, he says, is a big priority for the company. "Our tortillas have four ingredients — it's as good as homemade," says Meyer. "A lot of tortillas that you buy today have like 30 ingredients."
The latest Flatev prototype being unveiled today includes some enhanced features, including a mechanism to adjust the tortillas' texture "so you can make your tortilla more or less crispy," Meyer says.
For now, the company is focusing strictly on corn and flour tortillas, but the machine can do a lot more. "We want to go into rotis, the Indian bread, and down the line into stuff like cookies and other breads like pita," Meyer says. "The machine is very versatile."
For a better idea of how the Flatev works, here's a video for the original prototype: