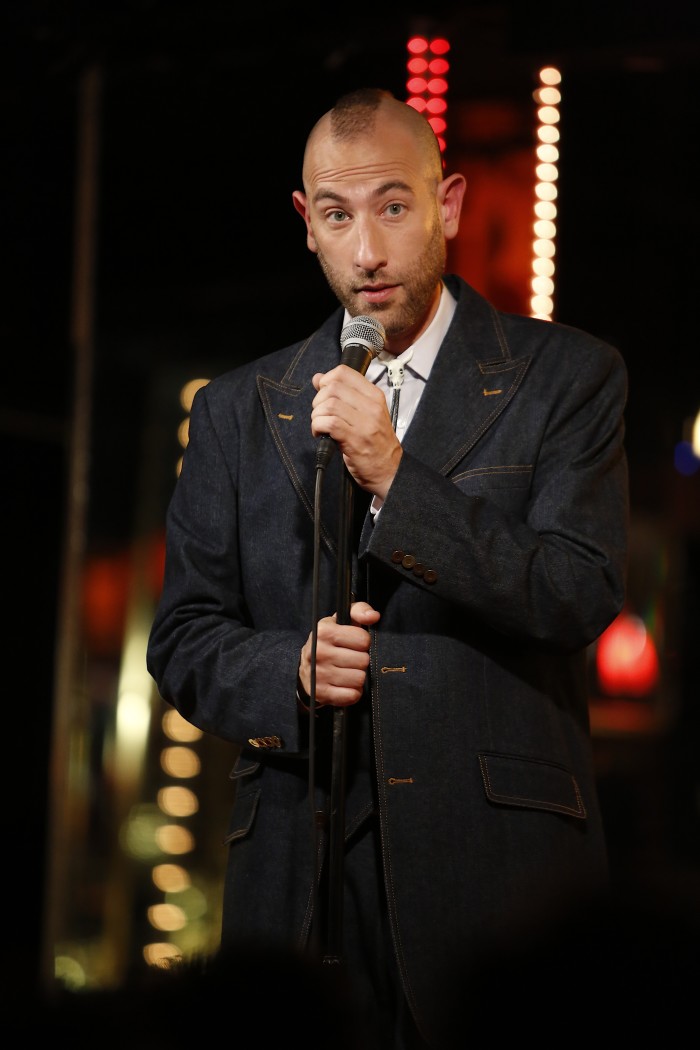 In Food Republic's new column, Bang Bang Talky Talk, we take a cue from comedian Louis C.K. and bring interesting people to dinner — twice, in rapid succession (bang bang!) — in the hopes of coming back with a doubly good interview. Next up: Ari Shaffir, host of the Comedy Central series This Is Not Happening, airing Tuesdays at 12:30 a.m. EST.
The question barely escapes my lips: "Does modern food culture make good material for comedy?" Right on cue, the pasta course arrives.
At La Sirena, the latest buzzy New York City restaurant from famed chef Mario Batali and prolific restaurateur Joe Bastianich, the "bis of pastas" comes with your pick of any two of the 11 listed primi options, which are served simultaneously for the table at the very fashionable price of $24 per person. That's two dishes, presented by a small army of well-dressed wait staff. Each pasta comes with its own assigned server, and each server comes equipped with two large spoons, both of which he wields, for better or worse, with a single hand. The duck-filled mezzalune seems especially easy to scoop with the added spoon, but the bucatini with spicy octopus proves more slippery and elusive.
Comedian Ari Shaffir and I exchange smirks as the second guy graciously wrestles with the unruly noodles. ("I haven't even heard of some of these — what is bucatini?" Shaffir had asked me earlier as we perused the menu. "A fancy word for spaghetti," I said.) After the pasta presenters are done, another dapper dude steps up with a grater and block of fresh Parmigiano-Reggiano. Who's next? I wonder. Adam Sandler with a pepper grinder?
While the grandiose presentation is pretty amusing, the food is downright delicious. We'd just polished off a plate of sumptuous Spanish mackerel served crudo style, sprinkled with bits of crunch and salt, and a basket of warm fresh bread. The saucy pastas only pile on the enjoyment. The meal also functions as a sort of educational experience for my good-humored dining companion. The house Negroni is Shaffir's first encounter with the classic Italian cocktail. Heck, before tonight, he didn't really know who Mario Batali is! "I recognize the name," Shaffir says of the restaurant's famously ponytailed proprietor. (And this is just the first stop on our back-to-back Louie-style "bang bang" dining adventure this evening.)
The setting, meanwhile, is dazzling, with terrazzo floors, custom Italian furnishings and accents in white marble and blackened steel. "These places always make me feel a little out of place," says Shaffir, dressed casually in jeans and a flannel shirt. "Look at that table," he says, pointing to a stylish group seated prominently by the panoramic front window. "It's full of winners. That guy has probably evicted like nine people from their homes today."
♦♦♦
Shaffir, in case you didn't know, is the host of Comedy Central's late-night stand-up series This Is Not Happening, which airs at the adult-friendly hour of 12:30 a.m. EST on Tuesdays (well, technically Wednesday mornings for viewers on the East Coast) — a very suitable time-slot given the mature subject matter. The show is a bit different from most stand-up shows on TV. The featured comedians aren't just doing their regular bits. They're telling real stories about their own lives, some of which are a little harrowing. The show's newest season premiered just last week with a whole episode devoted to recreational drugs, specifically the psychedelic kind. "Last year, we had one for just drugs in general, but this year, we're like, 'Let's narrow it down a bit,'" Shaffir says.
Turns out, psychotropic substances played a major role in the genesis of the show. As we slurp up our spaghetti — er, bucatini— Shaffir tells me how he and his friend Eric Abrams (now the series's showrunner) came up with the idea during Thanksgiving dinner while swapping stories about tripping on magic mushrooms. "I know a lot of comedians with mushroom stories," Shaffir says. "I was like, 'Wouldn't it be fun to have a show full of mushroom stories?' He's like, 'Yeah, let's do it.'" The first incarnation took place in a private room at the Improv in Los Angeles. The pair recruited a bunch of comics to take part. Despite a very sparse crowd, the guys felt they were on to something. "We went out drinking afterwards, and we're like, 'Let's do that again!' It was so much fun," Shaffir says.
At this point, I'm regretting not ordering La Sirena's $16 marinated roasted mushroom appetizer, which suddenly seems very appropriate.
Watch this clip of Ari Shaffir and Mat Edgar riffing about camping on mushrooms:
"I know a lot of comedians with mushroom stories. I was like, 'Wouldn't it be fun to have a show full of mushroom stories?'"
About a month later, Shaffir says, he and Abrams hosted another show that focused strictly on sex stories. The series sort of took off from there. Soon, they were attracting bigger-name talent, appearing at comedy festivals and eventually moving to the main stage at the Improv. The live show begat a YouTube series, which went on for two years before Comedy Central brought it to television in 2015.
Shaffir explains that the name, This Is Not Happening, is a nod to the Belgian surrealist painter René Magritte's famous work, The Treachery of Images. The painting depicts the image of a pipe, yet oddly includes the words "Ceci n'est pas une pipe." (That's French for "This is not a pipe.") "It's a commentary on art in general," Shaffir says. "It sort of went with our stories." Also: It's a frickin' surrealist pipe (cough).
Hang out with Shaffir long enough, and you'll hear plenty of tales not just about 'shrooms but weed — always weed. Many of the comic's best riffs deal with marijuana-infused goodies. There's one about smuggling psychoactive gummy bears through customs in Australia, and another involving pot cookies and the federal Transportation Security Administration. (No, he does not cook his own cannabis-laden snacks, he says.)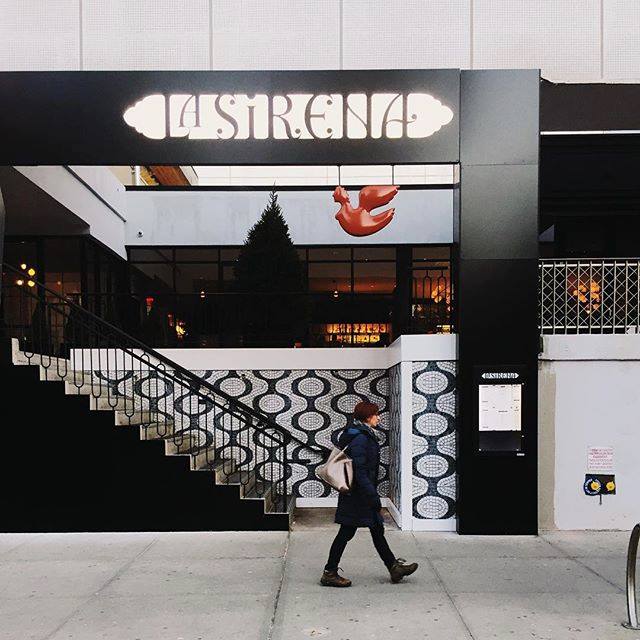 When we first meet at La Sirena, Shaffir shows up on a pair of crutches. Turns out, there's a marijuana connection to this story, too. The comic was skiing in the Canadian resort town of Whistler, British Columbia, when the unfortunate accident took place. "I met this guy, we had one beer, smoked a joint, but not enough to get me inebriated," he says. "There was this jump, and another jump right afterwards. I didn't commit, pulled out, fell, broke my fibula, or tibia, one of those." Shaffir refuses to blame the mishap on potent Canadian herb. "BC weed is great," he says. "I have no problem with BC weed. I would never disparage the great name of British Columbia weed."
Despite all the druggie humor, Shaffir didn't exactly grow up studying the stoner classics à la Cheech & Chong. "I came to it later — just like sex humor," he says. Don't get him started on the pothead stereotype pioneered by actor Sean Penn in the 1982 film Fast Times at Ridgemont High. "Now, everyone does an impression of Sean Penn," he says.
Shaffir was raised in an orthodox Jewish household in Silver Spring, Maryland, just outside of Washington, D.C. He didn't get out to many restaurants. He didn't have cable TV. His earliest exposure to comedy came though network sitcoms and talk shows. "The Simpsons was a big influence," he says. Shaffir later studied English at the University of Maryland, which he describes as "a great place to lose your virginity," he says. After college, he and a pal moved to Los Angeles, where he quietly began his career in comedy. "At first, I didn't want to tell anyone I was doing stand-up," he says, recalling his first set with a tinge of embarrassment: "Something about squirrels. I don't remember what the angle was on squirrels. Then I did something about bumper stickers being too permanent…. It's kind of bad now that I think about it."
And it was in L.A. that Shaffir became seriously involved with sweet Mary Jane. Considering all the pharmaceutical dialogue, I feel compelled to ask what sort of fine California goods Shaffir has brought to spice up our bang-bang dinner this evening. "I have some weed in my pocket," he laughs. "We can have that in between. It's a great way to work up another appetite for the second of the bangs."
After some succulent swordfish, we prepare to move on to the next destination, requesting the bill and heading for coat check, where the staff is keeping Shaffir's crutches. It's a considerable walk for a guy with only one fully functioning leg. No matter, he says: "I'll just hop over there. I've been hopping all day. I'm getting pretty good at it." Sure enough, the tall comic proceeds to make his graceful exit, bouncing down the hallway of one of the hottest spots in town.
Did he enjoy the first meal? You bet. Says Shaffir, "The chef, Benicio del Toro, has outdone himself."
♦♦♦
After a brief (cough) interlude — during which we attempt to hail a yellow taxi, right up until the moment Shaffir remembers, "Oh, wait, I have a driver!" — we arrive at our second and final stop, Santina, the sleekly designed, coastal Italian–style restaurant from restaurateurs Mario Carbone, Rich Torrisi and Jeff Zalaznick. It's loud, crowded and a lot more cramped than the spacious La Sirena. Navigating the narrow paths between tightly arranged tables on crutches is a bit trickier for Shaffir, but eventually we make it to our  table.
For a guy who just moved to New York after 12 years in Los Angeles, the space issue takes a little getting used to. "That's the problem with New York," he says. "You're overfilling places with tables to get the money to pay for the space. There's literally not enough room to eat comfortably." It's the same story with comedy clubs, he says: New York clubs are crammed full of seats, and the stages are tiny. "You want to create some space between you and the audience, so all these comics here develop this habit of leaning back against the wall," he says. "When I saw people in L.A. doing that, I was like, 'Why are all these New Yorkers doing this weird lean thing?' Then when I got here, I realized why. It's because otherwise you're on top of people."
For our second meal, we start off with the giardinia crudite: basically a big ceramic pot filled with raw seasonal vegetables and served with an array of dipping sauces. It also comes with a warning about the amount of time it takes to assemble, which leaves us a little puzzled. "I was like, 'Why? It's just raw,'" Shaffir says. We also order the spicy tuna tartare, served with Tuscan-style chickpea pancakes. It, too, comes with a side of dipping sauce described as "sweet and smoky." Essentially, when the food arrives, our tiny two-top table looks like a buffet of dips. Rounding out the order and further crowding the table, we add on the shrimp special, a side of spicy potatoes and the beautifully presented squash carpaccio.
I had picked Santina because I thought the vegetable- and fish-heavy menu might suit Shaffir's lingering West Coast sensibilities. Then I remember that his Comedy Central show is filmed at a Los Angeles strip club called Cheetahs, and immediately begin second-guessing our reservation. We could have gone to Robert's, the critically acclaimed steakhouse at Manhattan's Penthouse Executive Club. Or some place that serves body sushi. Like me, Shaffir has never experienced this peculiar style of plating, which the Japanese call nyotaimori. "I've never even seen it," he says. For a moment, we ponder what the prep work must be like. "My guess would be definitely shower, no spray or anything, just skin," Shaffir says.
The L.A. strip club where This Is Not Happening is filmed does not serve body sushi, or any other type of food for that matter. "I have eaten in strip clubs, though," Shaffir notes. "There's this place called Rachel's in West Palm Beach [Florida]. They have one of the best steaks." Something about the vibe in these places just makes it easy for comedians to push boundaries, he says: "The feeling you get from being in a strip club, no matter what this guy says on stage, you're never going to be like, 'How dare you!?' You're in this place of degeneracy. It just feels better."
♦♦♦
"I'll be honest, when we sat down, I was definitely like, I do not need to do this," Shaffir says, as we wrap up meal no. 2. "The Chef Boyardee place was great [laughs], and then when we sat down here, just even looking at the menus, I was like, 'What are we doing? I am full!' But man, we sure ate a lot of it. The negatives? I'm gonna gain weight. The positives? It really helps me appreciate being the first-world resident that I am. Other countries wouldn't have the concept of 'bang bang.'"
Shaffir didn't care too much for Santina's squash carpaccio. "It wasn't prepared badly," he says. "I'm just not a fan of the taste of that stuff." The comic specifically dislikes the cottage-cheese-like topping. "But all the dipping sauces were great," he adds. "The 'sweet and smoky,' that was real good. The zesty one was okay, but the sweet and smoky one, I've never had anything like that."
The combined meals were a lot more substantial than anything Shaffir had experienced previously. "The last 'bang bang' I had was in Denver," he says. "Me and a friend were just like, 'Let's just get a slice of pizza and a hot dog.' That's about a meal and a half."
While our collective food coma comes on, we riff for a bit on ways restaurants could try to capitalize on the bang bang idea. "It would be cool if you could get up and move to a different table in the same restaurant," Shaffir says, donning his best announcer voice: "'Ladies and gentlemen, the first bang is over! Everyone get up and we will reseat you.'"
Finally, as we prepare to leave, the comic can't help but deliver one final punch line. "For the story, I'll send you a picture of the dump I'm going to take tonight," Shaffir says.
Only one dump? "That's good," he laughs. "You're right — bang bang!"
La Sirena, 88 Ninth Ave., New York, NY 10011; 212-977-6096; lasirena-nyc.com
Santina, 820 Washington St., New York, NY 10014; 212-254-3000; santinanyc.com