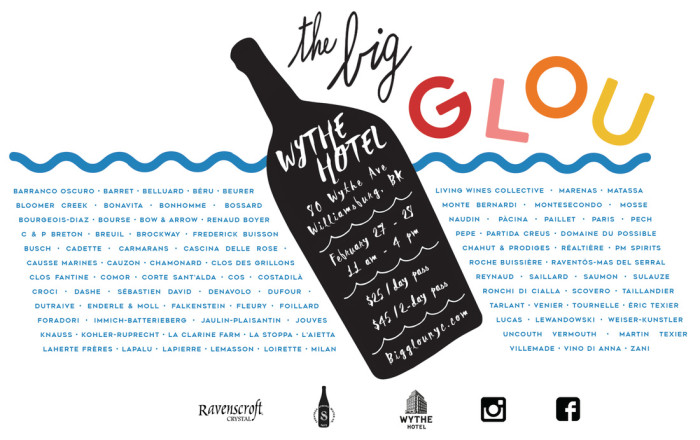 "In 2000," Alice Feiring says, "nobody would let me write about natural wine. They thought I was a nutcase, a radical." Fifteen years and three books later (her newest is just out), wine lists all over New York City teem with handmade, organic, unsulfured juice. Feiring enjoys New York's new normal, which she has done as much as anyone to bring about, for one simple reason: "It's easy to find something I can drink almost anywhere I go." What was fringe has become de rigueur.
How did that happen? Feiring attributes natural wine's recent surge in popularity to several factors: increasing awareness of sustainable agriculture, a new generation coming of age unburdened by their parents' tastes, and the demotic leverage of social media. "Now [big media] have to pay attention, or they'll be left behind." There's also the significant pleasure quotient, which skews sky high in well-made examples. Above all, though, "People finally understand that wine is food, and maybe they don't want all those additives and processes in there."
This confluence of factors, combined with the unique, fascinating and lively flavors to be found in living wines, has finally resulted in New York hosting not one, but two natural-wine fairs this weekend. The Big Glou — "glou glou" being the onomatopoetic French equivalent of "glug glug" — will take over Williamsburg's Wythe Hotel on February 27 and 28. A second fair, Vivent Les Vins Libres ("Long live free wines"), will be held in Manhattan February 28-29.
At the Big Glou, a hundred producers, mostly from Europe (and most of those from France, natural wine's foremost hotbed), will be featured 50 at a time, half on Saturday and half on Sunday. The event promises to be a cornucopia for anyone keen to understand the state of the art, whether a novice looking for an intensive primer or a veteran keen to meet specific makers.
Lee Campbell, wine director at the Wythe, organized the Big Glou along with Guilhaume Gerard from Selection Massale and Kevin McKenna from Louis/Dressner with an assist from Chambers Street Wines. They invited many of their favorite growers to participate, based on their extensive travels and tastings. Producers are limited to those practicing the essential tenets of natural viticulture: organic or biodynamic farming, the use of native yeasts for fermentation, and no fining or filtration.
Europe has a long tradition of huge wine fairs — every country holds its own version every year — and over time various small "off fairs" have sprung up around the main events, much as smaller art fairs have proliferated alongside the Armory Show and Art Basel. These scrappy upstarts featured wines by smaller, funkier producers ignored by the big corporate shindigs, and it was at these tastings that Campbell caught the natural-wine bug. "I learned so much at these smaller fairs and wanted to do something like them here. New York wine events can be posh and expensive; we wanted to create something accessible to everyone." Tickets, priced at $25 (or $45 for a two-day pass), sold out quickly.
---
"People don't know what's in their wine. If they did, the game would change overnight."
---
The Big Glou should be the best introduction yet to what has become an international movement. From German wunderkind Jochen Beurer to Sicily's Vino Di Anna, from Jura's Domaine de l'Octavin to Granada's Cauzón, the fair covers a lot of ground geographically and stylistically: delicate sparklers, burly reds and everything in between. The Languedoc, formerly a region devoted to generic, flabby reds, now boasts a growing number of top-notch natural producers. Rhine, Mosel, Loire, Rhône — wine's most famous rivers are well represented. And for those keen to deepen their knowledge still further, Sunday morning offers two seminars: one on climate change and the future of wine, and one on the importance of soil with vigneron Eric Texier.
Happily, the fair will also include some homegrown winemakers. "The movement is building here," Campbell continues, listing California's Chris Brockway and Living Wines Collective along with Bloomer Creek from New York's Finger Lakes among the notable domestic talents. Importer Zev Rovine, who imports an excellent book of largely French wines, also represents the Living Wines Collective, based in Orinda, California, just east of Berkeley, as well as Evan Lewandowsky, who vinifies dry-farmed organic California grapes in Utah. A former employee of Rovine's (who once owned a wine bar in Salt Lake City), Lewandowsky has begun planting Riesling and other alpine varieties in central Utah. Rovine is looking forward to the fair. "We're due for regular large tastings in New York. And it's gone from famine to feast all of a sudden."
That feast includes the other fair overlapping with the Glou: Vivent Les Vins Libres, an established French natural-wine fair, will be setting up at Racines New York in Tribeca for Sunday and Monday tastings of 22 excellent producers' wines. (There's a party Sunday night, but it's already sold out.) More intimate and tightly curated, it promises to deliver some first-rate encounters: vivid glimpses of the intersection between ancient techniques and modern sensibilities. The event is a collaboration between Domaine de la Tournelle, Restaurant Quedubon in Paris and Rouge Tomate in New York. (The fair will also take place in Montreal on March 6.)
This big weekend for natural wine is something of a culmination of New York's fling with natural wine. There have been a proliferation of natural wine bars — the Ten Bells in Manhattan; June and the Four Horsemen in Brooklyn — and the wines are available on lists at an increasing number of fine-dining restaurants, as well as the bistros that gravitate toward the wines, well, naturally.
For Campbell, the Big Glou represents a concerted effort to further move the needle of public perception, to entice New York City's oenophiles closer to wine's ancient roots: away from the industrial model that uses chemicals and non-organic methods. "People don't know what's in their wine. If they did, the game would change overnight." Expecting a healthy turnout, she says they're already planning a bigger event next year.
Ross Bingham, owner of Critical Mass Selections, will have two of his producers at the Big Glou: Massimo Croci from Emilia-Romagna and Piedmont's Andrea Scovero, whose Barbera rosé manages to be gulpable and complex at the same time. Bingham is a true believer in natural principles, but his exceptional palate chooses the juice. "All my wines are very clean; many people can't tell they're natural," he insists. Not surprisingly, he thinks good importers play a key role, choosing wines with character and finesse and ignoring the flawed and feral examples that contributed to natural wine's halting inception on these shores. "The really dirty, bretty ones don't make it over here," he says, adding that the winemakers are getting better at what they do as demand and respect for their work continue to expand. Fiering, whose most recent book, For the Love of Wine: My Odyssey Through the World's Most Ancient Wine Culture, explores the wines of Georgia, agrees. "Natural wine is finally losing its hipster sheen; now we're just talking about good wine." And of the fairs, she concludes: "New York is finally getting a taste of something they've had in Europe for over ten years."
For more information and possible event availability, visit the websites for the Big Glou and Vivent Les Vins Libres (which is in French).