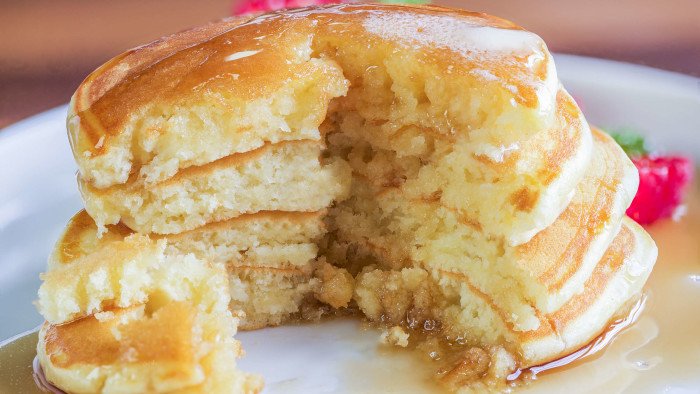 Who doesn't love a light and fluffy flapjack to start off the day? Soft and pillowy, with a mouthwatering malty flavor, pancakes lovingly soak up syrup and butter to become the decadent stack of deliciousness they are. We're hard-pressed to think of a better way to start off a weekend.
Our friends at ChefSteps wrote in this week with some super-simple advice for making the best-ever, year-round breakfast cakes. Included are some tips and tricks for making pancakes with a nice, even tan; rich malty flavor; and crazy-fluffy texture. Take a look at the video and full recipe here below and kick-start your weekend with this easy yet decadent creation.
Ingredients
200 grams pastry flour
12 grams baking powder
20 grams malted milk powder
6 grams salt
30 grams sugar
2 whole eggs
1 cup whole milk
½ stick butter
Yields approximately 2¾ cups batter
Directions:
Sift all the dry ingredients together in a large bowl and set aside.
With a whisk, combine milk and eggs in a large bowl. Gradually add dry mix and keep whisking until your batter just comes together. Don't overmix! Mix it just enough to hydrate the dry ingredients, then stop.
Melt butter on the stove over low heat or in the microwave.
Pour melted butter into batter and stir gently to incorporate.
On medium heat with a dry nonstick pan, spoon some batter into a small circle and rotate the spoon to pile the batter into a little mound. Don't move the pancakes around.
Once air bubbles begin to form on the top and steam is puffing out, it's time to flip. Continue cooking on the other side until you've achieved golden-brown perfection. Cooking time depends on the size of the pancake, but usually about three minutes on the first side and two minutes on the other side does the trick.
Add syrup and butter, or strawberries and mint, or eggs and bacon, and eat!
ChefSteps comprises a team of award-winning chefs, filmmakers, scientists, designers and engineers focused on revolutionizing the way people cook by inspiring creativity and encouraging expertise in the kitchen. The site is currently offering free online classes called Cooking Sous Vide: Getting Started and Burgers, as well as a $10 class called Cooking Sous Vide: Beyond the Basics and a $14 class called Coffee.