A woman with wavy hair and dark eyes stares intently at guests and never averts her gaze. That's because her face is hand-painted and she's over 10 feet tall. Robert Vargas's mural honors the women of downtown Los Angeles and looms large in Faith & Flower's bar, which remains at the forefront of the city's cocktail movement under lead bartender Darwin Pornel, who discusses keys to effectively garnishing drinks below.
Pornel was raised in New Jersey, moved to San Diego as a teenager and quickly acclimated. "Living in Southern California makes you more approachable," he says. "You learn how to be more hospitable." Those lessons have served him well behind the bar.
Pornel served at P.F. Chang's and the legendary Hotel Del Coronado before tackling high-volume bars like Barleymash and Bang Bang. He relocated to L.A. to absorb cocktail culture, bartending at two Peruvian restaurants, Paiche and Picca.
He trained with Julian Cox, Sprout Restaurant Group's former beverage director. Pornel considers this class "the most interesting and enlightening thing I have done" in Los Angeles. He learned spirit history and how to use produce, but most importantly, he says: "Don't be afraid."
Now Pornel fearlessly helms Faith & Flower's bar, collaborating with Ryan Wainwright, who manages bars at Terrine and Viviane for co-owner Stephane Bombet. Pornel says, "We want every cocktail to be an experience, a memory."
When garnishing, Pornel prizes functionality, starting with aroma and experience. "Things that may seem simple, like a lime or a lemon wedge, can help a guest balance a cocktail to their liking," he says.
Cocktail Academy's Brandyn Tepper instilled the concept of "presentation range," or how a cocktail should look when delivered to a guest. A stable garnish is better, given the "movement of the dining room." Pornel avoids messy "floaties," like bobbing lime wheels.
Garnishes aren't always welcome. Unrelated ingredients, like flowers, can clash with aroma and balance. "Many times cocktails are really beautiful ungarnished," Pornel says.
Pornel considers ice in presentation. Clear blocks look great in glasses. Faith & Flower also makes pebble ice for cocktails like the Woodsman, a julep variation named for a hunter in a Japanese folktale. Kikori, a Japanese rice whiskey, welcomes kuro sato (Japanese black sugar), fresh lime juice pressed with mint and Laird's apple brandy. Pornel accents pebble ice with a mint bouquet. He slaps the herbs to agitate aroma and strategically places them near a straw to maximize their sweet smell.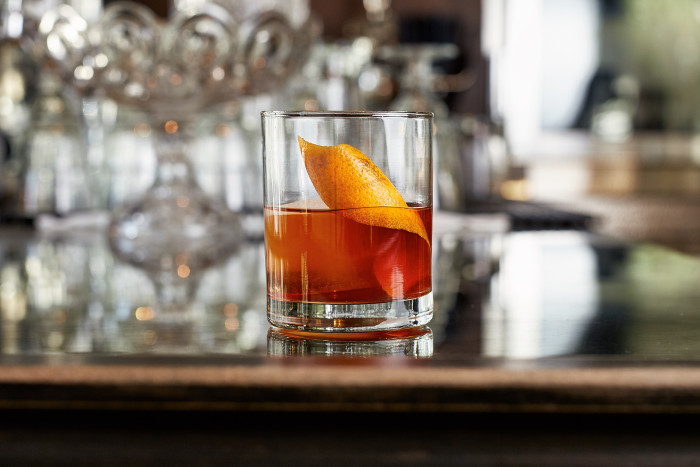 Harry Winston, a Japanese riff on the old-fashioned, refers to a jeweler to the stars. Nikka Japanese whisky joins King's ginger liqueur and kuro sato. House-made teapot bitters meld Earl Grey tea, gentian, orange peel, grapefruit peel and cardamom. Pornel garnishes this stirred drink with an orange peel that's flamed on both sides to caramelize the oils. "I was taught that if you have a bourbon old-fashioned, it's an orange peel," he says. "If you have a rye old-fashioned, it's a lemon peel."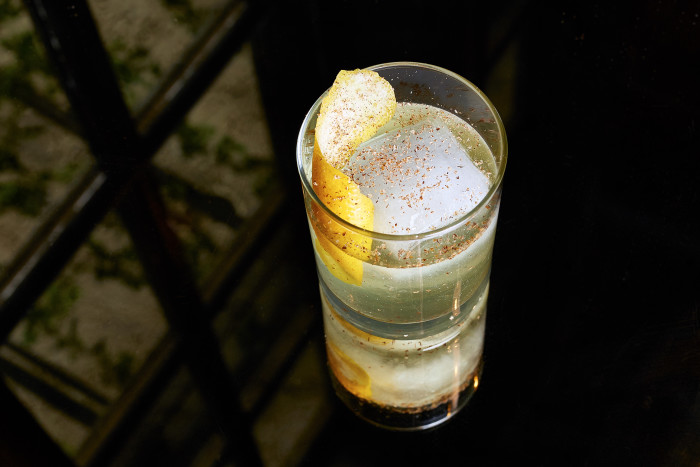 Faith & Flower's popular English Milk Punch draws on Jerry Thomas's recipe from his 1862 book, How to Mix Drinks. This cocktail combines three rums, bourbon, brandy, Batavia arrack, absinthe, sencha, cinnamon, clove, coriander and clarified milk. Pornel specifically references the garnishes, saying, "If it doesn't have grated nutmeg and lemon oil, it's completely different and kind of weird."
To apply citrus oil, squeeze the peel before swiping the cocktail's rim. Pornel also wipes the edges, saying, "If it's someone sitting at the bar, when they go home at night, they'll smell their hand and think, 'What is that smell?!' Sometimes they'll remember they had a really great cocktail and come back." That's the true mark of bar success.