How To Pair Beer And Marijuana: A Match Made In Hazy Heaven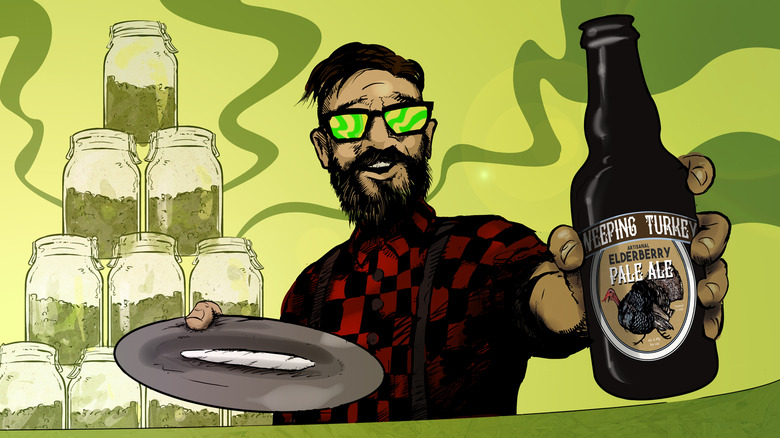 When it comes to pairing beer and pot, we aren't talking about those few tokes you chased with a can of Coors back in college. Melding our current cultural obsession over food and beverage with the recreational marijuana now legal in four states — Colorado, Washington, Alaska and Oregon — it's no surprise that high-end weed is getting the gourmet treatment. And for some connoisseurs, finding the perfect beer to go with their preferred strain has become a normal weekend-night activity.
"We live in an age where beer can taste like strawberry soda and weed tastes like a peeled orange," says Ed Haas, a marijuana blogger and consultant based in Denver. "It's interesting and fascinating to me the number of combinations regarding flavors that you can achieve in both marijuana and craft beers."
To pair the two, Haas recommends starting with hash (a paste made from the sap of the plant), as opposed to the plant material itself, because the high lasts longer and its terpene profile is higher. Terpenes, in case you are wondering, are the organic compounds found in herbs that give it flavor. In marijuana, for example, pinene is a terpene that gives a forest-fresh flavor. Limonene is the terpene that adds a citrus zing. But how do you know if your hash is the most "terpy"? ("Terpiest"?) Simply ask your bud-tender — yes, that's now a thing — to direct you. Next, Haas says, give it a smell and think about the flavors of the beer you are trying to pair it with.
---
"We live in an age where beer can taste like strawberry soda and weed tastes like a peeled orange."
---
"A grape-flavored hash, for instance, goes spectacularly with a cherry sour beer, with the flavors swirling around and making their own 'cocktail' of taste bud pleasure," suggests Haas. "Hash that tastes piney goes well with IPAs because the terpenes in the hops used in the beer are similar in character. It's neat to see how the hops play with the smoke from this kind of hash, and the new flavors they create on your palate."
Sour beers, like this Hippy Berliner Sour Ale, are usually a good match for marijuana, says Foster Ramsey of Denver's Mondo Vino. (Photo: Mondo Vino/Facebook.)[/caption]
Sour beers are one of the best brews to pair with marijuana and hash, a sentiment expressed by Foster Ramsey, the beer curator at Mondo Vino in Denver. After all, he says, smoking gives you what is commonly refereed to as "cotton mouth," and a beer helps counteract that sensation. Drying components like heavy hops and coffee are out, but beverages that quench your thirst and cause you to salivate are in. Ramsey says tartness and a bit of sweetness will stimulate your taste buds best, making this not just a tasty combo, but one that helps too.
"Your palate has an easier time with residual sugars when it's dried out," says Ramsey, which means fruity beers prove even more enjoyable when toking on a left-handed cigarette. Because the senses can be dulled by smoking, he suggests staying away from complex craft brews and concentrating on more dynamic, in-your-face flavors. Once again, fruit is the star. Because of this, Ramsey says, apple and pear ciders are great pairings with marijuana.
When deciding what beer to buy, Haas suggests you ask yourself, "Are there key components to beer or strains of pot that make them go better with each other?" With that in mind, start trying out a few of Ramsey's and Haas's favorite pairings. These combinations are, as Haas puts it, "more preferable to a cigar and Scotch any day."
CBD Cherry Afghan pairs perfectly with a tart fruit beer. (Photo: strainleaks.)[/caption]
Pair These:
SpontanSourcherry from Mikkeller with CBD Cherry Afghan (above)
This lambic-style fruit beer from Copenhagen has a tart cherry profile with hints of lemon and a fun, sweet sourness. "This is easily my favorite pairing ever," says Haas. "The cherry characteristics in both played so well together, creating a fruit salad of flavors on my palate."
Pinner Throwback IPA from Oskar Blues with Orange Herijuana
This IPA features tropical fruits, citrus juices, pineapple and spiced berry both in aroma and flavor, components that go well with the citrus smoke from this breed of pot. Fun fact: "Pinner" is actually a reference to a small marijuana cigarette, one of many sly nods this brewery gives to weed culture.
Blueberry Dreamland from Black Project with Lemon G Live Resin
Because this tipple is brewed in Denver, it's not surprising that it naturally goes with hash. This sour ale is part of the brewer's spontaneous and wild ales line and imparts a heady blueberry flavor, which, says Haas, lovingly melts with the lemon notes of the bright yellow Lemon G.
Pinner Throwback IPA gets its name from the slang term for a thin marijuana cigarette. Also, the beer pairs really well with a fragrant Orange Herijuana. (Photo: Oskar Blues Brewery/Facebook.)[/caption]
Or Pick These Beers To Go With Any Bud:
Nitro Sawtooth by Left Hand Brewing
Ramsey suggests going for a non-stout nitro beer, like this all-American ale. It has a rich creaminess to it that will help coat your mouth.
Any of the Paradox sour beers
Brewed in Divide, Colorado, these barrel-aged brews have a sour golden base, and the flavors speak to the season. To start, try the ginger-pear sour, apricot sour and salted sumac sour. No matter which you pick, the tartness will help with dry mouth and give you a strong, pleasing flavor sensation.
And When The Munchies Strike: