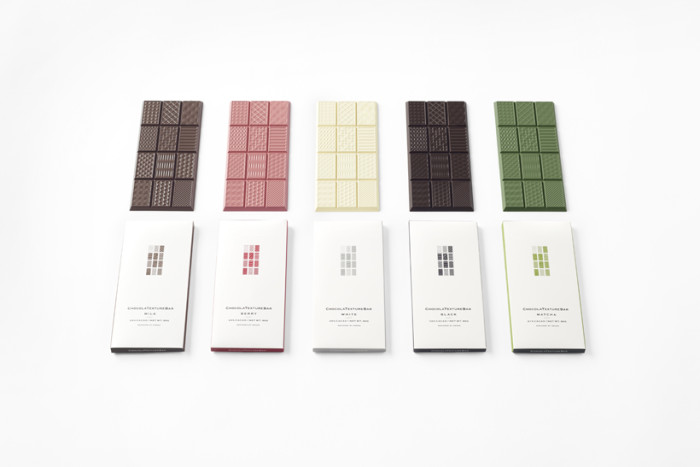 Little known to the public at large but beloved within the design world, Oki Sato's firm Nendo is one of the most influential studios of our time, and Sato himself has been hailed as Japan's creative mind par excellence. Not content with the many accolades he's amassed of late (he won Designer of the Year at prestigious Paris design fair Maison et Objet in 2015 and garnered similar honors from Elle Deco International and design bible Wallpaper*) or the 400-plus designs he's said to be working on at any given time, Sato and his team have made time to play Willy Wonka and created a series of imaginative, striking and playful riffs on the humble chocolate bar.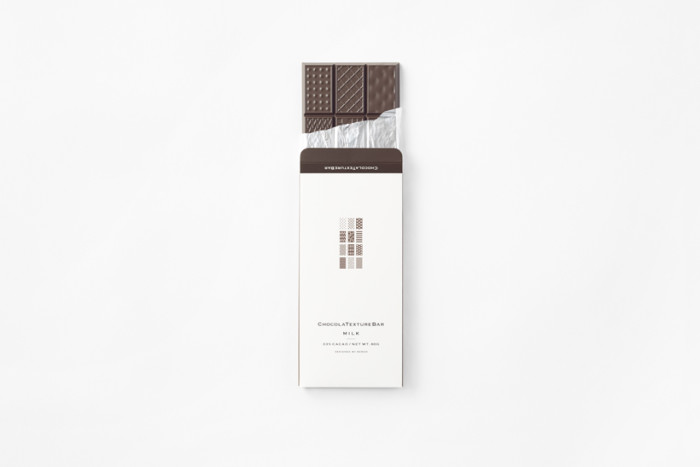 The firm's latest offering for its "by | n" range is the whimsically named "chocolatexturebar," which focuses on texture as the primary sensory element at play. While the approach of a chocolatier or manufacturer would be to zero in on the cocoa's country of origin, varietal, percentage content or preparation technique, Nendo's approach as pure designers has been to focus on the parts they can control — that is, the intricate network of grooves on the surface of each bar. A single bar is divided into 12 pieces, each individually etched with a different texture — some with zigzags, others with dots — the obvious idea being that the ridges and grooves lend themselves to different sensations as you roll your tongue over them.
Whether most people will be able to discern the subtle differences is up for debate, but the designers' execution and presentation is nothing short of flawless. Additionally, the beautifully designed packaging and inherent niche value makes Brooklyn's beloved Mast Brothers bar look like Hershey's milk chocolate. Meanwhile, an idiosyncratic set of flavors— white, matcha, bitter, milk and, er, strawberry — adds to the allure.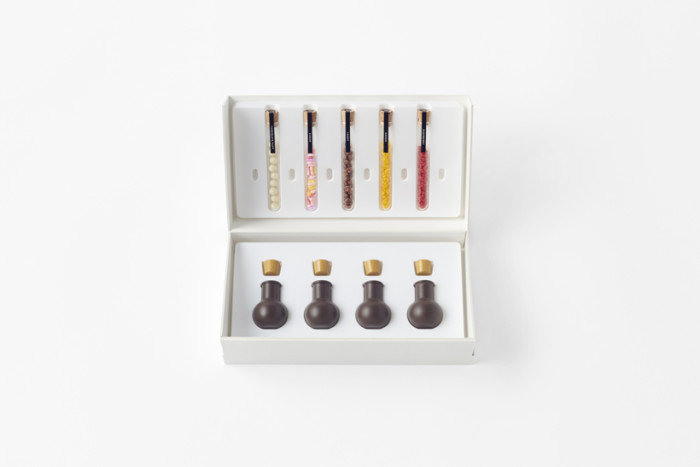 An accompanying product, "chocolamixture," is being released at the same time as the bars and promises to be just as playful. A sleek, ergonomic box opens to reveal miniature chocolate flasks, paired with mini test tubes filled with various flavors to mix in each flask. Freeze-dried mango and raspberry, popping candy and heart-shaped sugar and chocolate puffs are among the flavors available, while the lid of each flask is made of white chocolate fumigated to develop a gentle cork color. "The chocolate manufacturer has an excellent skill for creating products that have the hollow areas of the chocolate filled with syrups and caramels," according to Nendo. "We thought that by applying this skill to produce a vessel out of chocolate, innovative flavours could be created."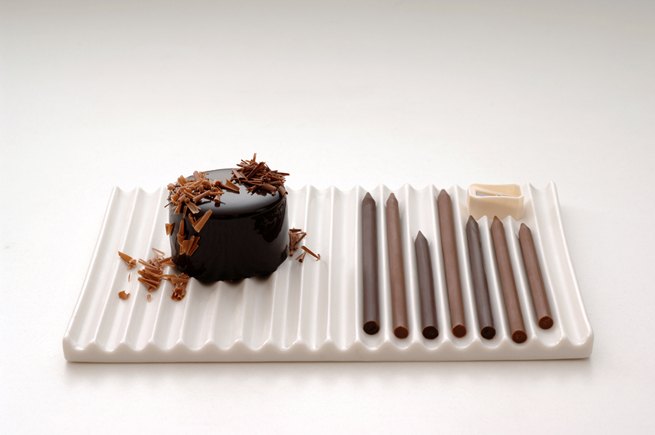 With an obvious pedigree — Nendo covers everything from architecture, interiors, product and graphics — it's heartening to see Sato eschew easy platitudes in favor of focusing on the visual and sensory aspects of a simple chocolate bar. Furthermore, this isn't the first time his firm has worked with chocolate as a material. The group first collaborated with legendary patissier Tsujiguchi Hironobu of Mont St. Claire to create chocolate pencils to "shave" over desserts as a fun and playful garnish back in 2007. Nendo also plans to roll out a "Chocolate Lounge" at the Maison et Objet trade fair in Paris this year, complete with house-designed pieces finished in deep hues of cocoa.