Chef Masa Went Truffle Hunting In Italy, Fished For His Dinner In Thailand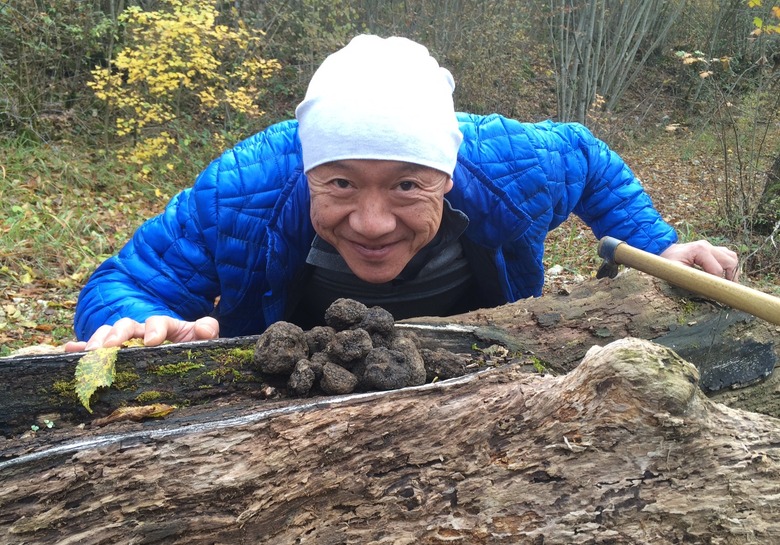 Chefs love to travel — for inspiration, to experience the cuisines of other cultures or just to get away from the heat of their own kitchens. When they return, we hit them with some questions — where'd they stay, what'd they do and WHAT DID THEY EAT?!
Chef Masayoshi Takayama (known universally as Masa) is one of the world's most recognized names in Japanese dining. His eponymous restaurant Masa, which opened in New York City's Time Warner Center in 2004, is the only three-Michelin-starred Japanese establishment in the country. It's also among the most expensive: Effective next month, the restaurant will eliminate tipping, as is becoming increasingly common in fine-dining venues. The result will be an omakase-only kaiseki-style menu at $595 per person, exclusive of tax or beverages.
It's Masa's unwavering commitment to sourcing the finest available ingredients — often flown in from Japan's famed Tsukiji Market — that has allowed his first NYC restaurant to remain one of the city's most renowned and exclusive hangouts over the course of more than a decade. He imparts this same philosophy at Bar Masa next door and at Kappo Masa on the Upper East Side. (He is also slated to open Tetsu in TriBeCa later this year.) But as we find out from the chef's latest travels, he's not afraid to get his own hands dirty to secure the freshest possible ingredients for his home-cooked meals.
Italy
Why did you travel to Italy? Had you visited before?
I was invited by the Urbani family to experience truffle hunting. It was not my first time in Italy.
Where did you travel in the country, and where did you stay?  
Torino. I stayed at the Urbani family's villa. They are like the royal family of truffles in Italy.
Had you ever been truffle hunting before?
Yes, I have been truffle hunting before. It was great to be in nature with the family's truffle-hunting dogs.
Any memorable meals?  
We had a beautiful dinner at the villa that included veal with polenta and mushrooms and, of course, fettucine with incredibly high-quality shaved black truffle.
Did you come home with any inspiration for your menus? 
I have always had a great respect for truffle and have incorporated it into my Japanese idea of cuisine since I opened my restaurant, including truffle sushi that we serve in our omakase menu. It is a ball of sushi rice covered with finely shaved truffle and looks almost like a chocolate truffle. And we add a touch of grated Parmigiano-Reggiano to complement the taste.
Thailand
Had you visited Thailand before? 
I visit Thailand at least once a year, on my way to Japan.
Where did you travel in the country?  
I stop in Bangkok, but the best part of my trip is my time in Koh Samui.
What do you fish for? Did you cook it? 
I fish for grouper. I like to make ceviche with it, which is very refreshing in the hot weather of Thailand. I like to keep it simple since it is so fresh — lime, green peppercorn and red onion.
Any memorable meals? 
I mostly like to cook since the ingredients are so wonderful, especially the seafood and Thai chili.
Did you bring anything home with you? 
I am working with talented local artisans, particularly for woodwork. I have been designing tableware and working with the craftspeople there to make it.