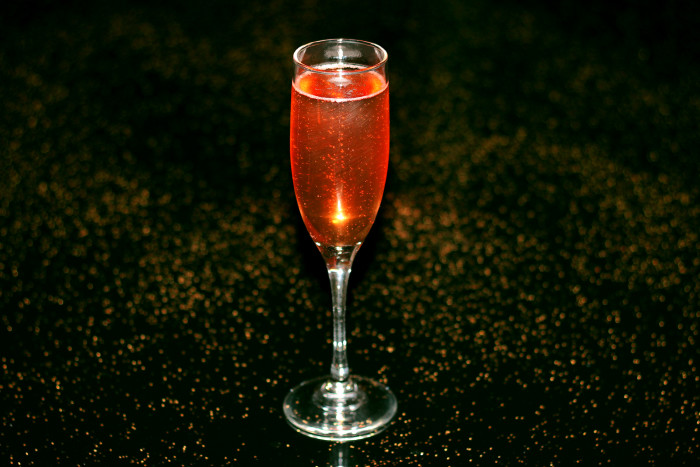 It's true that Valentine's Day is upon us, and while it's certainly worth toasting, it is equally important to not let things get, dare I say, sappy. Woodsy, on the other hand, is just fine, as it can impart herbal, sometimes bitter flavors that complement the sweetness of most cocktails. While experimenting with these flavors at Dallas's esteemed Midnight Rambler Bar, barmen Chad Solomon and Zach Smigiel created a drink that appears to be an innocent glass of sparkling rosé, yet is anything but.
Evoking a bit of northern woodlands and also bringing a bit of glam to the menu, the Velvet Goldmine is a nuanced cocktail that starts with a distilled birchwood spirit from Iceland called Birkir Birch schnapps. Clear Creek's lauded Douglas fir eau de vie, made from the needles and buds of pine trees in Oregon, also adds round notes of pear from its brandy base. Solomon then adds in vermouths and Demerara to sweeten, as well as scant amounts of bitters, extracts and just the right amount of saline to heighten the flavors before topping it with sparkling rosé.
Incredibly complex and concept-driven, Midnight Rambler is part of a growing family of bars that employs behind-the-scenes gastronomic techniques such as sous vide, centrifugal clarification and the precision often found in most science labs to allow guests to drink these sometimes unorthodox flavors. All of that aside, there's also a story and simplicity behind drinks like the Velvet Goldmine that make it transporting, not confusing. Sweet, savory and effervescent, it makes the perfect toast on a chilly winter night.
Velvet Goldmine

Servings: 1 cocktail
Ingredients
2 teaspoons Dolin Dry vermouth
1 teaspoon Dolin Blanc vermouth
1 teaspoon Birkir Birch schnapps
¾ teaspoon Clear Creek Douglas fir eau de vie
¾ teaspoon Demerara (1:1)
.11 grams mineral saline
.02 grams Angostura
.02 grams birch extract
Top with 3 ounces Albert Bichot Crémant de Bourgogne sparkling rosé.
Directions:
Combine all ingredients (except sparkling rosé) in a mixing glass and stir for 5 seconds with ice.
Strain mixture into a chilled flute glass and top with sparkling rose. No garnish.
Prep Time: 2 minutes
Difficulty: Moderate