The Sexy Truth Behind Marc Forgione's All-Aphrodisiac Menu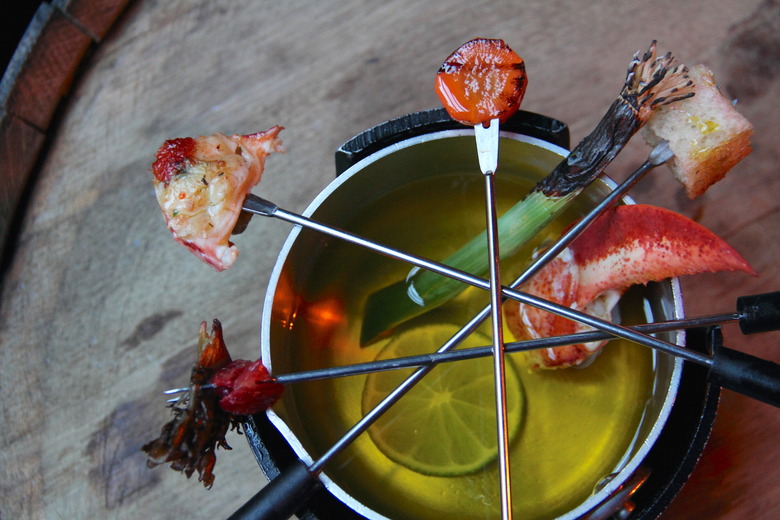 Marc Forgione's lobster fondue is about as Valentine's-y as it gets. Eat both your hearts ou
Plenty of chefs whip up a Valentine's prix-fixe or tasting menu for the biggest "Hallmark holiday" of the year. NYC chef Marc Forgione's words, not mine. He's been crafting magical love holidays at his eponymous TriBeCa restaurant for half a decade, and this year is no different: Each of his ten courses is composed almost entirely from aphrodisiacs known around the world.
Avocado, for example, "delivers a punch of nutrients essential to sexual health, including beta-carotene, magnesium and vitamin E" (which is sometimes called the "sex vitamin"). Better yet, "Scientists from the University of Milan had an interesting study which revealed the most powerful aphrodisiac is beetroot, which contains high amounts of boron, directly related to the production of human sex hormones." What are you trying to do to the masses, chef!? I had some very important questions about the Forgione Valentine's Day Experience. Behold, this year's menu:
1. Kampachi Tartare, Sechuan Button
2. Kusshi Oyster, Cucumber Skin Gelée, Forgotten Crème Fraîche
3. Navajo Fry Bread, Wagyu Bresaola, Cured Egg Yolk
4. Tuna, Coconut, Avocado, Chili Scrap Hot Sauce
5. Taylor Bay Scallops, Sauce Proposal [more on this sauce below]
6. Parmigiano di Reggiano Agnolotti, Maine Uni, Kaluga Caviar, Seaweed
7. Lobster & Foie Gras "Fondue," Traditional Garnishes in Untraditional Ways
8. Veal Sweetbreads, Beet, Poppy Seed, Sauersprouts
9. Dry-Aged Jurgielewicz Duck, Black Truffle
10. Banana, Chocolate, Hazelnut
–
Not many chefs take it upon themselves to craft a 10-course meal purely using aphrodisiacs. What inspired you and how long did it take?
It's a Hallmark holiday, but we wanted to take that other route of not just love but also intimacy. It takes a couple of days to write the menu, and we change it every year. This is the sixth year we're doing it. We don't do any repeat dishes because a lot of the people are return guests. It just continues to evolve; we've done everything from incorporating "perfume" and nitrogen to exploding balloons — we served a petit four inside a balloon that you popped. You name it, we've done it.
Which of these aphrodisiacs does it for you the most?
I don't know if there's any one in particular — it's the whole experience. This might sound cheesy, but it's an aphrodisiac for me to create this menu. It feels really good.
Let's be realistic, chef: A couple who plows through a 10-course meal is going to be way too full to get down.
No, no, it's actually the opposite, I promise. Each course is one or two bites, maximum. We're making sure you still have energy at the end of the night.
Which course out of the 10 is the downright sexiest, and why?
The Waygu bresaola on fry bread. It's actually a breakfast I made for my fiancée a couple of months ago. We had a late night, and it was just kind of a romantic breakfast we ate together the next morning.
I see no testicles on the menu. Any reason for that?
Yeah...I didn't include them on purpose. Maybe next year.
Let's talk about proposal sauce [Forgione's signature sauce of emulsified brown butter, soy sauce, lime juice, capers, cauliflower and hazelnuts]. Has this sauce led to any actual proposals?
We've had at least a dozen people propose in the restaurant. Not just because of the sauce, I'm sure. Two guys actually gave me the ring.
If the home cook wanted to use just one of these ingredients to prepare a homemade Valentine's day meal, which would you choose?
I'd have the guy make her the proposal sauce with a simple piece of fish.
The fondue is served with "traditional garnishes in untraditional ways." How is this going to influence what happens after diners leave the restaurant?
Maybe they'll make love in a nontraditional way?
Let's hope so! All right, so a couple who enjoys your Valentine's menu and its untraditional garnishes comes back nine months later with a baby named Marc. What do you do?
Take a picture!