Flexitarianism: a beautiful omnivorous balance between meat-eater and plant-enjoyer. The practice of accenting vegetables with meat or otherwise reducing animal protein consumption is on the rise, as is the number of chefs creating masterful symbiosis between flora and fauna. If you're a burger person, it's very likely that you're a mushroom burger person. No, not a big rubbery portobello cap in a whole wheat bun — that's not the kind of mushroom burger than indicates you're a burger person. Sautéed mushrooms and ground beef go hand in hand — succulent and juicy meets tender and juicy, and everyone wins…except the person trying to cut down on their beef intake.
Enter: a patty hack you should be doing regardless of whether you intended to make a mushroom burger. This involves all burgers being mushroom burgers. It's known as "The Blend," as it's easy as heck to pull off. The National Mushroom Council lists the following steps:
Chop up your favorite mushroom variety to match the consistency of the ground meat in the recipe
Cook and season mushrooms the same way you would meat
Combine the cooked meat and mushrooms and use the mix to complete your recipe.
The shrooms help keep the meat juicy, flavor your burger from the inside out while cooking, and result in more patties, as chef Jehangir Mehta of Graffiti in NYC can attest.
"Mushrooms tend to give immense umami, and that blends very well with meat. Tomatoes do give that as well but also tend to add a lot of moisture, and mushrooms are are a yearlong vegetable," Mehta says.
Check out this mushroom-blended burger straight off his Graffiti menu and go to town on meatloaf, meatballs and anything else you think could benefit from a little less meat and a little more flavor. "Be sure to mix all the ingredients really well," adds the chef. "Cook one small burger first before forming all the balls. This way you can adjust the recipe."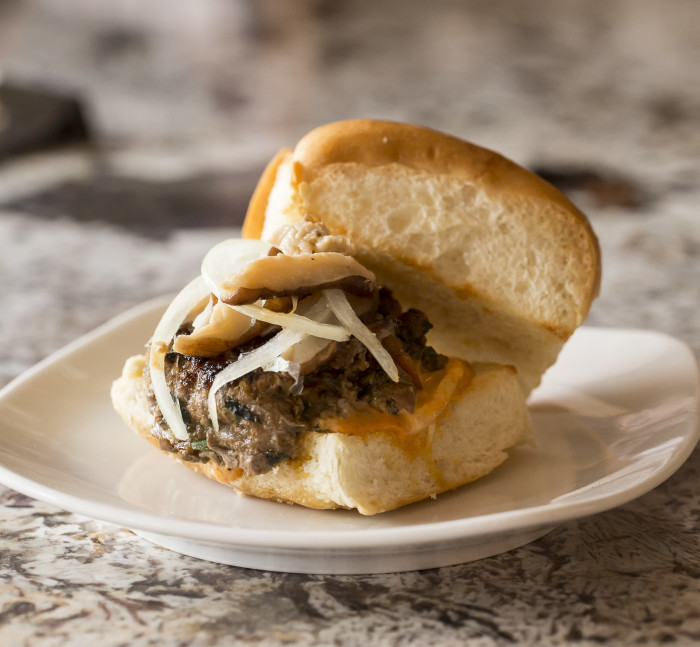 Jehangir Mehta's Graffiti Mushroom Burger
Makes 24 sliders, or 6-8 burgers depending on size
Ingredients
1 pound Angus ground beef
5 tablespoons portobello mushrooms
5 tablespoons king trumpet mushrooms
2 tablespoons button mushrooms
2 tablespoons onion, diced
1 tablespoon tomato, diced
2 teaspoons cilantro, chopped (about 15 leaves)
½ teaspoon ginger, chopped
½ teaspoon garlic, minced
1/2 of one Thai bird chile, chopped (about 1 1/2 teaspoons)
Spices
1/3 teaspoon each turmeric, onion powder, tomato powder, ground coriander, ground chili powder and ground lemongrass powder
Finely chop mushrooms or grind in food processor to roughly the same consistency of the ground beef.
Blend all the ingredients together by hand and form whatever size burgers you choose.
Set in the fridge for at least 4 hours before cooking.
Salt lightly on both sides.
Grill to desired doneness.
Serve without bread or on a brioche bun.