Say what you will about shellfish or chocolates, but there's no better V-Day treat than a large hunk of juicy red steak. See? Red. Like hearts. Rather than mangle our hands on sharp shucking knives and shell edges — not that we wouldn't do that for our beloveds, we totally would — we're slapping a big piece of meat on the grill (or in the grill pan, since there's probably snow taking up your grilling turf). Show off that perfect medium-rare you've perfected over the years, and show your significant other why they picked you out of everyone else.

I hadn't cooked for just my husband in 14 years. I'd fed him, of course. Hosted dinner parties with him. Made his coffee and fried a few eggs in the morning. But I hadn't really made a romantic dinner for two since before our first child was born. With the kids at camp, I decided to make his favorite meal, steak au poivre: a New York strip steak crusted in crunchy crushed peppercorns with a flamed Cognac and mustard sauce. My biggest fear was that I would set my kitchen on fire. I held my breath as I struck a teeny wooden matchstick to light the Cognac. That went well! The flames eventually died down, and I proceeded with the rest of the recipe. Disaster was averted, or so I thought, until we tasted the steaks. The sauce had a bitter, astringent edge.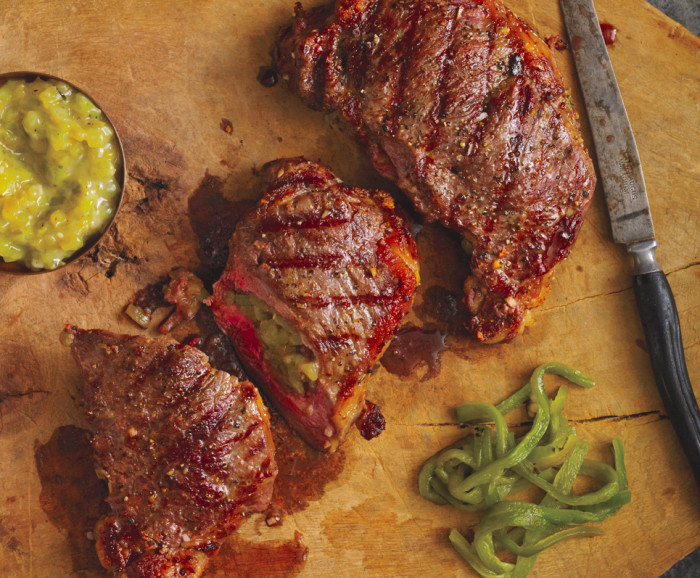 Another in the great American repertoire of standard, favorite, traditional dishes that benefit greatly when you substitute olive oil for the more common butter. For the fresh chile peppers, use whatever is available and suits your taste. Some people like very hot chilies, while others prefer the milder, warm flavor of Anaheims or poblanos.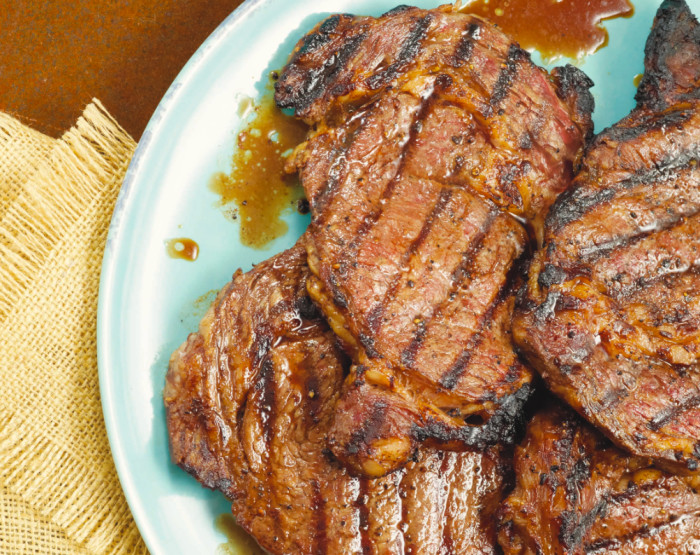 Pro pit master Troy Black, a regular on the Kansas City Barbeque Society circuit, teamed up with the editors of Southern Living magazine to pen All Fired Up, a cookbook that'll keep you busy at the grill all summer long. We all know that beer is an awesome steak marinade and that a little sugar makes everything better. Apply that logic to a juicy rib eye and turn out a steak you can really be proud of.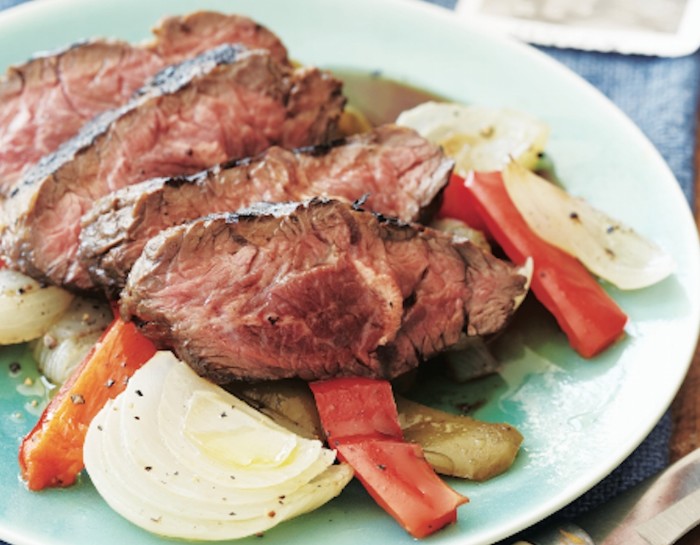 We'll never forget the first time we had this delicious steak. Exhausted and starving, we stopped at a roadside taco stand on the outskirts of Puerto Vallarta and could not believe how tender and juicy the meat was. The four-foot-tall, gold-toothed cook told us her secret ingredient: tequila.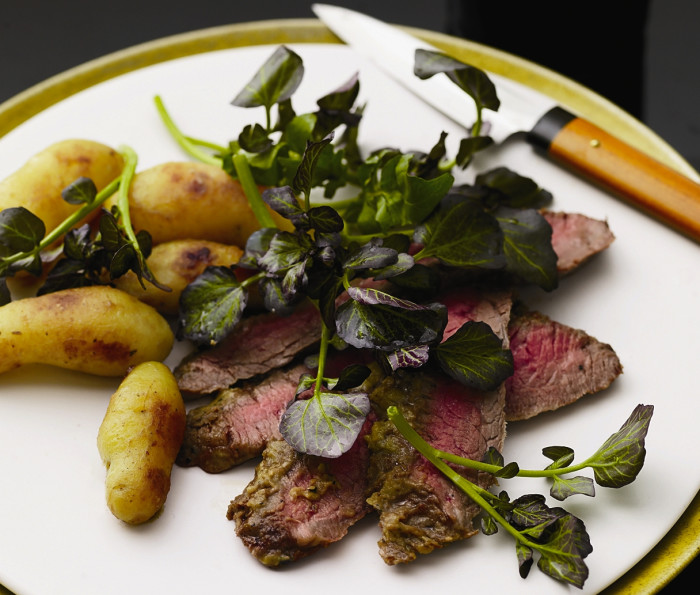 At Takashi restaurant in Chicago, Takashi Yahihashi cooks strip steak in a spicy wasabi-horseradish cream. He accompanies the meat with tiny, peeled miso-glazed fingerling potatoes and deep-fried salsify (a root vegetable).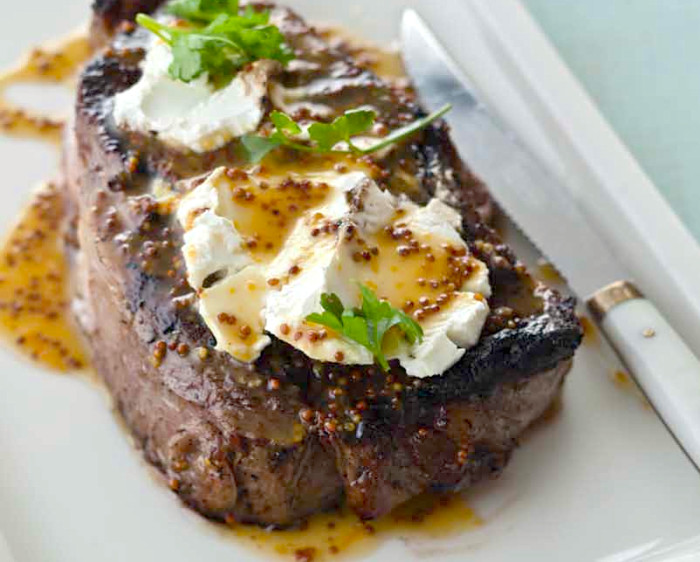 Rib eyes are the kind of steak I often order when I'm out. They have the most flavor, which comes from all that gorgeous marbling. This dish may sound like a crazy combination, but I have to tell you, it works. I just love the way the tangy goat cheese, bright mustard and fresh peppery watercress come together to complement the rich beefiness of these thick steaks. As a matter of fact, I think it works so well that I serve a burger with these same toppings at Bobby's Burger Palace; the Napa burger is one of my favorites.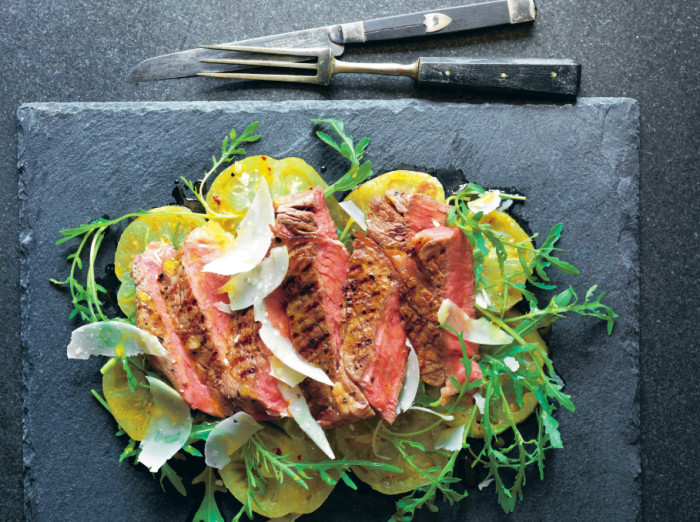 This dish brings back fond memories of my time spent working in Tuscany. "Tagliata" literally means "to slice." In Tuscany, they usually make this with sirloin or tenderloin; personally, I think rib eye works just as well.
Flavorful and generously marbled, rib eye makes a great splurge for a special meal, particularly when topped with a distinctively flavored butter. If you can't find unsalted pistachios, use unsalted butter to balance the salty nuts. The amount of pistachio butter is generous; if you like, turn the asparagus in some right after it comes off the grill and top the steaks with the rest.