Scott Drewno has been cooking professionally for 19 years. But there's one time-honored culinary technique that has long escaped his repertoire. Until now.
"I'd never done beer-can chicken," says Drewno, executive chef at the Source by Wolfgang Puck in Washington, D.C. It's a surprising admission coming from a guy with a self-described "steak-and-potatoes upbringing" in Upstate New York. The aluminum-enabled staple of casual backyard barbecues across the country is now getting some refined touches from Drewno and his crew, just in time for the upscale restaurant's annual Chinese New Year celebration.
"We were messing around with this whole roast chicken, and one of my sous chefs says, 'We should do an Asian beer can chicken.' I was like, 'That sounds kind of weird, but let's try it,'" Drewno says. The bird is dry-brined in Chinese five spice, injected with a half-full can of cheap Asian lager and then roasted. (See full recipe down below.) "It comes out super moist," he says.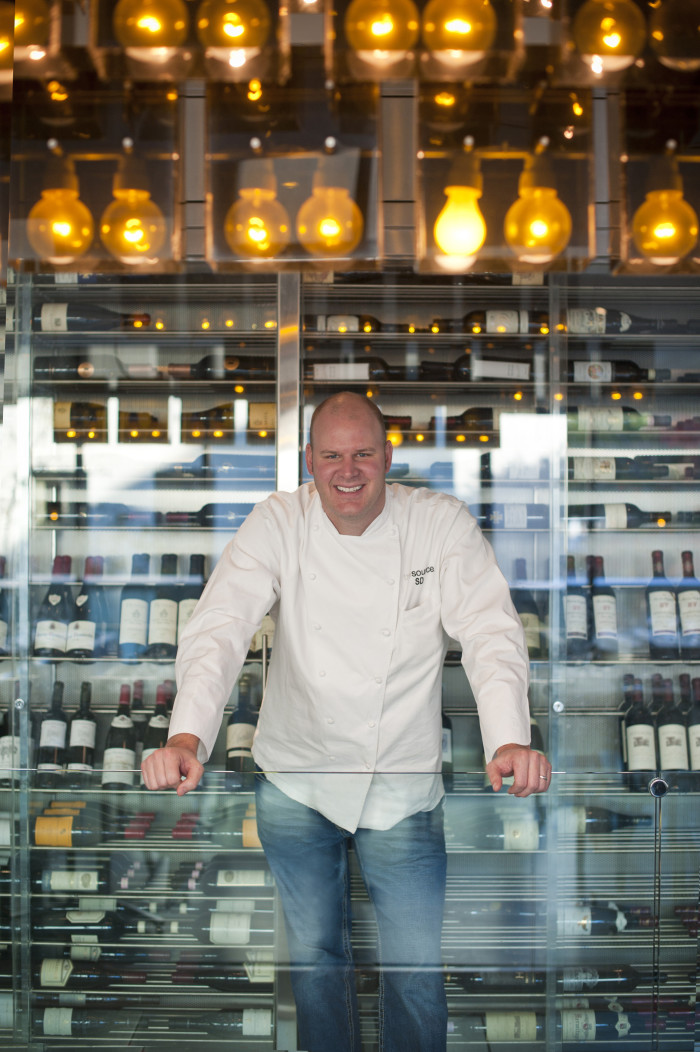 Cooking whole animals is one of Drewno's favorite aspects of Chinese New Year. The tradition is said to symbolize togetherness and prosperity. "Some years, we do whole fish," he says. "This year, we're going to do a whole roasted chicken for the table." The boozy bird comes as part of a special Chinese New Year tasting menu, priced at $110 per person and available through February 19, one of several things planned for the weeks-long celebration at the Source.
On Thursday, February 11, Drewno's fine-dining restaurant further commemorates the Year of the Monkey by transforming into a red lantern–strewn Asian-style night market, with multiple stalls dispensing delicious things like dumplings and roasted duck with moo shu pancakes. Guest chefs Danny Lee of Mandu and Erik Bruner-Yang of Toki Underground and Maketto (one of Food Republic's New Chefs Rising) are manning two of these live-action stations. A more formal three-course sit-down meal follows.
Then, on February 17, the kitchen will be taken over by Peter Chang, the widely celebrated Chinese chef whose early nomadic tendencies made him something of a cult hero and a fascinating New Yorker profile subject. It's the third year in a row that Drewno has managed to book Chang for an event, which, given the legend that surrounds him, seems like an impressive feat. Drewno, though, is a charmer. "He's become a friend of mine," the chef says of Chang. "We hang out sometimes and go eat." Earlier this week, Chang and Drewno cooked side by side at the James Beard House in New York City.
♦♦♦
Chinese New Year is always a big deal at the Source. This year, the revelry comes with some added perks. After a $1.6 million renovation, the eight-year-old restaurant is now better suited to Drewno's style of cooking. "When we built the restaurant, we had a different concept, so it wasn't really conducive to cooking Chinese food," he says. "Now we have steamers, Chinese woks — it just makes it so much more conducive to doing dumplings, stir-fries and the things that I like to cook."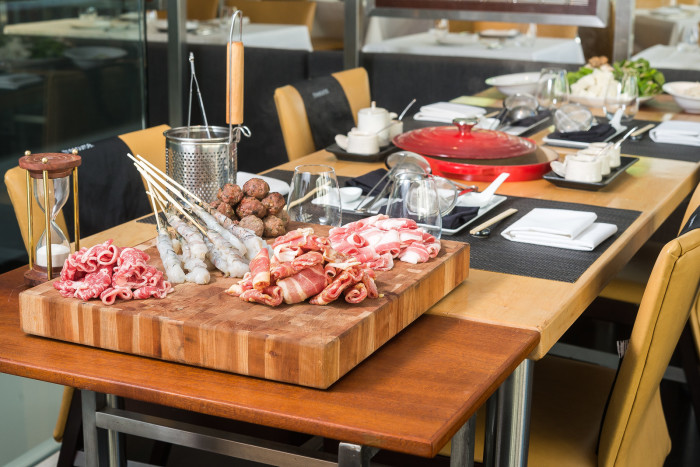 The restaurant also notably added a four-seat table for hot pot, the Asian-style meal where diners huddle around a simmering broth and cook various things in the bubbling brew. It's a growing trend in places like Los Angeles and New York City, if not the nation's capital just yet. "There are no places around that do it," says Drewno, who is not only doing it but trying to do it right. "A lot of people, when they eat hot pot, they just order a bunch of stuff and throw it in the pot," he says. "Through my experience, what I've learned is, there's a way to eat it where it's a sort of reverse tasting menu. You start with all the meats, basically fortifying this rich and spicy broth, then you do the fish and the vegetables, and then you end with more neutral things, like dumplings and noodles. So your broth becomes really flavorful."
For those already accustomed to the hot pot tradition in Asia, please note that the experience is a bit different at a fine-dining restaurant like the Source. "When you're in China, you get a plastic bib and it's real messy," says Drewno. Think Wolfgang Puck would approve of plastic bibs? Na! The Source provides its hot pot participants with bibs made of fine linen. "It was a challenge to take something casual and rustic and put it in a more formal setting," the chef says. "But it's been very well received, especially in this weather. People are going crazy for it." For Thursday's Night Market event, the hot pot table will be used as more of a cooking station, serving up bowls of spicy dumplings in broth.
If you attend this year's festivities at the Source, be prepared for some monkey business. In 2014, the Year of the Dragon, Drewno capped the night by serving his guests nitrogen popcorn, which filled the air with plumes of smoke.
The collective fog may have been blinding but ultimately harmless. Still, the restaurant took measures to avoid the scrutiny of regulatory authorities. "We didn't post any of the pictures," Drewno laughs.
♦♦♦
Chinese New Year Whole Roast Chicken
Courtesy of Scott Drewno, executive chef at the Source by Wolfgang Puck
1 whole free-range chicken (2½ to 3 pounds)
2 star anise
2 tablespoon fennel seed
2 tablespoon Sichuan pepper
1 tablespoon black pepper
1 teaspoon cinnamon
4 tablespoons kosher salt
Directions:
Toast, grind and mix all spices together with the kosher salt.
Rub spice mixture all over bird, including the cavity.
Let sit uncovered in refrigerator overnight.
Remove chicken from refrigerator one hour prior to cooking.
Stuff a large slice of shallot into neck of bird (this seals the body cavity and allows inside of the bird to steam).
Open a can of Tsing Tao Beer; drink half.
Place the bird over the remaining ½ can of beer.
The bird can now be cooked in an outdoor grill, smoker, or conventional oven.
To cook in oven, roast bird at 375° for 45 minutes in upright position with high fan.
Remove from oven, rest bird for 15 minutes.
Place bird in 450° oven for 8 minutes.
Carve and serve.
The Source By Wolfgang Puck
575 Pennsylvania Avenue, N.W.
Washington, DC 20565
202-637-6100
wolfgangpuck.com