The Vendue Is Your Artsy Home Base In Charleston, South Carolina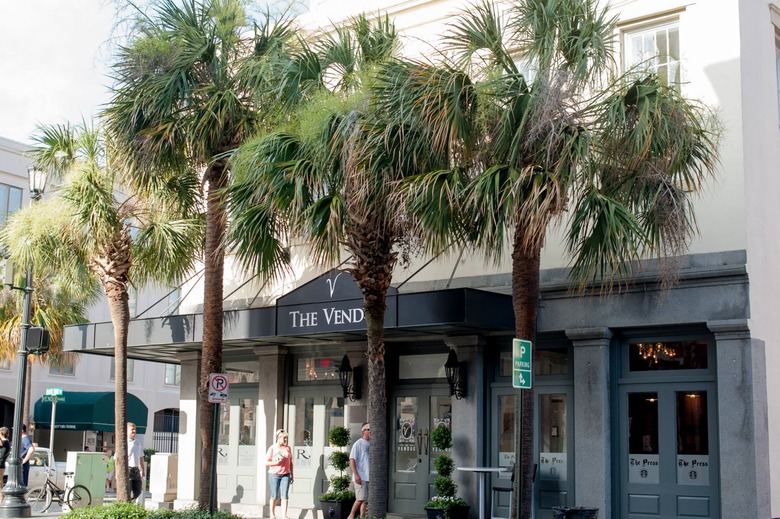 In Hungry Concierge, we travel the world to spot hotels that operate with their guests' food and drink needs squarely in mind — hotels, both big and small, that are located in neighborhoods rich with bar and restaurant options. Because there's nothing worse than having your trip derailed by crummy room service.
Walking the streets of Charleston is like stepping into an architectural enigma. The city feels brightly Colonial yet also evokes the Gothic moodiness of Savannah and New Orleans. Brick and gray intermingle with homes in vivid pink, yellow and blue. Downtown is small, intimate and well preserved, with many a block where buildings date back to the 1700s.
One such street is Vendue Range, a short, palmetto-lined street that dead-ends at the Cooper River. In Charleston's historic French Quarter Art District, the Vendue hotel is named after the vendue (masters/merchants/auctioneers) who worked in the area before the Civil War, when it was known as Prioleau's Wharf. The hotel reopened in 2014 after undergoing a $5.5 million renovation and now boasts revamped rooms in two historic warehouse buildings and a strong arts focus — it houses the city's one and only hotel arts program. The Vendue's Artist in Residence program features rotating artists in a few exhibits a year, hosts weekly meet-and-greets with artists, houses an artist's studio and employs a full-time art docent offering daily gallery tours.
Charleston is such a small, walkable city that the Vendue makes a prime home base. There is Wi-Fi on the Rooftop bar, making it one of the more pleasant places to work or catch up on email (with a drink, if you so desire). It's also a great place to soak up the scenery, with its sweeping views of the city. And after a day of exploration, evening milk and cookies are waiting in your room as you climb into your big poster bed.
The Rooms: There are two groupings of rooms at the Vendue. There are 45 rooms at the main house, 19 Vendue Range, which consists of five warehouse buildings dating back to the 1780s. Down the block, 26 Vendue has another 39 guest rooms and the Vendue's Artist in Residence gallery. The Premier Gallery rooms showcase original artwork and — along with a few other levels of rooms — feature fireplaces, large feather beds you climb into via stepladder, Egyptian cotton bed linens, evening milk and cookies and, in a classy touch, complimentary sherry in a glass decanter.
The Look: Dating back to 1785, the hotel buildings are situated on a street gracefully lined with Charleston's signature palmetto trees. A small, intimate lobby in subtle grays and whites leads into the Drawing Room restaurant, where the understated elegance of the color scheme is punctuated by a dark wood bar and tables, dripping crystal chandeliers and a color "pop" from modern art paintings. Open since mid-2014, the Drawing Room is an underrated Charleston restaurant. Executive chef Jon Cropf creates fine dining–quality dishes with new tasting menus offered in 2016. Cropf's beets three ways is a dish as delicious as it is visually striking. Talented pastry chef Meagan Tighe's desserts also wow: Think rum cider sorbet and oat streusel surrounded by smoking hay.
The Neighborhood: About a block away from the Vendue, you'll find Minero, local chef hero Sean Brock's newest restaurant, which just moved upstairs to striking new digs in a historic 1700s building. Here, the guy behind Chucktown's famed Husk restaurant serves up Mexican fare with Southern twists: fried catfish tacos, shrimp and chorizo masa grits or the Minero burrito, filled with hoppin' John (a traditional Southern rice and beans dish) and baked in queso de Oaxaca. Right next door, you'll also find Brock's original restaurant McCrady's, housed in a stately 1778 building with a dramatic history. There are tasting menus and dishes like poached oysters with 'nduja (a spicy, spreadable Italian pork sausage) and Jimmy Red Corn, or pull up to the bar for a pour from the extensive collection of Madeira, the fortified wine deeply rooted in Charleston history.
Also about a block away, the Gin Joint should be your cocktail hangout, serving some of Charleston's most inspired and well-balanced cocktails, like the Continental Army, beautifully mixing Laird's Bonded Apple Brandy, caraway orgeat, lime, Seville orange, falernum and muddled apple. On the wine side, just three blocks from the hotel is a slice of Napa in Charleston. Housed in a historic building, Mira's wine tasting room offers wine flights and by-the-glass pours from the Napa winery, along with educational tastings and sessions led by a range of experts.
A bit farther, the world-class Charleston Grill, about a 10-minute walk away, features live jazz, a deep wine list, GM Mickey Bakst's impeccable service and chef Michelle Weaver's global, East-meets-West flavors married to Low Country cuisine. And 167 Raw is the best of Charleston right now, uniting a Nantucket fish market with South Carolina seafood bar, paired with a thoughtful selection of wines and beers. The restaurant serves some of the best tuna poke and stone crab you'll ever have, and the staff makes you feel like locals.
Even more of Charleston's best dining is just a short drive away. Edmund's Oast is one of Charleston's treasures on the food and drink front — about a 10-minute ride north from the Vendue (catch an Uber). The massive space and outdoor patio serves excellent house charcuterie and features a wall of unique draft beers (roughly 15 of them house-brewed), sherry and punch cocktails on draft and creative cocktails from head bartender Jayce McConnell.
In the massive, restored Cigar Factory, Mercantile and Mash offers some of the best coffee in town, including off-menu treats like a frothy, cold, shaken Vietnamese coffee. The Mercantile sells gourmet groceries and foods, serving gratifying dishes in the spacious market, like a juicy fried boudin and egg on a biscuit at breakfast. At night, head next door to play tunes on the vintage jukebox and drink from over 100 American whiskies at the new Bar Mash.
On trendy Upper King Street, the Ordinary is one of the greats in the area, serving impeccable crudo, seafood and rum cocktails. Nearby, Indaco offers Italian food and wood-fired pizzas paired with bar manager Jared Chafin's amaro- and rum-laced cocktails (don't miss house lime or limoncello). Fig has been a top Charleston restaurant for years for its thoughtful service, wines and dishes from a gifted team, and was further invigorated by executive chef Jason Stanhope's recent win as James Beard Foundation Best Chef: Southeast 2015.
Housed in a converted gas station, Xiao Bao Biscuit delights locals, being one of the rare Asian eateries around — of the hipster, fusion kind, with a unique, light twist on Japanese okonomiyaki. On the go, grab quality meats, pastrami sandwiches and kimchi at Artisan Meat Share. Get your Stumptown coffee fix or cold-press vegetable juice nutrients at the Daily from neighboring Butcher & Bee.
The Vendue
19 Vendue Range, Charleston, South Carolina 29401
843-577-7970
Rooms start at $119