When Duncan Hay and his partner, Priscila, opened Kraft Café in Rio de Janeiro shortly before the new year, it was, without judgment, slightly self-serving.
Duncan, an Australian expat — more curiously, a former itinerant whose credentials range from brief stints in Chile mining copper to working offshore on rigs — has lived in Rio for well over a decade. Priscila, Brazilian-born, much longer. Both had developed a taste for third-wave coffee from afar, but hardly any local shops could satisfy the couple's discerning demand. Years ago, artisanal coffee was hard to find in Rio because for the most part, it was never there to begin with.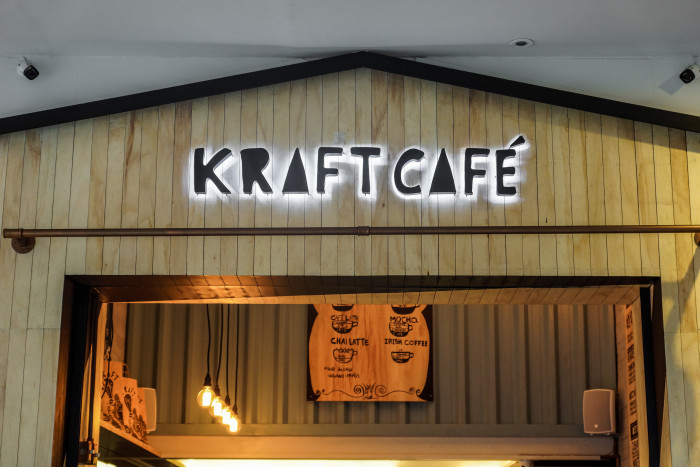 Their eventual opening of Kraft Café in the bustling Ipanema neighborhood, among the only cafés in Rio to roast its own beans, is a classic case of budding entrepreneurship: When you want it done right, you and your better half better do it yourselves.

Coffee is nothing new to Rio de Janeiro, of course. Indigenous to Ethiopia, coffee's seeds were planted in Brazil in the 18th century — a swift maneuver by the Portuguese that kick-started a promising commodity. Crops grew just fine at first but depleted soils over time and were thus moved to better conditions in the highlands, where they continued to flourish. Coffee beans became Brazil's primary export at the time, and now Brazil ranks as the world's largest producer. It should suggest, considering proximity, that craft coffee would bloom in Brazil, too.

But here's the twist: Brazil's best, brightest arabica beans are mostly exported. And out of the lower-quality beans they keep, Brazilians mostly brew "cafezinho," a quick-and-dirty version of watered-down espresso: Coffee grounds are boiled using rudimentary machines, or even a pot, and are then strained, often kept hot for hours and served black or sometimes with milk, but always, always with sugar.

Among tourists from destinations where third-wave coffee is old news, cafezinho is a recipe for disappointment. "I began to prefer Nespresso over an espresso," recalls Duncan, remembering the better of two evils that he enjoyed in the bad old days.

Surely you can't take the joy from the beloved cafezinho away from carioca (Portuguese for Rio locals). Cafezinho might be basic, but it's also charmingly ubiquitous. Poured joyously and generously at the beginning or end of a meal, it's sipped on sidewalks or corner thresholds and gulped in good company. No, you can't possibly take the fun out of something so culturally sweet.

But surely you can add to it. With caution. And with caution is the only way to toot a purveyor like Starbucks' horn, so we'll keep it brief: It does appear that the Seattle-based franchise, after expanding into Rio in 2008, introduced a broader concept of coffee and espresso to the carioca. (To be fair, São Paulo had it fashionably foremost and two years prior, but of course it did.) Rio's Starbucks, in a fitting, newly minted mall, was a hit. Its following locations were hits, too. And Starbucks continued to do fitting things, like buying Brazil's best beans, packaging them as an exclusive, single-origin Brasil Blend, and selling it right back to them.

Go Starbucks. Go.

And much to Duncan Hay's chagrin, Nespresso stepped in as well, hitting the market with predetermined, correct ratios of water to espresso. While it's a lazy approach, it also served as an easy introduction. This — using Nespresso as a stand-in — is what espresso can taste like. Coupled with Starbucks' lingo of blonde roasts, macchiatos and yada yadas, the brands enriched the local coffee talk with new techniques and titles. The most important? Barista.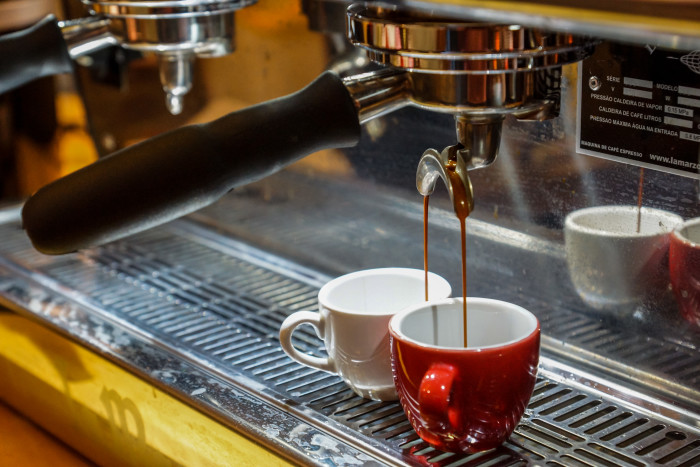 You can harvest the world's greatest supply of beans, but with no properly trained barista to care for them, to pull them precisely in new directions, it's close to pointless. And that's why a small batch of shops have stepped up in Rio, helmed by proper baristas who are starting to assume control over their coffee beans and teache new tastes.
The traction has been slow but steady. Years ago, Curto Café opened in downtown Rio. A year before opening, cofounder Gabriel Magalhães had failed to get local suppliers to even consider lightly roasted beans — there wasn't a market for something different, he was told. So he made one. Teaching a trusted coffee cherry picker to roast the beans to his liking at a nearby farm, Magalhães and his cofounders eventually opened a shop themselves, on their terms. Forget the pedestrian preparation of cafezinho — they outfitted their cafe with two La Marzocco espresso machines (priced upward of $20,000 and unheard of in Rio) and started cranking espresso and cappuccino.
Carioca lined up, loving the new shop — except around noon, when the line became just too long.
Then, two years later, Café La Furgoneta started making rounds in a repurposed, Volkswagen camper-van, introducing Rio's first crafted espresso drinks on wheels. Sourcing from local farmers and using only sustainable materials in its setup, the roaming shop had all the trappings of hip, third-wave coffee done right. And at the very least, it was trendy.
And now of course, there's Kraft Café, a third-wave joint in the subtle wake of former openings. Just in time for the upcoming Summer Olympic Games, when discerning travelers from all over the world will look for a cultured buzz in Rio, the duo behind the counter are only serving drinks they would drink themselves. Duncan is roasting Brazilian beans in an old mansion nearby, ensuring no beans are brewed after two weeks — perhaps the freshest coffee in the entire city. The resulting blend is a medium-dark roast, nutty, rich and slightly acidic, but only by way of its fruity, chocolaty notes.
Served alongside Duncan's crafted espresso drinks (using fresh milk, which other local purveyors mostly don't use, and brewed in a brand-new La Marzocco), Priscila prepares rotating raw desserts, like a chocolate cheesecake that's made from papaya.
And their plan isn't just to make the good stuff and keep it to themselves. Instead, Duncan and Priscila plan to bring this craft culture to other local shops, showing them how espresso can be made carefully, savored slowly and most importantly, enjoyed locally.