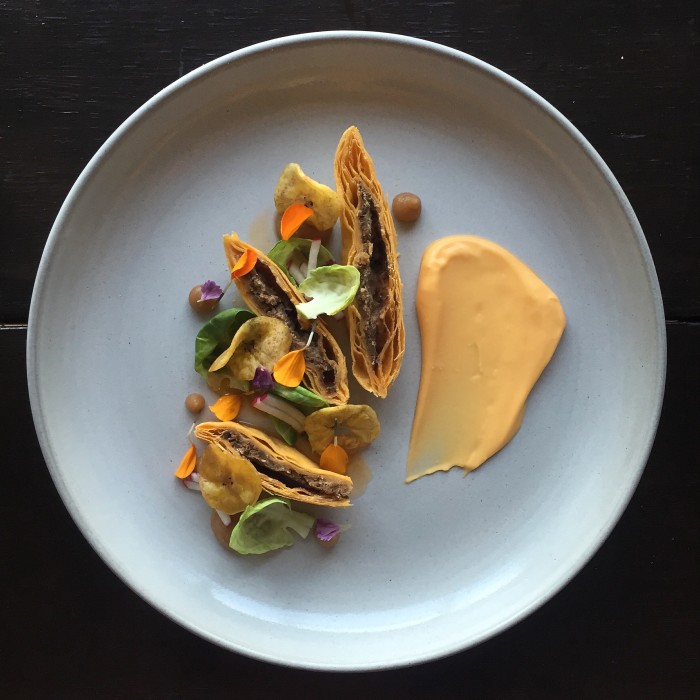 After about a year of anonymity, the mastermind behind the comical Instagram sensation Chef Jacques La Merde has been revealed on TV's Top Chef to be Toronto chef Christine Flynn. For the uninitiated, Chef La Merde gives another meaning to amuse bouche, taking junk food such as corn dogs and Doritos and plating them so elegantly that you may think they belong on the table of a Michelin-starred restaurant. Each striking photo comes with an equally eye-catching caption spelled out in all caps, like some bro shouting the ingredients at you. The account pokes fun at some of the exaggerated practices in the food industry all while celebrating food in general.
Now, with everything in the open, Flynn has been invited to cook as Chef La Merde at New York City's Mile End Deli in a special Valentine's Day pop-up. This will be Flynn's first time cooking in New York. For $125, diners can expect a six-course meal that will include Doritos, Funfetti and some marble rye soil. (Check out the full menu and reservation information down below.)
We asked Flynn about the beginnings of La Merde and how to woo someone, whether you're more like La Merde or Flynn.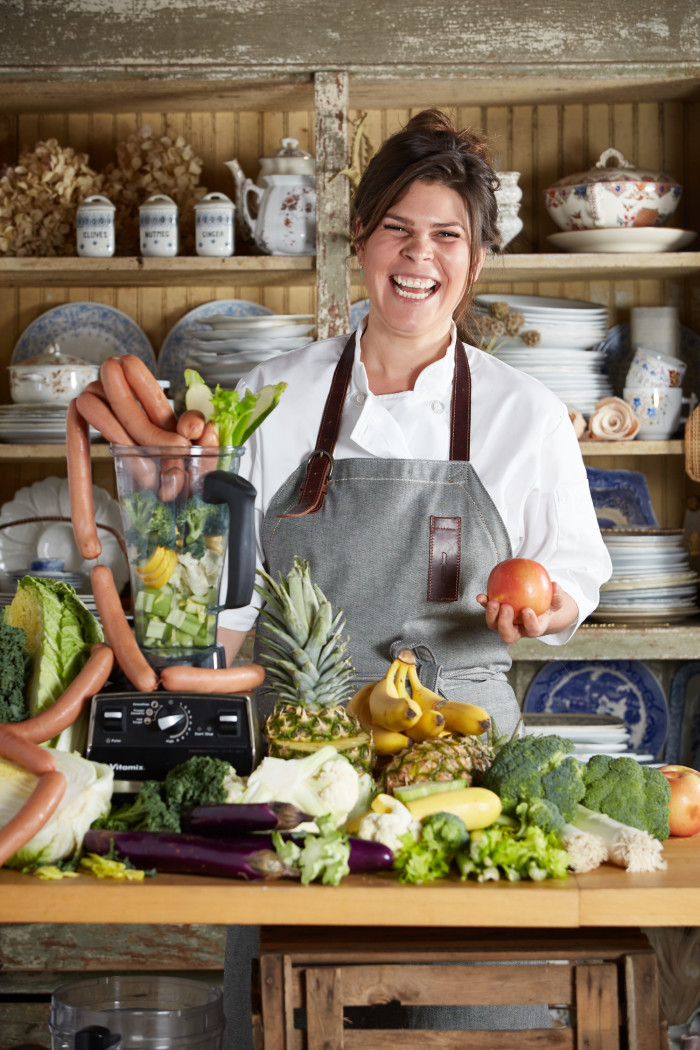 How was Chef Jacques La Merde conceived?
You'd think after answering this question 30 times, I'd have a better answer. I thought it would be pretty funny.
How long before the Instagram account were you a chef?
I've been in food for 17 years.
Was it always fine dining?
No, when I was younger I definitely worked at some pubs, some ice cream shops. I did fine dining for a while and now a healthy quick-serve restaurant group in Toronto's Financial District called iQ Food Co.
Before the conception of Jacques, did you do a lot of work with plating and more upscale food?
I had definitely done it, but for me I'm always a little more casual. That kind of plating, the meticulousness is very difficult to do well.
Did you teach yourself how to plate or did you learn over time while in the business?
I taught myself, for sure.
Did you look up photos and use those as reference or did you just spill whatever was in your mind onto the plate?
I was on Instagram a year and a half before I started [Jacques], so I definitely follow other chefs. But for me, you can just kind of look at something, I don't know. I guess I just have a knack for it. They're all mine, some of them are good; some of them aren't great.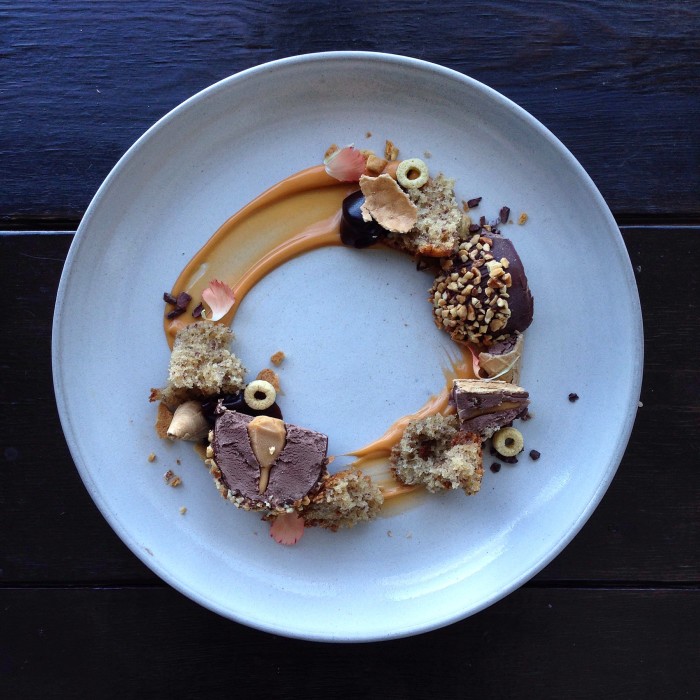 Do you have a favorite?
I think the Drumstick (Ice Cream) is one of my favorites and the one that's all Velveeta with the painted cheese that's coming out like a sail.
What do you think this kind of humor says about present-day food culture?
I think it's a bit of a love letter. It's very much its own category. I call it benevolent satire. I point out some of the excesses in the industry, but I also point out some of the best parts of the industry: Loyalty, hard work and a sense of humor. It was always meant to be fun and collaborative and uplifting. You know what it has to say about the industry? I don't know, it's just some Doritos and ranch dip — I can't imagine it has much to say. [Laughs] You can read into it if you want.
Is there a reason for you using Doritos over other snack foods?
For me, Doritos represent a really special time in my life when I was probably 8 years old. Doritos were like the pinnacle of gastronomy. Cool Ranch Doritos, when I was 8, blew my mind. So I just have this nostalgic connection to Doritos, but it's not something I would eat that often now. They sort of represent this simpler time and as far as a snack product goes, they're kind of funny.
Do you remember the guys behind "Epic Meal Time" on YouTube? They're also from Canada. Is this absurd culinary comedy a Canadian thing?
So, there are fundamental differences between Canadian, American and British humor. In England, they cheer for the loser. In America, they cheer for the hero. In Canada, it's sort of like a hybrid of the two. The sort of self-deprecating, lighthearted, kind of kind humor is certainly a very Canadian thing. And what else are we going to do? It's so cold here. Might as well make a joke.
Moving on to the Valentine's Day pop-up, how excited are you to work with Mile End?
Really excited! I've been a big fan of that restaurant for years and years. One of my old bosses gave me their cookbook, and I make so many of those recipes. So when they approached me, it was kind of a no-brainer: that style of restaurant, a little more whimsical and fun, super-talented chefs. It's going to be a lot of fun.
Is this your first time cooking as Jacques?
Nope, I've done it couple of times. It's not as if I'm going back there in a mask, plating Doritos. I'm definitely cooking my own food; it's just got a little extra flair.
Tell me about what you're serving at the pop-up.
We wanted to take Mile End food and put a little bit of a spin on it. For instance, the amuse is going to be a bagel bite, but we're going to have Mile End make the bagel, and we're making our own garlic dipping sauce. We're replicating flavors and textures, but we're using all the food they normally use. One of the dishes has smoked meat, which they're famous for. We're trying to incorporate as much of the Mile End Deli menu as possible, then just make it a little more out there and a little more wacky.
In the spirit of Valentine's Day, what would Jacques prepare if he were trying to woo someone?
I don't know, but I know there'd be a lot of gold leaf everywhere [laughs], probably some Choco Taco and definitely many, many shots of Fernet.
What would you make if you were trying to woo someone?
I make really great adobo, with really great-quality pork, some avocado — who doesn't love avocado?
What do you think is the most romantic ingredient ever?
I love things that are a little gamey. I love liver. It sounds crazy, but I love liver. It is kind of romantic; it's definitely got a little funk to it. Texturally, I find it very appealing to have many different layers of texture.
What do you think makes an ingredient romantic? Do you think aphrodisiacs, like oysters, have any play in it?
Sure, there are also avocados and all kinds of things that are supposed to stimulate or whatever. I love oysters. I love eating with my hands, really. For me, that's something that I [would do] if I'm trying to woo someone. Anything you can eat with your hands, anything you can eat communally. And there are different levels of romance, too. Like, you could have the sexual tension, but you could also have your bromances and your lady romances and all that kind of stuff. As you can tell by the account, I'm kind of just a friendly person. I love anything that's communal, to me it's the best, maybe not the most romantic, but spreading the love, for me, is super-important.
If Jacques were to win a made-up James Beard Award, what would he win?
I actually made a post about that, it's like "Most Relevant Uses of Pepperoni Sticks on a Regular Basis" or "Best Tweezers Action."
♦♦♦
For reservations to Flynn's Valentine's Day Mile End pop-up, call 646-494-9508. Here's the full menu:
Amuse: BLACK SEED DORITO FLAVORED BAGEL BITES ROMANCED WITH RANCH DIPPING SAUCE, FANCY LEAFS.
Salad-y Course: ENCHANTED PICKLE LABYRINTH FT. SCHMALTZ AIOLI, SHARDS OF CHICKEN SKIN AND KOZLICKS, TRIPLE CRUNCH
Smoked Fish Course: SMOKED SABLE FISH, POPPY SEED BLINI, DEVILLED QUAIL EGG, COTTAGE CHEESE CREMA, SALMON ROE, PICKLED BEET GEL
Meat Course: SMALL PORTION OF CORNED BRISKET PLATED PRETTY FANCY OVER ROBUCHON CELERIAC COCKTAIL ONIONS AND MARBLE RYE SOIL. MORE FANCY LEAFS
Dessert Course: DUNK-A-RUGELACH ACCENTED W/ CANDIED BANANA, TORCHED MALLOW, FUNFETTI FROSTIN
Reverse Amuse: Fernet floats
Mile End Deli
53 Bond St.
New York, New York
212-529-2990