Here, sea bass arrives on white porcelain, sweetened with honey sourced from the rooftop garden, spiced with soy sauce and black pepper, and set in glamour: plush seats, hand-painted murals, stark golden hues, fresh orchids—a coat check.
"Here" is the newly opened La Chine, a Chinese restaurant at the Waldorf Astoria New York. But there's distance between here, now, and the dumpling pit stop in Chinatown.
According to The Fortune Cookie Chronicles, a consummate text on the food's history, more Chinese restaurants in the United States operate than McDonald's, Burger Kings, Wendy's, Domino's and Pizza Huts combined. It's the association itself that's most telling about the comparison: Chinese restaurants are often delineated by the trappings of fast food, and fast food alone. Orange chicken, lo mein, spring rolls; the "Chinese" food we know well in the U.S. is followed by the word "takeout," a lowbrow American distinction.
"I think this is unfortunate and probably based on the history of Chinese food in America, which everyone associates with cheap dining — not with a luxury experience," says David Garcelon, La Chine's director of culinary.
He's right. In order to make it in America, Chinese food has long employed thrift. The cuisine first arrived by way of Cantonese miners, farmers and laborers amid the California Gold Rush of the mid-19th century. Decades later, faced with animosity, they were pushed out of jobs and hindered for the greater part of a century until the Chinese Exclusion Act was repealed. But as a working class, they made it work; cooking food meant self-employment and economic assurance. Confined under the illusion of a lower class, Chinese restaurants shaped a cuisine that was fittingly economic; lower price points were less than intimidating, welcomed in any budget (and diet). Eventually, restaurants proliferated throughout the 1960s with a reimagined Cantonese skew, mostly topping off at three stars.
But the cuisine hit a fever pitch after a star-spangled dinner party. During former U.S. president Richard Nixon's landmark visit to China in 1972, he (and wife Pat) famously enjoyed a banquet dinner with Chinese leaders, complete with trimmings and chopsticks. For the first time, mainstream America saw Chinese food served in a high-class setting. Preceding Zagat, the presidential seal of approval was the fanciest of its kind.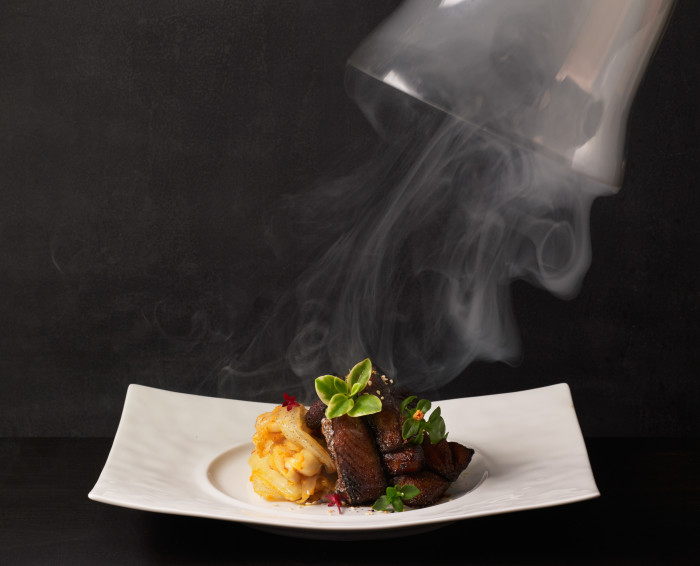 Publicity gave Chinese food a polished push, and as a result, higher-end Chinese chefs did make their way to the U.S. to pursue restaurants during the period of piqued interest. It was around this time that the legendary Shun Lee Palace opened and served new flavors from Hunan in a grand way, billing itself as Manhattan's first fine-dining Chinese restaurant. The concept landed. It's still open today.
But the cuisine's overall makeup was still subject to its locally humble origins. Menus that sold well were less foreign; simple dishes (General) with friendly names (Tso's) and familiar meats (chicken) rose to the top because they raised fewer eyebrows from the dubious American diner.
And over time, interest faded without innovation or a market to support it. "Overall, the most interesting, inventive Chinese cuisine doesn't happen in the United States in part because of visa issues," says Jennifer 8. Lee, the author of The Fortune Cookie Chronicles. It makes sense. Immigration in the 1980s focused on family reunification; this wasn't a moneyed crowd of entrepreneurs opening upscale eateries. Later — and still today — employment-based visas put Chinese chefs on the same chopping block as more desirable applicants in mathematics, sciences and computer programming. Historically, there has been less demand and little market for culinary talent.
Eventually, the classic joints that once rose to the top aged out; their "fine" atmospheres — with banquet-style tables and classic American-Chinese dishes — lost their sheen. Shun Lee lives on, having survived the financial crisis, but its contemporaries did not (of similar ilk, San Francisco's haute Tommy Tom shuttered in 2008, and the Mandarin, which predated them all, closed two years before).
Seeing an opportunity in reimagining a dated take on the cuisine, celebrity chef and restaurateur Wolfgang Puck was among the first to merge Chinese flavors with a fine-dining setting. In 2010, Puck elevated (literally) Chinese food to the 24th floor of the Ritz-Carlton in Los Angeles with his opening of WP24. The cuisine, primarily Chinese, has a French accent, nodding to three-star restaurants in Europe, intentionally hoping to class up typical Chinese fare with exceptional service and a substantive wine list. The fresh, French take was well received.
And while Puck took L.A., Hakkasan, a London-based chain notorious for its steep prices, also opened U.S. locations and stoked interest. Ditching the large, round tables typical of the Shun Lees, Hakkasan instills a Western, contemporary format in its Manhattan spread. Though its clubby digs were likened to Las Vegas at the time, the new flavor was, at the very least, upbeat.
And in fact, Las Vegas enjoys its own revamped version at the Wynn Las Vegas, home to Wing Lee. As the first Chinese restaurant to achieve a Michelin star, it overhauled a formerly moody palette two years ago — black woods and heavy reds; tawdry dragon drab—for a much lighter and, sure, even fabulous vibe.
In recent years, we have experienced some fantastically inventive, upbeat American Chinese cooking. Mission Chinese in San Francisco, and later New York, with its creative spins on old-school staples like fried rice and kung pao, made takeout cuisine seem cool, if not chic. We've also seen several classically trained chefs walk out of some big-name dining rooms to apply their refined skills to Chinese flavors: New York chefs Jonathan Wu (ex-Per Se) opened Fung Tu, and Thomas Chen (ex-Eleven Madison Park) opened Tuome. Some places, like Wu Chow in Austin, have injected the ancient Chinese culinary arts with modern sensibilities. Note the buzzy emphasis on sourcing in its menu: dry-fried local green beans, honey pecan Gulf prawns.
Few, however, can match the pomp and circumstance of La Chine, where you'll find a concept that above all takes pains to deliver the riches of authenticity amid the hushed tones of luxury.
Here, dishes aren't inspired by Chinese food found locally; the range isn't from orange to General Tso's chicken. Instead, the chefs traveled to provinces in mainland China to source a broader range of flavors — from Zhejian to Jiangxi and beyond — finding dishes that Americans have not yet had the pleasure of trying. The menu paints a more varied picture; there are more colorful flavors, like hickory nuts and an oil made from the crushed seeds of peony blossoms.
And isn't this what we saw coming all along, or at least hoped for? Chinese takeout's moment is long from over. But taking it up a few notches? That's a history that's just beginning.
La Chine
Waldorf Astoria New York
540 Lexington Ave.
New York, NY 10022
212-872-4913
lachinenyc.com