How To Make The Ultimate Chocolate Cake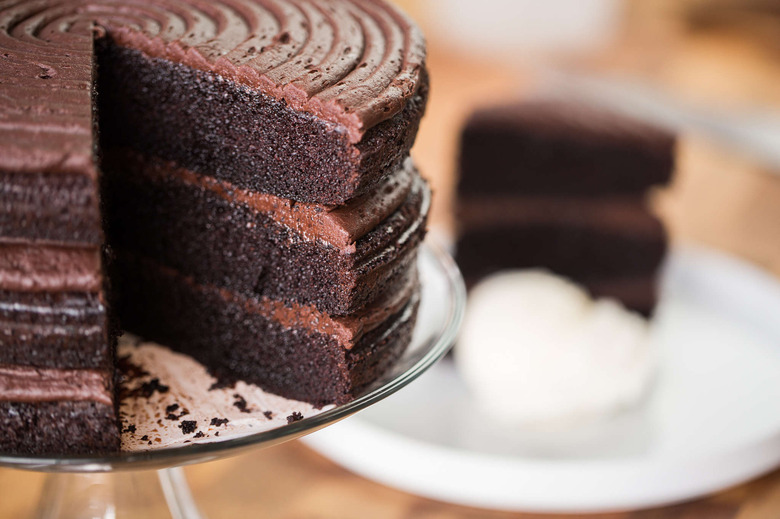 Serious chocolate lover? Well, get ready, sweet stuff. You're gonna love this one. Our friends at ChefSteps wrote in this week with their signature take on the classic chocolate cake — it's light and spongy yet devilishly decadent. After months of trials, the team reports that the top recipe came from using mostly old-school approaches, such as brushing the cake layers with simple syrup to retain moisture.
There's also a twist involved. ChefSteps uses a magical little ingredient called glycerol monostearate, or GMS. Found in some of those fail-proof boxed cakes you loved as a kid, the easy-to-find powder keeps fats suspended in the batter, leading to an impossibly moist crumb that's never greasy. Feel free to skip the GMS, however — either way, you'll wind up with a seriously tasty dessert with which to wow your dinner guests, spoil your children and shame the other parents at bake sales. Check out the instructional video and the full recipe below.
Servings: One three-tier frosted cake
Ingredients
Spray oil, as needed
420 grams cake flour (chlorinated), plus more for dusting
820 grams granulated sugar, divided
280 grams cocoa powder, divided
25 grams salt, divided
15 grams baking soda
15 grams baking powder
11 grams glycerol monostearate, optional
340 grams buttermilk
340 grams canola oil
3 large eggs
55 grams pure vanilla extract
440 grams water, divided
50 grams vodka, or other spirit with 35-40 percent ABV
900 grams powdered sugar
450 grams butter, room temperature
110 grams milk
Chocolate shavings or sprinkles, as needed
Directions:For the cake:
Place racks toward center of oven and heat to 300 degrees Fahrenheit.
Grease three 9-inch springform or round cake pans, and line the bottoms with parchment. Dust the sides with flour, and tap out excess.
Prepare the dry mix. Whisk 620 grams sugar, flour, 130 grams cocoa powder, 15 grams salt, baking soda, baking powder and glycerol monostearate (if using) in a large mixing bowl, then sift them into another bowl.
Prepare the wet mix. Combine buttermilk, canola oil, eggs and 25 grams vanilla extract in the bowl of a stand mixer fitted with the paddle attachment and mix on low speed until you get a homogenous, off-white liquid.
With the stand mixer on low, add the dry ingredients to the wet, one large spoonful at a time. Mix only until ingredients are just combined (overmixing results in a tougher cake that doesn't rise properly.)
Bring 340 grams water to a boil. To prevent evaporation, take it off the heat as soon as it starts to boil (an electric kettle works nicely here). With the mixer running on low, add water in a slow stream. Pouring slowly will increase the temperature of the batter gradually so the eggs won't cook. The final texture will be like thin brownie batter.
Use a scale to pour 600 grams batter into each of the three springform pans. (You'll have a bit of extra batter — perfect for cupcakes!)
Set a sheet pan on a lower rack in the oven to catch any batter that drips during baking. Bake the cakes on the center rack of the preheated oven until they reach a core temperature of 205 degrees, about 40 minutes. Don't move the cakes around while they're baking, or they'll collapse.
While your cakes are baking, bring 200 grams sugar and 100 grams water to a boil in a medium saucepan over medium-high heat. Remove the pan from the heat, and allow it to cool to room temperature. With a spoon, stir in the vodka.
Remove springform pans from the oven. Slam each cake firmly on your countertop to pop any air bubbles. Allow cakes to cool completely on the counter or a wire rack before removing from pans.
Flip the cake layers over onto sheets of parchment paper. Remove the parchment circles stuck to the tops of the layers. If there's a large dome or "crater rim" on a layer, you can shave it off with a long, serrated knife (or fill it out with extra frosting later). Brush each layer of cake with 75-100 grams of syrup. The more you add, the moister your cake.
For the frosting:
In the bowl of a stand mixer set to low, mix powdered sugar, butter, 150 grams cocoa powder, 110 grams milk, 30 grams vanilla extract and 10 grams salt. Gradually work up to high speed. Once the frosting reaches a consistent color, stop the mixer and use a sturdy spatula to scrape down the sides and bottom. Mix again on high speed, scrape down one more time and give one final high-speed mix. The finished frosting will be quite stiff, with no lumps.
For assembly:
If you have a cake turner, tape a round cardboard cutout to it, then apply a couple dabs of frosting and add a clean piece of parchment on top of that. This will be your work surface. If you don't have a cake turner, use a cake stand or just a large, flat plate. Gently place the bottom cake layer on your work surface.
Scoop frosting into a piping bag (easily bought on Amazon, or use a hefty ziplock-style bag and cut a small hole in the corner) fitted with a round tip. Starting from the edge, pipe frosting in a spiral on top of the bottom cake layer, then stack another cake layer on top. Pipe another spiral of frosting, top with the final cake layer and pipe the last spiral of frosting. Leave as is, or smooth with a palette knife or offset spatula. While frosting is still wet, sprinkle with chocolate shavings, if desired.
ChefSteps comprises a team of award-winning chefs, filmmakers, scientists, designers and engineers focused on revolutionizing the way people cook by inspiring creativity and encouraging expertise in the kitchen. The site is currently offering free online classes called Cooking Sous Vide: Getting Started and Burgers, as well as a $10 class called Cooking Sous Vide: Beyond the Basics and a $14 class called Coffee.