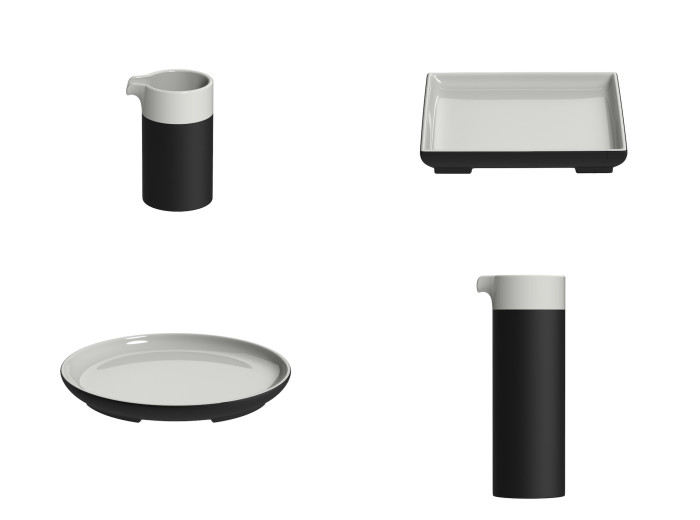 I have a love/hate relationship with my ice bucket. Yes, it spares me from the treacherous journey up and down the stairs when I'm sipping something chilled on the roof. But it also leaks condensation and requires constant attention in the form of refills. It's a vestige of drinking days past.
Finnish design brand Magisso's newest line of cooling ceramic barware offers a clever innovation in home entertaining. Simply run the container under running water for two minutes, drain and place your bottle inside. The ceramic will ensure your beverage stays cold for several hours, no ice involved. It's magic science! Ceramic is a porous material that naturally reduces heat conduction. Soaking the chiller in cold water for a few moments encourages this process. In essence, the line employs advanced material science to create an elegant, chic statement piece for everyday use.
The existing line features a black-on-black color scheme, but the 2016 collection is a bit softer with a muted contrast between black chalkboard surface and exposed white ceramic. It also feels great to the touch, almost begging to be used. And when not being used to chill wine or appetizers, the pieces double as centerpiece serveware. It was an easy pick for the 2015 Red Dot design award.
I am generally skeptical of things that seem a little too easy, but the cooling ceramic carafes and plates worked splendidly. The simplicity of the product is its greatest asset. There isn't any overly complicated engineering at play or overwrought design to mask the vessels' organic beauty. It is exactly what it appears to be: a well-crafted line of barware that keeps your stuff cool.
Magisso Cooling Ceramics White Line Collection launched in January 2016. It's available for purchase starting in February at the MoMA Design Store, Barneys and Bloomingdale's.