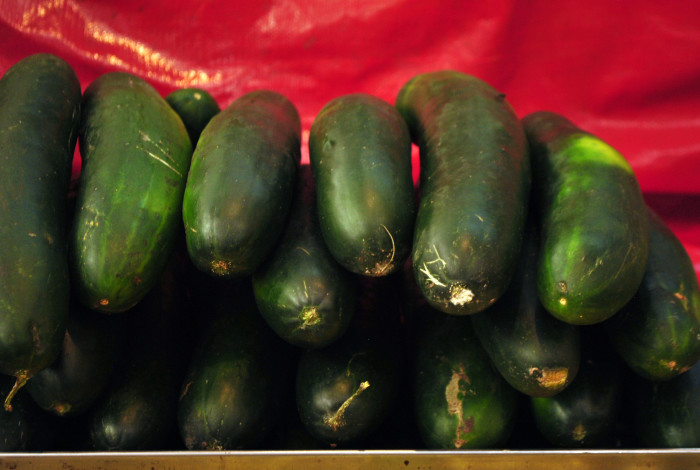 Christine Haughney covers corruption and criminal behavior as part of the Zero Point Zero Production series Food Crimes. Here, she reports on recent food-safety issues.
By now, you've probably read all you care to know about Chipotle's stomach-churning food-borne illness problems, which sickened a total of 60 people in 14 states and continue to make headlines. However, there is a much more widespread and more life-threatening food contamination case that the major news outlets have largely ignored: a deadly, seven-month-long salmonella outbreak involving Mexican cucumbers.
Health officials are still trying to figure out how this seemingly innocuous, low-calorie staple of salads, cocktails and sandwiches has wreaked so much havoc, infecting 888 people in 39 states and resulting in six deaths.
The worst part is, the salmonella is still spreading even though the farm that supplied the contaminated cucumbers was shut down last September. On Monday, government officials told executives at Andrew & Williamson, the San Diego, California-based distributor of the originally contaminated cucumbers, that they expect more illnesses will be reported. Trevor Suslow, a researcher at the University of California, Davis, who is advising Andrew & Williamson on the case, says government agencies are casting a wide net about what caused the outbreak. Investigators are looking at everything from the store displays that held the cucumbers to the containers that were shipped from Mexico.
---
"I wouldn't buy it from some street vendor. I wouldn't buy it if it said it was from Mexico."
---
"Somehow there is persistent contamination within the overall distribution system, which could mean at wholesale, at retail outlets, within shipping containers," says Suslow, following a conference call this week with representatives from Andrew & Williamson, the Food and Drug Administration and the Centers for Disease Control. "It's either continuing to come in from that broad region, but not associated with anything to do with Andrew & Williamson, or due to contamination."
♦♦♦
According to the Food and Drug Administration's most recent reports, 50 new cases were reported between November and January, a period when officials expected the outbreak to decline. The breadth of cases has ranged from a 99-year-old California woman to an eight-year-old girl from Utah.
Bill Marler, one of the nation's most prolific food-borne illness lawyers, says his firm is representing 50 people in 12 lawsuits nationwide who were sickened by cucumbers. Marler says his clients have gotten sick in a variety of ways, from buying cucumbers at Walmart to ordering salad at Red Robin. In Wisconsin, where there have been 46 reported cases, state government spokeswoman Raechelle Belli says that victims were sickened by "institutions across the board, including food service, schools and retail."
---
"We may never know for certain exactly what the source was."
---
From all reports, it looks like distributor Andrew & Williamson has been trying to stem the outbreak. David Murray, a partner in the company, says his company shut down its packing facility and initiated a recall back in September. He adds that since then, the company has not exported any cucumbers from the Rancho Don Juanito de RL de CV farm in Baja, Mexico, which was the outbreak's original source. He notes that cucumbers were "not a very large part of our revenue stream" and that his company barely ranked in the top five for the nation's cucumber distributors. He marveled at how many states had received his company's cucumbers.
"It's pretty amazing how fast product can get distributed," says Murray. "We may never know for certain exactly what the source was."
UC Davis researcher Suslow, who toured the Rancho Don Juanito farm and the cucumber packing facilities in San Quintin, Mexico, says the farm had made changes in its practices in recent months that could have contributed to the salmonella outbreak. But he adds that is likely to not be the only cause.
"The reasonable possibilities are that it's the same salmonella coming from other products from that same region," says Suslow.
♦♦♦
To be sure, Andrew & Williamson has not had the best track record with how it handles produce. In the late 1990s, Fred Luther Williamson, the company's then president and chief executive officer, was sentenced to federal prison after his company's sliced strawberries sickened 153 teachers and schoolchildren with hepatitis A. According to a 1997 New York Times article, the company at the time misrepresented its strawberries as being grown and processed in the United States, which was required for them to be served in the Department of Agriculture's school lunch program. Back then, Andrew & Williamson's corporate owner, the biotechnology firm Epitope, accepted Williamson's resignation. A representative from Epitope hung up on this reporter when asked about its relationship with the company. But Murray said that while he was not with Andrew & Williamson in 1997, the company had since parted ways with Epitope.
Current company exec Murray says the distributor has been trying hard to turn itself around. Williamson's son Fred M. Williamson succeeded his father. In 2013, the company worked on a program that tried to raise workers' wages and trained them not to pick unhealthy fruit.
Maisie Ganzler, vice president of strategy for the Palo Alto–based restaurant group Bon Appetit Management Company, says that her company has had a good experience working with Andrew & Williamson. "We've been happy with the strawberries and very much appreciate all the hard work they've put into recognizing the value of the farm workers' contribution to the food system," Ganzler writes in an email.
---
"There have been a lot of cucumbers marketed, sold, consumed since that outbreak."
---
Even with so many unanswered questions about the source of this salmonella outbreak, several food-safety experts who have direct experience with the devastating results of food-borne illnesses say they are still eating cucumbers. Darin Detwiler, whose son died in a 1993 Jack in the Box outbreak and has become a food-safety expert, says he ate cucumbers on a recent night. He washed them off with salt and made sure not to clean them until he was ready to use them. (He noted that some people wash off cucumbers' protective coating when they return home from the supermarket.) But he said he would not serve cucumbers to a pregnant woman and would only buy them from specific areas.
"I wouldn't buy it from some street vendor," says Detwiler. "I wouldn't buy it if it said it was from Mexico."
And despite Suslow's direct involvement in the Andrew & Williamson case, Suslow says he is still eating cucumbers, too. He carefully washes, peels and slices them and makes sure to never leave them unrefrigerated. He predicted that the odds are on his side that he won't get sick.
"There have been a lot of cucumbers marketed, sold, consumed since that outbreak," says Suslow. "I proceed and say, 'This is a big part of our healthy, diverse diet.'"