Walk around some of New York City's busiest and trendiest neighborhoods and you're likely to notice an increasingly large number of shuttered shops and restaurants, "for rent" signs hanging in their cardboard-covered windows. Rents for these retail spaces are higher than ever, with building owners commonly demanding up to five or even ten times the lease amounts once agreed upon, forcing popular local standbys to either relocate or close. It's the sad reality of today's cutthroat real-estate market — in many cases, there's simply no way for independently owned restaurants to survive, and all they are able to do is watch as chain establishments and larger corporations move in.
So just who has managed to cash in and emerge as a winner during this period of turnover? Food halls! Once relegated to monthly pop-ups, festivals and low-key, outer-borough locales, food halls have become a visible presence in major NYC locations. In the process, they have been able to generate high rents for their developers and give restaurants — both those with other brick-and-mortar locations and those without existing storefronts — a chance to test out new concepts and menu items. Consumers flood them (primarily at lunchtime), excited to choose from a diverse number of quality options across a variety of cuisines. Big-name chefs are quick to claim stalls at these markets as a way to expand their brands.
The Plaza Food Hall can be credited with leading the charge back in 2010, but large-scale venues like Hudson Eats, UrbanSpace Vanderbilt, Berg'n, Gotham West Market, City Kitchen, the Pennsy and Chef Street have all opened in the past two years (the last two opened next to Penn Station and inside Macy's, respectively, in the past month). Anthony Bourdain's upcoming food-hawker project on Pier 57 will soon be the largest in the city. Finally, there was the announcement yesterday that the Brooklyn Navy Yard will transform its Building 77 into a new public food hall and manufacturing space anchored by the city's venerable Russ & Daughters.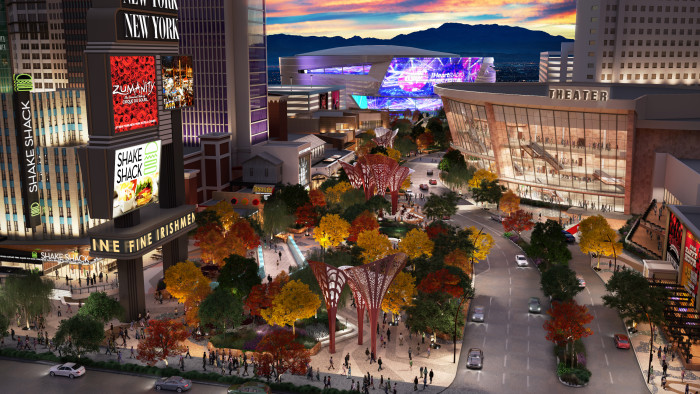 And it's not just NYC that is loving upscale food courts right now. Los Angeles' Grand Central Market recently brought in a new wave of vendors, and the city is expecting its own iteration of Mario Batali's Eataly next year. Not to be outdone, MGM Resorts International is unveiling an entertainment and dining district in Las Vegas on the strip this April, featuring clusters of outdoor restaurants and bars. That's right — on the strip. Talk about high-priced real estate.
No one could ever be happy about his or her favorite neighborhood haunt closing due to a sudden increase in monthly rent. In terms of possible replacements that are able to afford the space, however, food halls are somewhat of a win-win for all involved right now.