Brooklyn's Ample Hills Creamery Releases Ice Cream Flavors For Super Bowl 50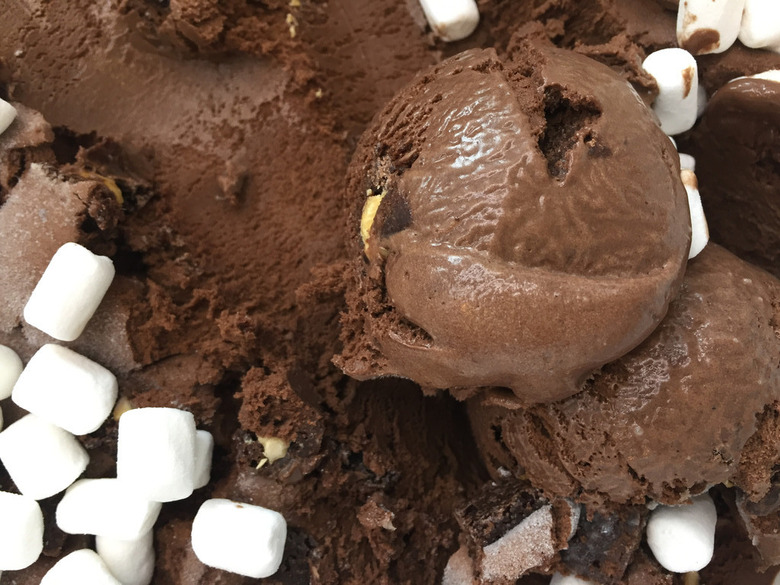 We know you'll be watching the big game this Sunday and that you'll likely be enjoying inordinate amounts of wings, chips and dip and washing it all down with a brew or three. But what to eat after Coldplay and Beyoncé make their exits and the third quarter rolls around? Truth be told, there really is no traditional Super Bowl dessert. Brooklyn's award-winning ice cream company Ample Hills Creamery wants to change that. And it all begins with one question: Rocky Mountain High or Jes' Pie?
Available both scooped or in pints at Ample Hills' Prospect Heights, Gowanus and Gotham West Market stores, and as a four-pack (two pints of each) that can be shipped nationwide, this year's Broncos- and Panthers-themed flavors are nothing to take lightly. For Peyton and his Bronco underdogs, Ample Hills has created Rocky Mountain High, its own version of Rocky Road, combining Colorado's own Left Hand Brewing Company Nitro Milk Stout in a chocolate ice cream with mini marshmallows and peanut-stuffed brownies. For Cam and his high-riding Panthers, the creamery has Jes' Pie, which puts its stamp on a Southern classic, baking a rich chocolate chess pie before folding it into a vanilla bean ice cream.
As big fans of Ample Hills and its crazy concoctions, we're inclined to plead the Fifth on which of the two limited-edition flavors sounds more promising. Besides, why choose when ordering a four-pack guarantees a taste of each? Online orders placed by midnight tonight will arrive by either Thursday or Friday, in plenty of time for the big game.