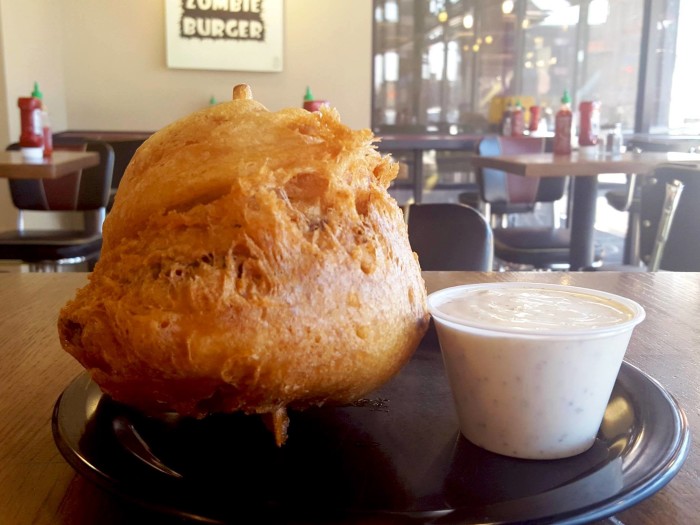 Every four years, the national media flocks lemming-like to the great state of Iowa in order to cover the Hawkeye State's all-important caucuses, effectively the nation's first presidential primary. Usually, this means the spotlight also shines briefly upon Iowa's food scene, for better or worse.
On Monday, the NBC morning show Today broadcast its freshest segment yet on Iowa's eats (see clip below), with weatherman Al Roker making the obligatory visit to Smitty's in Des Moines for the famously hulking pork tenderloin sandwich. He also drops by Zombie Burger to sample some insane caucus-themed specials, like the "Monte Christie," a beer-battered deep-fried triple cheeseburger created in tribute to Republican presidential candidate and New Jersey governor Chris Christie. Later, Roker interviews the head of the Iowa state fair, who tallies up at least 70 different things that are locally served on a stick.
Pity the proud Iowans who have to grin and bear it each time their culinary traditions are reduced to pie milkshakes, bovine butter statues and deep-fried everything as the national election cycle officially gets under way. No doubt these things do exist in the Hawkeye State, but there has to be more than just these eye-grabbing, artery-clogging edible monstrosities, right?
The Des Moines Register does a good job of taking it all in stride, tallying up the gripes following a fairly even-handed survey of the state's dining options by The New York Times last month and arguing that Iowans should appreciate this brief moment of attention and stop complaining.
Visiting journalists, take note: The Register has also published a handy guide to all the new Iowa restaurants that have opened since the last time America showed any interest, back in 2012.
We'll happily take these recommendations from locals over the fleeting gaze of outsiders any day.