There's no denying that chicken wings are a must at any Super Bowl party. Whether you're frying them, baking them, stuffing them, dousing them in gochujang or gin, we've got 22 recipes for you that will make you leave Frank's Hot Sauce behind for good.
Indians don't glorify chicken wings the way Americans do, so I'm stepping in to bridge that inexplicable gap. When faced with chicken and the possibility of high-heat smoky cooking, such as any ol' charcoal grill, there's only one preparation on my mind. I've tandoorified and char-grilled everything from pork loin and tofu steaks to more traditional fare, like shrimp and lamb chops. Brine and baste all you want, but tandoorification (my word for marinating overnight in heavily spiced yogurt) is the way to go if your end game is "juicy and flavorful."
Legendary Italian-American institution Carmine's brings us a recipe for its celebrated fried Scarpariello chicken wings, a favorite among guests. With a spicy lemon and white-wine butter sauce, you'll have your Italian chicken and Buffalo wing craving satisfied while also getting your fingers messy!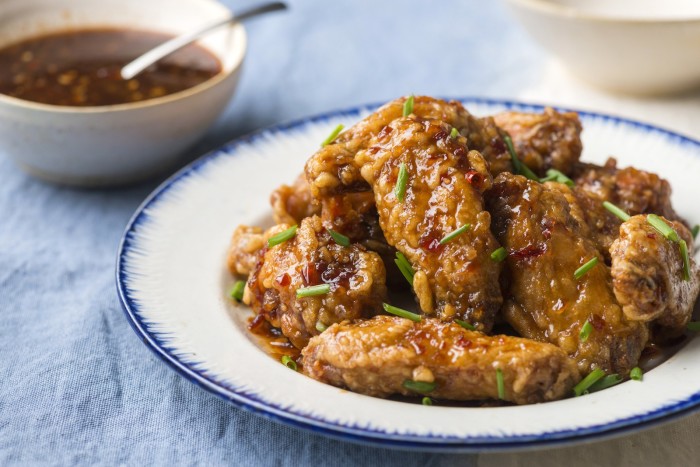 I created the recipe for these crispy, spicy, saucy wings by taking inspiration from two chefs whose recipes appear in Fried and True, the fried-chicken book I coauthored with Lee Brian Schrager. Philly chef Michael Solomonov — who serves deeply crunchy, lightly lacquered Korean-style fried chicken at Federal Donuts — coats his chicken in rice batter before double-frying and saucing in a mix of Asian condiments. At his eponymous Brooklyn restaurant, Dale Talde dredges his kung pao chicken wings in a dry rice-flour coating and also fries twice, which keeps the center tender and perfectly cooked while bringing the exterior to the optimum level of crunch. I tweaked Solomonov's wet batter and sauced in my own coating using sweet, salty, tangy and spicy elements.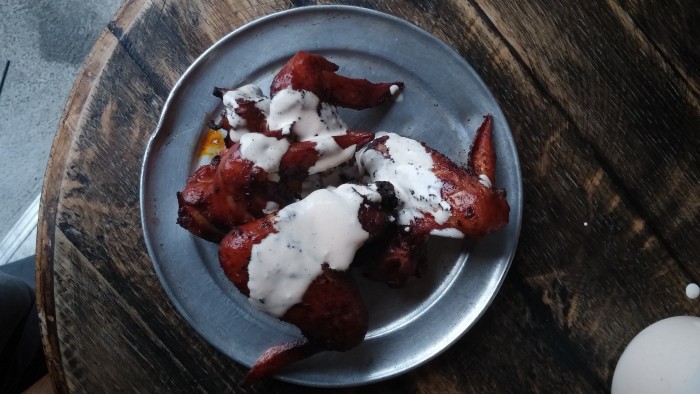 Edward Lee is a former Top Chef and Iron Chef contestant, Louisville restaurateur and Korean-food expert. Born in Brooklyn and raised by Korean immigrants, he spent time working in book publishing and running the acclaimed restaurant Clay before moving to Louisville to immerse himself in the culinary traditions of the South — which he has since married with his East Asian heritage. One of these remarkably delicious mashups is this recipe for Korean chicken wings, which are slow-roasted (or smoked) and lacquered with a sauce built around Korea's wonderful fermented chili paste, gochujang. And to make it even more Southern to the core, he includes a classic Alabama white barbecue sauce for dipping. What a crucial move.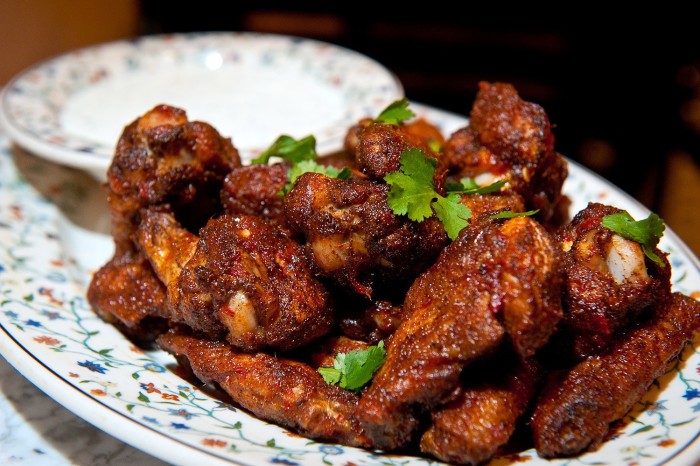 I really wanted to create a baked chicken "hot" wing with Asian flavors that would rival the best deep-fried versions. After nearly four years of trial and error (and literally thousands of chicken wings cooked), I think I've got it. If you can, spend the extra money and buy organic whole wings — you will find they are much less fatty than regular ones. By cooking them for a long time and rendering a lot of the fat out of the skin, these wings have a super crunch factor. You can adjust the spice by adding or subtracting sambal from the sauce mix.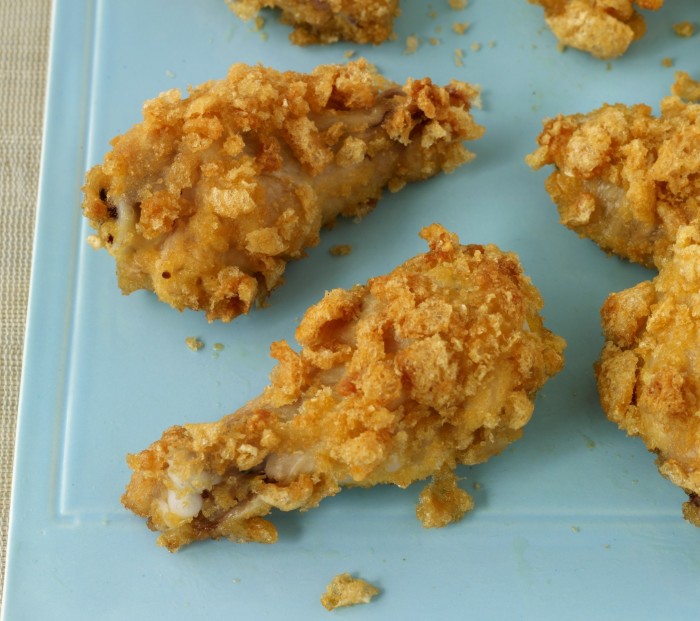 As I walked the indoor track, Wayne flagged me down and introduced me to a woman on a step machine: the source of the chicken recipe, Peggy Dennis. When Peggy described the recipe, I couldn't believe the ingredients. You'll be skeptical, too, but these are great wings. As for healthy eating: "Butter is all natural," Peggy says. I've made a few changes to Peggy's original recipe to adapt it to wings (she uses chicken parts). Don't cook these on the grill.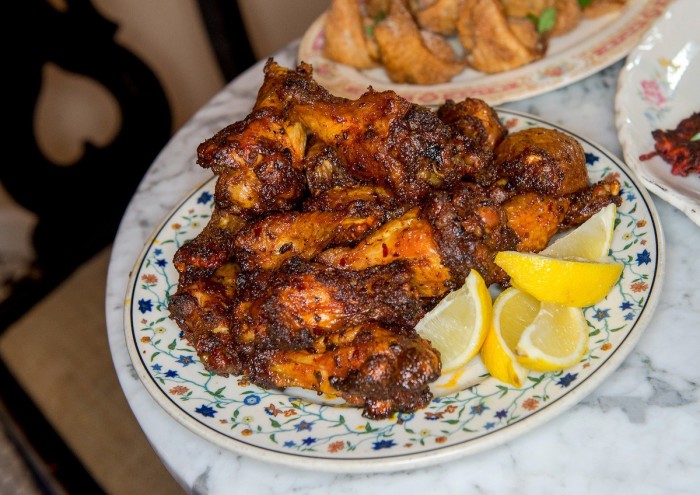 For the wings pictured here, we used a special bottle of harissa from L'as Du Falafel that I brought back from Paris this past summer. Liquid gold. You'll be amazed at how many specialty hot sauces there are out there! Take advantage of that and whip up a batch of unique hot wings to wow your friends.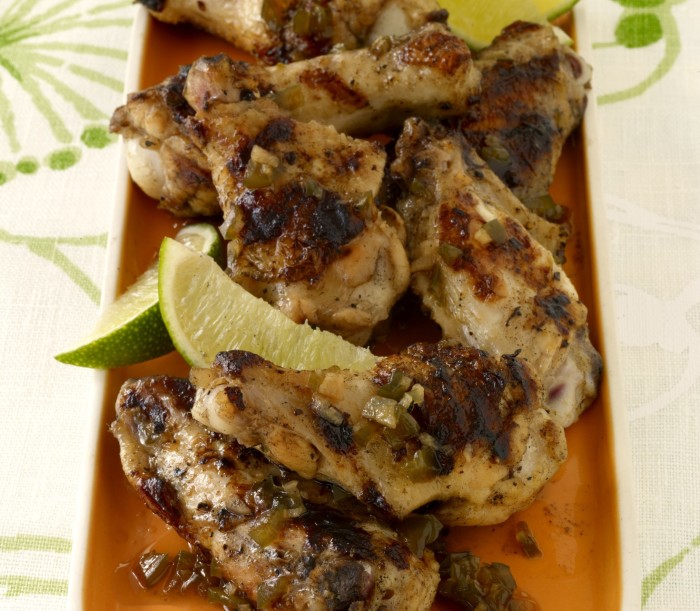 Sweet with some heat, these ginger-lime chicken wings have layers of flavor. They're flavorful enough to hold their own on a fancy buffet or as a light lunch. They're also perfect for kicking back with some beers in front of the screen, so we'd call these wings a best-case scenario.
These wings are more about intense flavor than heat — few flavors are more intense than sour, pungent, slightly fruity tamarind, which I ate a lot of in India (along with plenty of garlic and ginger). But I flew through London, hence the Newcastle. Don't worry, we're going back to India for the heat very soon.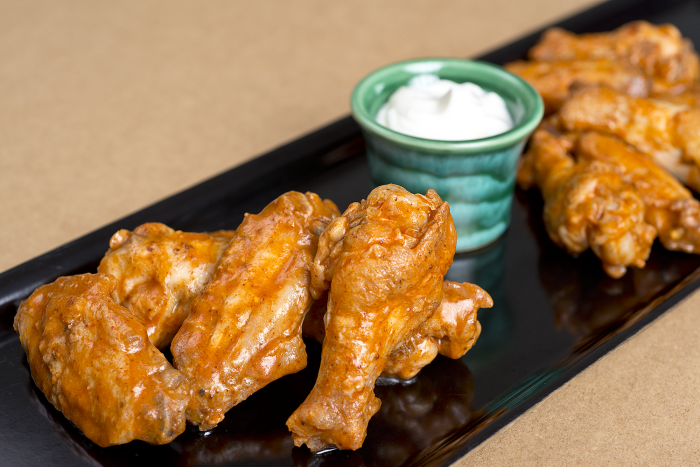 Everybody has that one friend who scoffs at the heat level of a perfectly decent batch of wings. Ready to silence him and enjoy the game your way? Clarified butter helps cut the heat (a little) while amplifying the flavor of the hottest chili in the world — fruity and slightly herbal, if you can make it through the million or so Scoville units — plus it adheres better and tastes more buttery than its regular counterpart. We recommend our buttermilk blue cheese dip or signature homemade ranch, should further relief be necessary. Once more, these are spicy!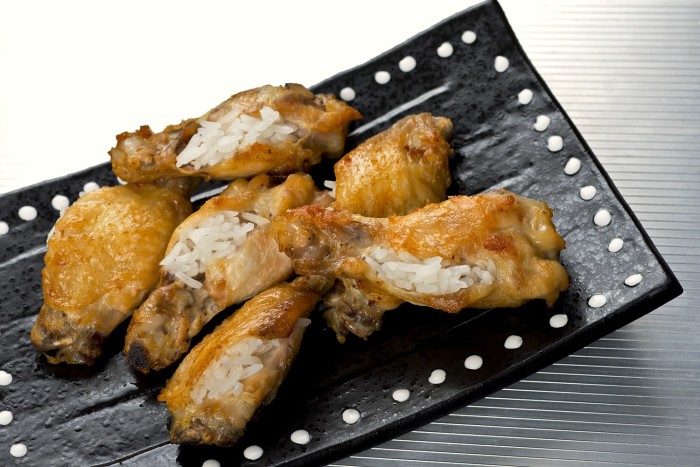 Ginger is necessary — it's in the brine, the glaze and the rice. As much spicy, fragrant ginger flavor as you can fit in there is how close you'll get to the hawker stall original. But the sheer novelty of the first bite of each of your wings containing a mouthful of gingery rice should be enough to shock those who believe there is no new way to reinvent the wing. There most definitely is.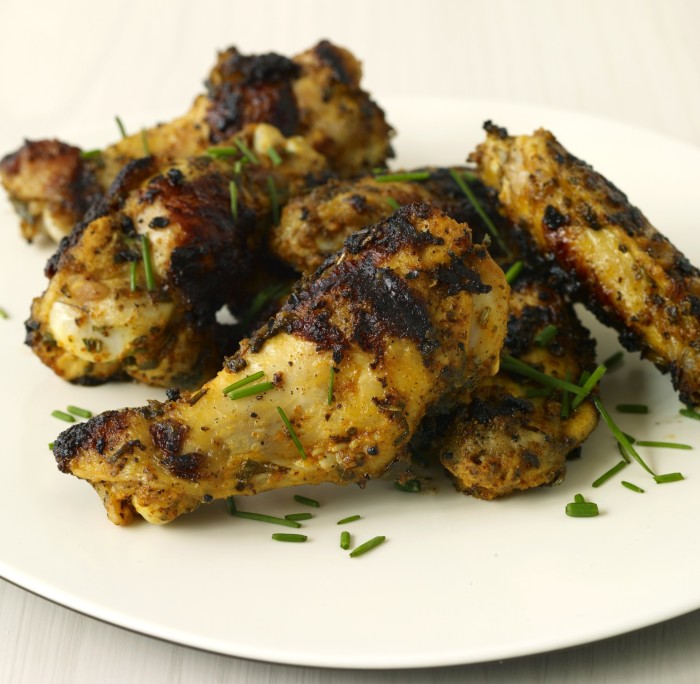 My tasters liked these because they have a ton of zingy flavor without the bite of hot wings. The pepper also makes a crunchy coating. If you end up wanting to add heat (hey, we're indecisive, too), a few dashes of habanero sauce should do the trick.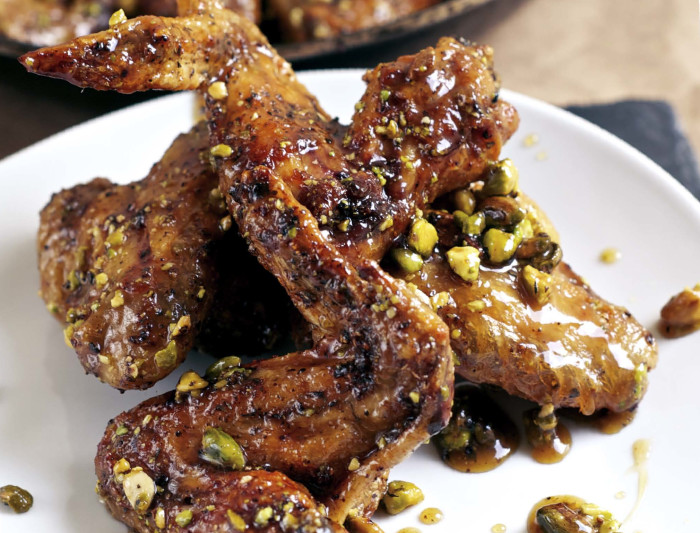 Check out this recipe for honey baked pistachio wings from the man who invented the underground fried chicken DJ party: Dante Gonzales of Dante Fried Chicken, Ride or Fry food truck and subsequent pop-ups (read our interview with him, On The Road With Dante Fried Chicken). He is one guy to trust with your poultry if you want it crispy and delicious. You do, right? Then heed his secret trick and don't even think of cutting corners: steam the wings briefly, chill them in the fridge overnight, then blast them in a hot oven to crisp them up. You will be rewarded with the kind of crunch you never thought yourself capable of creating.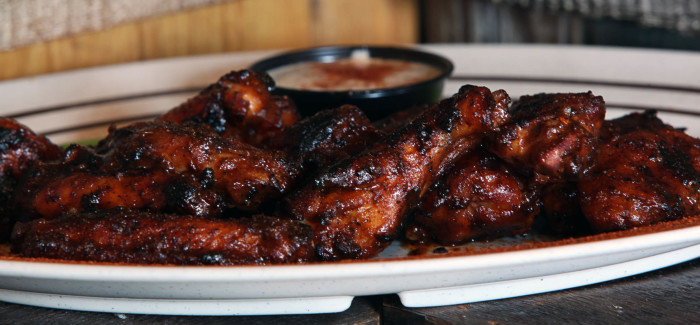 When finishing the wings, make sure you have a hot broiler, and avoid tossing them with too much sauce; you want to glaze them, but you also want to maintain that crisp skin that gives way to juicy flesh. It's that sweet spot of caramelization that's not soggy or charred. Plus, you can always serve a side of sauce for dipping along with blue cheese dressing. In fact, I encourage it.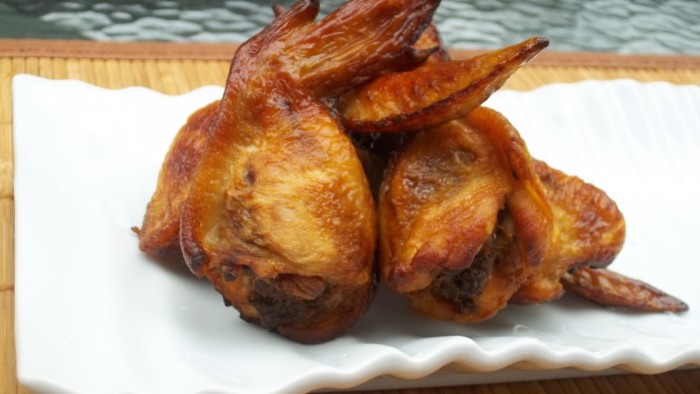 While these bison-stuffed chicken wings require a little more effort than other wing recipes, they are well worth it. The pistachio adds an addictive crunchy quality. One taste of these smoked and stuffed wings and you too will agree that these impressive crowd-pleasers are worth the extra time in the kitchen.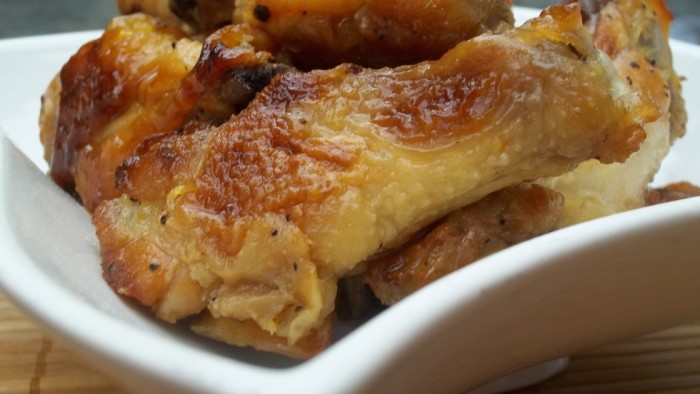 I am a firm believer that alcohol belongs in food as much as it does in a bottle, so I paired gin, with its nice woodsy undertones, with the sweetness of brown sugar for a recpie so easy that you can prepare it during commercials.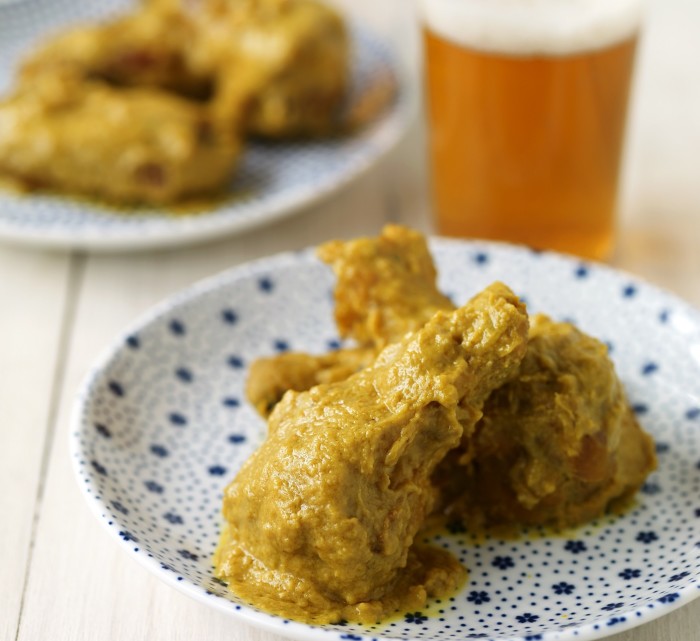 In South Carolina, pork barbecue is served with a thick mustard sauce. Turns out, it's great for wings, too. Stash them in the slow cooker and you'll have no distractions from your party guests or the big game.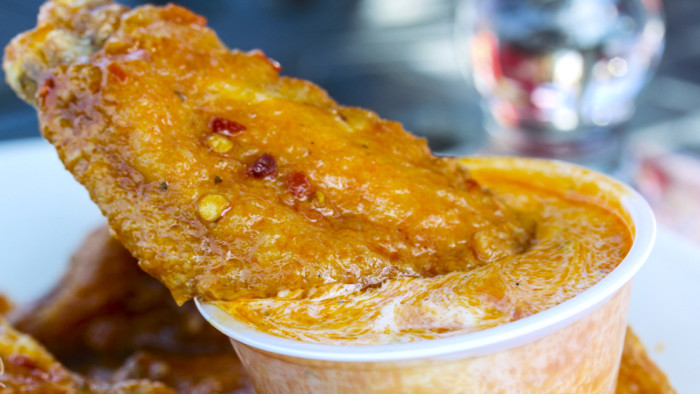 This dish was inspired by my love for chicken wings and a popular Filipino dish called Kare Kare [pronounced kar-eh kar-eh]," says chef Eric Pascual. "The traditional Kare Kare dish is a stew made with slow-cooked oxtail in a peanut sauce. This dish works great as a snack or even a main course."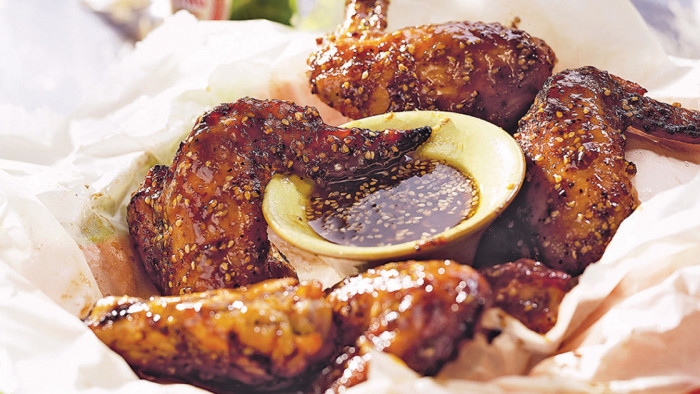 Store-bought hoisin sauce and canned plums make this Asian take on chicken wings extra easy. Fire up the sauce by adding 1/4 teaspoon cayenne pepper to the plum mixture before cooking.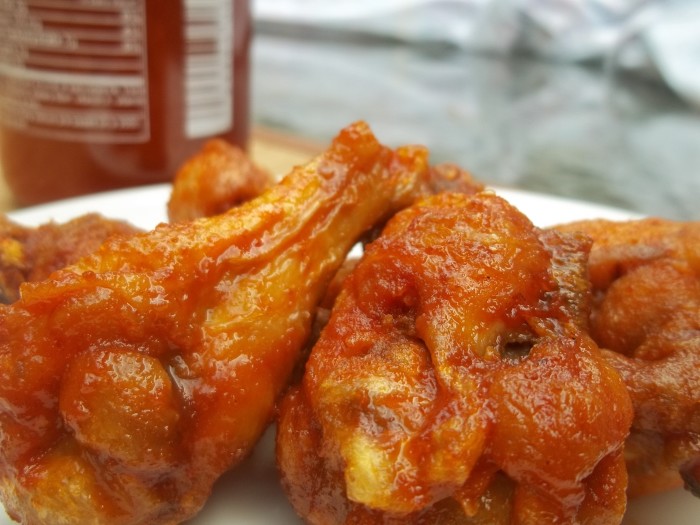 If you haven't tried the delicious chile sauce, Sriracha-Honey Wings gives you a chance to see why everyone loves it. The sriracha gives the wings a spicy kick, while the sweetness of the honey and the tanginess of the rice wine vinegar balance each other out. Make these for your next tailgate and convert your friends to the red side.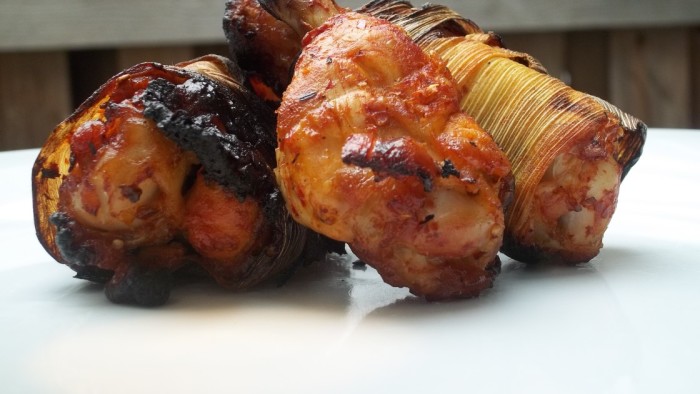 After grilling tamales, salmon and shrimp in corn husks, I decided to experiment with grilling wings in corn husks. The results were fantastic. The husks seal in the juices, giving you moist wings straight off the grill. Find corn husks in any Latin grocery and buy a 50-pack. While you're making Mexican wings, you might as well whip up a batch of tamales, too.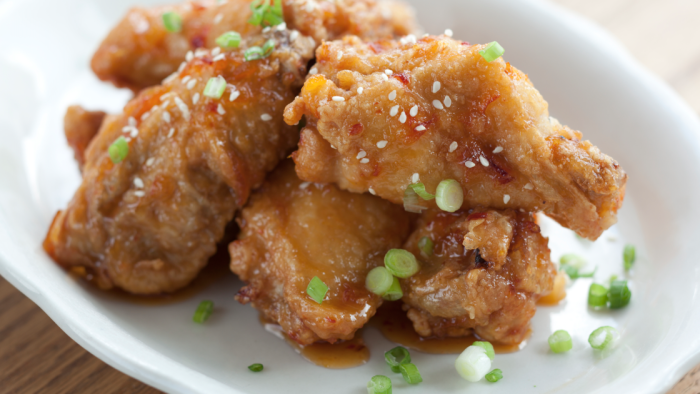 I love making appetizers that are two or more dishes in one. Take chorizo potato bites, for instance: they're "deviled eggs meet potato skins that also meet chorizo potato tacos." When it comes to snack food, hybridize all you want. That means not choosing between spicy popcorn chicken, sesame-orange chicken and chicken wings, because you can make all three in one delicious, deep-fried bite. Garnish these spicy orange chicken wings with sliced scallions and sesame seeds for a satisfying party snack.