Remember To Eat Your Garnish With This Culinary Cocktail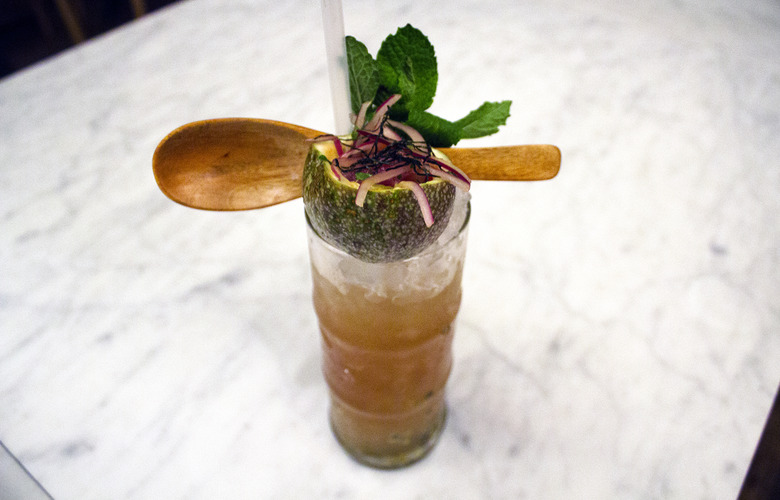 Yes, that would be ceviche in a hollowed-out passionfruit shell on the top of this inventive cocktail from Sushisamb
Sometimes more is more, and cocktails that stand out in a crowd have always been popular. With the proliferation of tiki and now culinary-inspired cocktails, much attention seems to be paid to the panache of one's garnish or finding "insane" flavor combinations. But it's not all style over substance, as the best of these drinks actually taste quite delicious, in addition to garnering excitement and the requisite cell-phone snaps from guests.
Notable U.K. bartender Richard Woods is no stranger to unique flavor and garnish experiments, which is likely the reason the Japanese-Brazilian-Peruvian restaurant Sushisamba tapped him to put its drinks menu back on the map in NYC. His creations brandish everything from a snack-size cone of salty maize to a piece of nigiri sushi wrapped in shiso to his Coconut Ceviche cocktail, which features a hollowed-out passionfruit shell filled with a tuna and  tamarind ponzu ceviche to complement the drink.
Providing a built-in pairing to enhance the flavors in the glass, the combination of passionfruit and chocolate in the Coconut Ceviche might seem a bit sweet on its own, but it is immediately contrasted with bites of savory tuna and onion. Though tropical and exotic, these drinks are decidedly not tiki, but rather a hyphenate of different cocktail disciplines colliding. While a classic daiquiri or martini might be the perfect choice for many, it's an exciting time to experience drinks like these as bartenders strive to push their artistry and science to new heights.
Coconut Ceviche Cocktail
Servings: 1 cocktail
Ingredients
1 1/2 ounces Hoxton Grapefruit & Coconut Gin
3/4 ounce yuzu juice
1 whole passionfruit
2 bar spoons Godiva Dark Chocolate Liqueur
3/4 ounce simple syrup (1:1)
Directions:
Combine ingredients into a highball glass.
Add crushed ice and use a swizzle stick to combine ingredients.
Garnish with a mint sprig and a 'shot' of tuna ceviche in tamarind ponzu, served in an empty passionfruit shell and a wooden spoon.
Prep time: 5 minutes
Difficulty level: Moderate