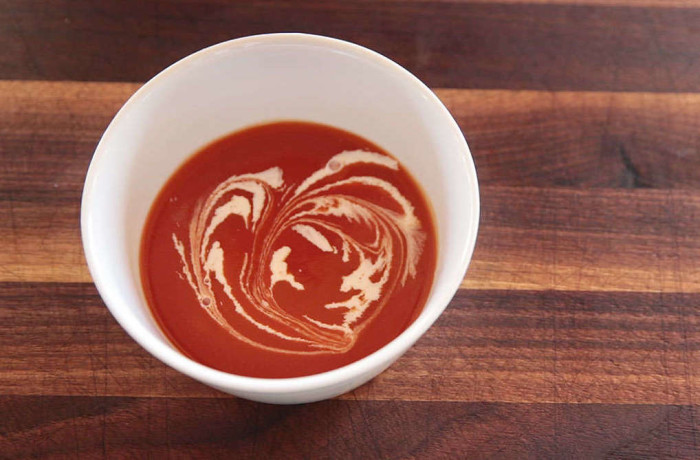 Tomato soup is all about comfort. Sick days, snow days — what would they be without a big bowl of the red stuff accompanied by a gooey grilled cheese? And just like its melty best bud, tomato soup is the sort of dish you want to whip up in a matter of minutes.
ChefSteps wrote in this week with an easy tomato soup recipe that takes no more than 30 minutes. It's inspired by the flavor-forward tomato soup from Campbell's but tastes far fresher and cleaner since nobody's about to put it through the canning process. Check out the brief instructional video and full recipe and directions below.
Ingredients
1 serving chive oil (optional, see below)
2 large tomatoes
2 small cloves garlic
2 ounces sweet onion
3 ounces tomato paste
2 teaspoons salt
2 grams MSG
1 gram xanthan gum
½ cup water
Cream (optional, as needed)
For the chive oil:
Prepare an ice water bath.
Bring a large pot of water to a boil. Blanch chives in boiling water for 30 seconds. Immediately transfer to ice water.
When chives have chilled, remove any excess moisture by patting gently with a paper towel.
Place blanched chives and 1¼ cups canola oil in a blender.
Blend just to a fine puree. Careful — overblending can turn the chives brown.
Pass blended oil through a #50 sieve (or a fine-mesh strainer). Reserve in the fridge. Shake or stir before serving.
For the soup:
Core tomatoes, slice into quarters, then chop into one-inch cubes.
With a mandolin (or a sharp knife), slice garlic and onions into thin pieces of about equal size.
Place tomatoes, garlic, onions and tomato paste in a large glass bowl. Sprinkle with salt and MSG. Cover tightly with plastic wrap. Place bowl in microwave and cook for 10 minutes on highest power level possible. Open microwave and puncture plastic with knife to allow steam to escape. Remove bowl from microwave.
Transfer the contents of the bowl to a blender. Add water. Blend on low until a vortex forms. Add xanthan without stopping the blender. Blend until smooth.
Strain tomato soup through a #80 sieve. (If you don't have a sieve, you can just season and eat the soup as is. It will be a little chunkier but still yummy).
Optional: Using the stove or microwave, heat a small amount of cream — drizzle it lightly over each serving — until warm. Remove from heat.
Ladle soup into serving bowls and top with a swirl of cream. With a spoon, stir cream gently to disperse. Garnish with chive oil (optional) and serve.
ChefSteps comprises a team of award-winning chefs, filmmakers, scientists, designers and engineers focused on revolutionizing the way people cook by inspiring creativity and encouraging expertise in the kitchen. The site is currently offering free online classes called Cooking Sous Vide: Getting Started and Burgers, as well as a $10 class called Cooking Sous Vide: Beyond the Basics and a $14 class called Coffee.