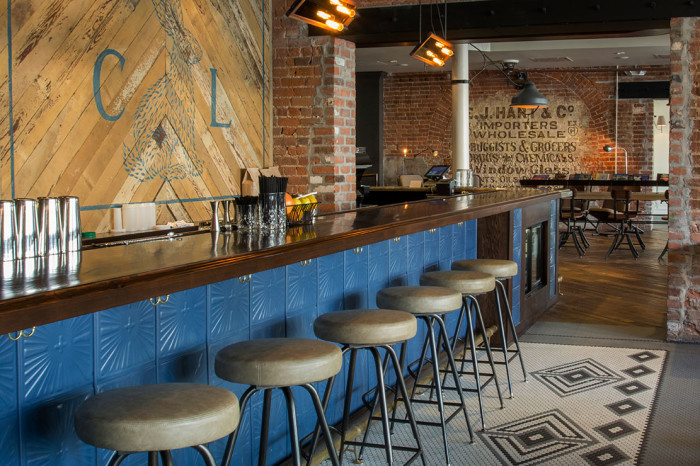 In Hungry Concierge, we travel the world to spot hotels that operate with their guests' food and drink needs squarely in mind — hotels, both big and small, that are located in neighborhoods rich with bar and restaurant options. Because there's nothing worse than having your trip derailed by crummy room service.
In New Orleans, everyone's a critic. A food critic, that is. Seriously — everybody from Uber drivers to friendly shopkeeps to random people you start gabbing with on the street after a 20-ounce frozen daiquiri has live-and-die opinions about local food.
The friendly staff at the Old No. 77 Hotel & Chandlery, which opened last spring in what was formerly the Ambassador Hotel, is no exception. My first afternoon, starved and craving a po'boy, I innocently wandered downstairs and inquired where I might find a good version of this essential N'awlins sandwich nearby. Boy, did that open a can of worms! First the two front-desk guys/concierges debated the matter for a few minutes, then the coffee dude got in on it. Before I knew it, I was summoning an Uber and hightailing it over to Domilise's, Uptown, an order-at-the-counter dive that's been open since 1924. Not exactly walking distance, but pretty darn good. Though I later concluded Parkway was better — let the debates rage on!
Not only can the Old No. 77's staff recommend great food in the area, but the hotel's restaurant, Compère Lapin, is one of the city's most exciting openings of the past year. Chef Nina Compton (whom you might remember from Top Chef: Season 11) is a St. Lucia native who deftly melds Caribbean and Creole ingredients and flavors. Her cooking is both sophisticated and satisfyingly down-home.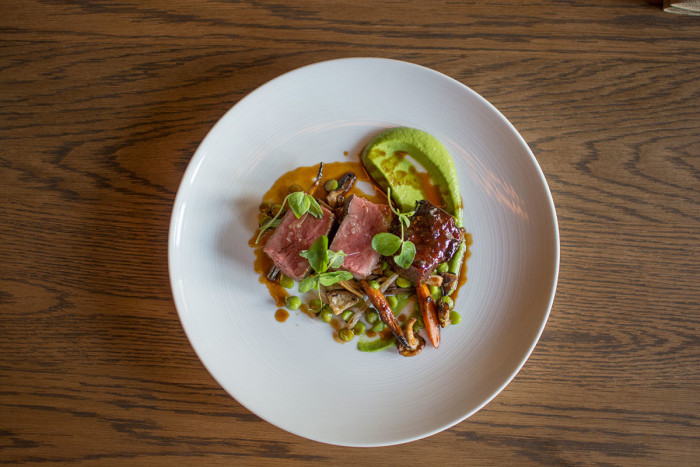 Take the pig ear appetizer. It's insane: tender and toothsome strips of porkiness are rolled in spices, with a smoked aioli for dipping. Giant broiled shrimp with Calabrian chili butter cry out to have their heads sucked of the juices and their sauce mopped up with whatever is on hand (perhaps your complimentary order of biscuits for the table). You can't go wrong with any of Compton's house-made pastas, particularly the side of spinach cavatelli with fontina fondue, which arrives in its own mini frying pan topped by a pastry crust. Bust it open and it looks for all the world like green bean casserole, and tastes like heaven.
The bar slings a mean cocktail, too, with a booze program overseen by Ricky Gomez, a New Orleans native who helped reopen famed restaurant Commander's Palace after Hurricane Katrina. Good luck finding anywhere to perch during happy hour, when classic drinks are just six bucks. If you'd rather make your own, each room's "honor bar" is stocked with several bottles of local craft hooch. And in case you've been thinking, Just what the hell is a "chandlery," anyway?, a booklet in each room explains that it's a building that supplied provisions to ships, appropriate since this place started life as a warehouse. In that vein, if you'd like to stock up on quirky and cool local goods, there's an art gallery and boutique, the Chandlery, just off the lobby.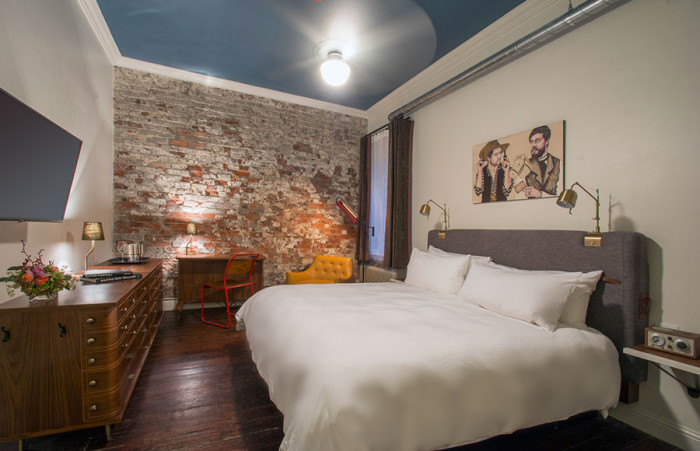 The Rooms
The 167 rooms have that industrial-chic vibe warmed up by arty touches that you always want your own home to have, until you realize you have too much stuff. In my corner room, the ceiling was eggshell blue, the exposed pipes bright red and several mixed-media canvases adorned those walls not made of exposed brick. A desk had a built-in leather storage pouch, and a matching dresser cleverly concealed the minibar, stocked with local beer and Swamp Pop soda. Up top sat a tray of tempting artisanal snacks: pralines, something called Zydeco Bars, chocolates by NOLA brand Sucré, and of course Zapp's Potato Chips.
The Look
Original details like high ceilings, exposed beams and brick, plus gorgeous old hardwood floors give the entire hotel a spacious, comfortably worn feel. The arty theme is evident throughout, thanks to a partnership with the New Orleans Center for the Creative Arts (NOCCA). Canvases by NOCCA students are what prettied up my room, and more works hang in the gallery-shop on the ground floor.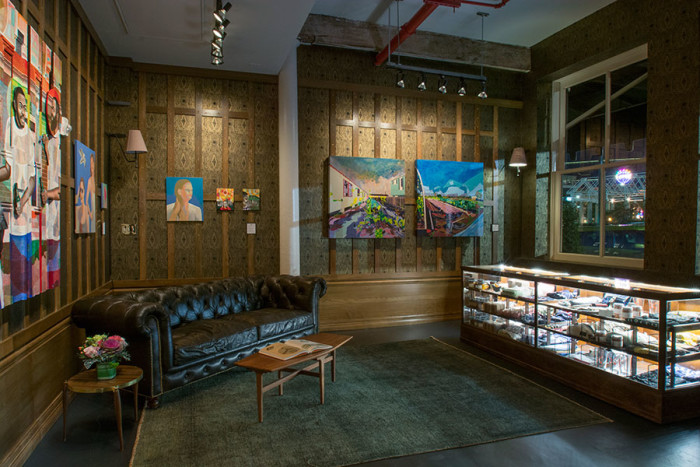 The Neighborhood
There's a lot of crazy in New Orleans, and sometimes it's better to be near the madness, but not right in it. Take the French Quarter (cough), that fascinating historic neighborhood that gets overwhelmed by drunken revelers at times. The Old No. 77 is just a few blocks away, an easy trot, but not near enough to Bourbon Street that you'll hear anything at night. In the other direction, you can easily stroll to some of the Creole standbys, like Emeril's, as well as newer-school places including Cochon and Pêche. And if you end up Uber-ing to most places, like I did (the company just lowered rates for passengers citywide), you'll be well positioned: more or less in the middle of other neighborhoods worth visiting, such as the Bywater and Uptown.
Old No. 77 Hotel & Chandlery
535 Tchoupitoulas St., New Orleans, LA
504-527-5271
old77hotel.com
Rooms from $157 per night