A Case (Sort Of) For The Veggie Burger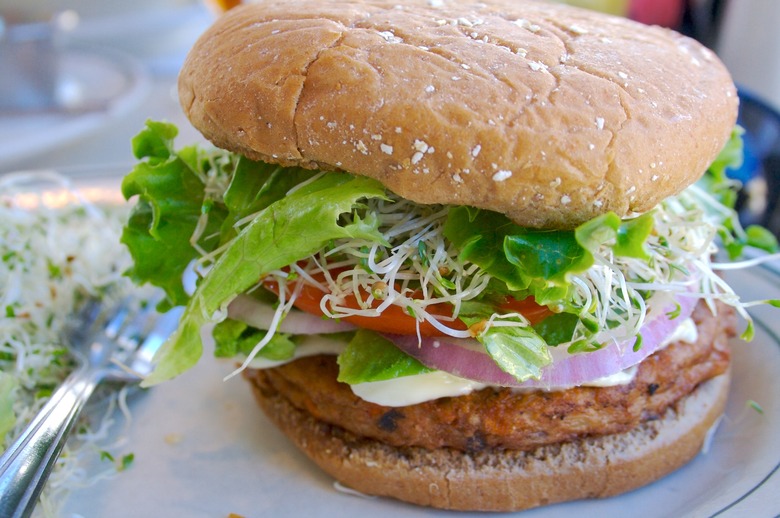 We may receive a commission on purchases made from links.
Boston-based burger blogger, chef, recipe developer and cookbook author Richard Chudy is one of our culinary heroes. His impressive mastery of all things fried, cheesy and dippable has expanded to his recent book, American Burger Revival: Brazen Recipes to Electrify a Timeless Classic. Cowritten with chef-author Samuel Monsour, winner of Boston Magazine's "Best Burger" award, American Burger Revival is a collection of recipes, stories, techniques and crucial information for inspiring and building the greatest burger you could ever dream up. And now, some thoughts on "alternative burgers," if that is their real name. 
Put the words "veggie" and "burger" together in a sentence and watch any meat-loving, carnivorous eater wince in pain. It's an unfortunate stigma toward something that actually can have redeeming qualities. It was of course, a complete afterthought, but it would seem that times have changed. Gone are the days when the only contenders were a beyond-dense hockey puck or an overly processed soy protein object with sad artificial grill marks applied to the patty. Here's how they make those grill marks — nobody likes those versions, trust me.
Veggie burgers are akin to that food that you didn't like growing up, be it Brussels sprouts, mushrooms, beets or whatever poor iteration of said food you were once force-fed by your parents because it was good for you. I contend that moms, with her wild '80s hair (not my mom — her veggies are always on point, and her hair was way ahead of its time), may not have done those sprouts justice. Seemingly boiled to death, until all that remained was a gaseous odor that no one could blame on the dog, there's no wonder our childhood experiences shape our adult taste buds.
Ditto for the veggie burger, if we grew up with them. We've all had a Boca burger, been tricked by a friend who proclaimed a local spot has a veggie burger that won't make you miss the meat, or been served a portobello cap in a stale whole-wheat bun and felt sad remorse. My point, of course, is that there are better versions of everything, and the veggie burger is no exception.
Why can't a veggie burger be great? Even though much of my connection with food has largely been through the wonderful world of burgers (and by burgers, I mean beef and nothing but beef), it doesn't mean there can't be room for all patties of delicious proportions. True, a burger to me has to be beef, and my beefy manifesto would be one large hypocritical lie if I told you otherwise. Perhaps it's all in the wording. My issue, and I assume most people's issue, lies in the word "burger." Call it a patty, a fritter or anything else other than the almighty and our outlook may just be a little different on the subject. A veggie patty can never replace the wonderful flavors and succulence of a properly made burger. It just can't, so why even pretend?
Still, like anything else, there are versions on both ends of the spectrum, so it's impossible to make a blanket statement. I've had some truly remarkable veggie patties, with an endless array of textures, flavors and quite frankly, vegetal depth that many burgers would be envious of. But I've also had the saddest excuses for in-between-the-bun supremacy, with a mush-on-mush consistency that reads more like baby food. Why are veggie burgers always served in whole wheat, seeded, grainy bricks of buns, or with a side of dressed greens in lieu of crispy fries?
Sure, some may choose the veggie burger option because it's healthier, but the real crime may be trying too hard. It's not going to fool anyone. It can't be served medium-rare, it won't be juicy and a Maillard reaction will be minimal, at best. But give me some beans. Load up the avocado. Season the crap out of it. Serve it on a fluffy white sesame bun. Caramelize those onions. Slap on the cheese. And whatever you do, give me some fries on the side.
Indian Mushroom and Chickpea Flour Veggie "Burgers" With Curried Yogurt Sauce
Yield: 4 veggie burgers
Ingredients:
1 tablespoon extra-virgin olive oil, plus some for the pan
1 cup roughly chopped cremini mushrooms
1/2 teaspoon kosher salt, divided
1 1/4 cups garbanzo flour
1 teaspoon curry powder
1/2 cup frozen peas, thawed
2 tablespoons chopped cilantro
1 cup fresh baby spinach
4 burger buns
Curried Yogurt Sauce
1/4 cup Greek yogurt
1/4 teaspoon lime zest, about the zest of 1/2 a lime
1/4 teaspoon curry powder
For the burgers
In a small skillet, heat extra-virgin olive oil over medium heat and add the mushrooms. Once the mushrooms start to brown a bit, add half of the salt and cook until softened and deep brown in color. Put into a bowl and set aside to cool. In a medium-size bowl, combine the flour, curry powder, peas, cilantro and cooked mushrooms. Slowly pour in room-temperature water in a steady stream while stirring. Continue adding the water, 1/4 cup at a time, and stirring just until a thick batter forms, resembling cookie dough.
Preheat the oven to 400 degrees. In a medium-size nonstick skillet, add just enough olive oil to lightly coat the skillet. Heat the oil on medium-high heat. Divide the veggie burger mix into four equal sections and shape them with a spoon, while dropping them into the hot oil. Allow them to cook, about 3 minutes on each side. Place the skillet into the oven to cook the inside, just about 5 minutes. (While this is happening, you can toast the buns if you'd like.) Lay out the buns, divide spinach up into the equal amounts on each sandwich and place one veggie burger on top. Top each burger with 1/4 of the curried yogurt sauce.
For the curried yogurt sauce
Combine all ingredients into a small bowl and blend with a spoon. Set aside until ready for use.