6 Tips For Buying Better Shrimp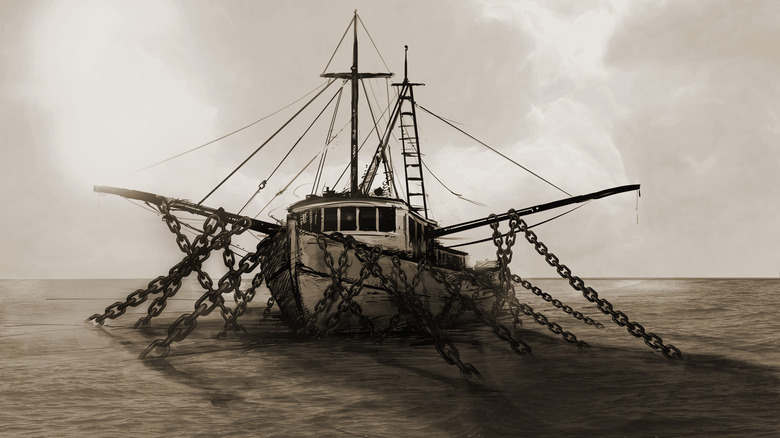 Illustration by Mike Houston
Christine Haughney covers corruption and criminal behavior as part of the Zero Point Zero Production series Food Crimes. Here, she reports on recent issues surrounding the shrimp industry.
Few types of seafood lead a more celebrated and scandalous life than shrimp. It has become the most popular and most consumed type of seafood on menus and in homes in the United States, according to government data. It can hold its own in a classic shrimp cocktail at a traditional sit-down restaurant or in popcorn shrimp baskets at the local sports bar.
But it also has the most links to crime, corruption and contamination. Much of the shrimp we consume has been raised by enslaved workers in Thailand or drowned in saline-like sodium tripolyphosphate to bloat it into what appears to be creamy white perfection. And it's next to impossible for even the most experienced restaurant chefs to find shrimp that hasn't been privy to these acts.
It's become difficult to ignore the news reports about just how much slave labor contributes to a shrimp's path from sea to table. The Associated Press's reporting on the slave trade in Thailand resulted in more than 2,000 fishermen being freed last year. It also directly traced this shrimp back to U.S. markets and restaurants, including Kroger, Whole Foods, Red Lobster and Olive Garden. The European Union is now contemplating whether to ban all Thai seafood products.
Then there's the problem of sodium tripolyphosphate, which the seafood industry adds to most shrimp to make it larger and preserve its color. While the latest Food and Drug Administration code says that the ingredient is "generally recognized as safe," plenty of shrimp lovers have complained about how they have broken out in hives. At the very least, says Frankie Terzoli, global vice president of traceability for food and seafood at Frequentz, sodium tripolyphosphate gives the shrimp a chalky taste and washes out the ocean flavor. He estimates that about 90 percent of the market is soaked in sodium tripolyphosphate because it doesn't make financial sense to sell shrimp without it. "The public in general wants to pay X amount of dollars for the largest shrimp they can possibly get," says Terzoli. "The problem is that it costs more to produce shrimp of that size than the market is willing to bear."
It's especially difficult for home cooks because they don't have the options or bargaining power to buy shrimp in bulk, like chefs do.
We asked some well-known chefs and distributors about how they've been able to find high-quality shrimp without dubious additives or links to abusive labor practices. Here are their tips:
1. Buy domestic wild shrimp.
Chef Dave Pasternack, also known as the "fish whisperer" for his skill with seafood, says that he when he heads to his market, he asks for fresh shrimp from the Gulf Coast or the Carolinas. Sean Dimin, cofounder of Sea to Table, which connects fisherman with chefs, added that customers can also ask for fresh shrimp from states such as Oregon and Alaska.
2. If you can't buy domestic shrimp, try shrimp from these countries.
Terzoli says that if he can not buy wild American Gulf shrimp, he asks for Argentine red shrimp or Mexican blue or brown shrimp. "There would be no slave labor involved in any of those," he says.
3. Avoid frozen shrimp unless you find this in the label.
Dimin says it can be really difficult to avoid frozen shrimp because that's the way most shrimp is caught and packaged at sea. When he feeds his family frozen shrimp, he looks for domestic, wild-caught shrimp that lists only the following ingredients: shrimp and water. He notes that sodium tripolyphosphate must be listed as an additive if it's used in shrimp's preparation. So you can check for it before you buy.
4. Don't be afraid of black ends on the fins of your shrimp.
That could be a sign that the shrimp is very healthy, says Terzoli. This sort of coloration is often covered up by sodium tripolyphosphate.
5. Check out some of the newer experimental, farm-raised types of shrimp.
Some chefs are becoming converted to farm-raised shrimp as a tasty alternative. Late last year, Chris Sherman, president of Island Creek Oysters in Duxbury, Massachusetts, started to distribute shrimp to restaurants in Boston and New York City from a nearby farm in Stoughton called Sky 8. Sherman says that shrimp seems to thrive better in farm-raised conditions, unlike other types of seafood, such as salmon. "It's a pampered life in the farm," Sherman says. He now sells Sky 8's shrimp to New York City's acclaimed Mission Chinese.
6. Expect to pay for shrimp like you would more luxurious types of seafood.
The comfort of knowing that your shrimp is the wholesome kind usually comes at a higher cost, Sherman says. He notes that restaurants are paying about $20 per pound wholesale for Sky 8's shrimp, and that higher premium is often passed on to diners. On his own menu, Sherman charges $4 each for shrimp cocktail and his head-on Stoughton shrimp entrée with Anson Mills Blue Grits and house-cured bacon costs $33.