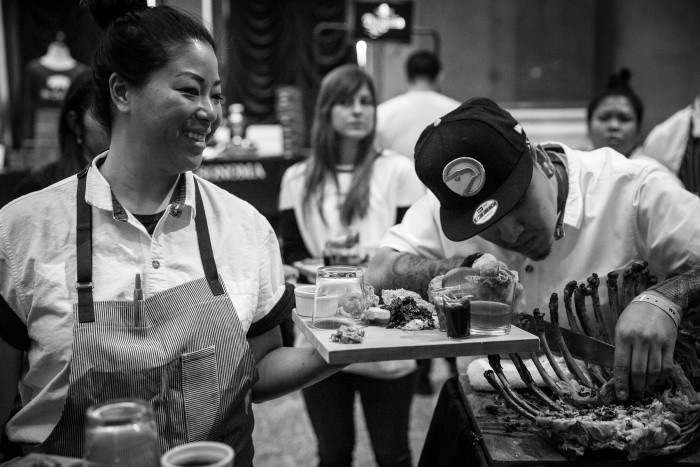 For a brief but heady time, the historic Beatrice Inn reigned as the most exclusive nightspot in New York City, cultivating a dubious reputation for its celebrity-heavy clientele and its neighbor-baiting wee-hour revelry. Needless to say, it was not known for its food. That perception is now changing, thanks to a new ownership group that notably includes famed Vanity Fair editor Graydon Carter and a talented kitchen staff led by executive chef Angie Mar.
On Sunday, chef Mar threw down with four other accomplished NYC cooks at the annual Cochon 555 whole-hog cooking contest and bested everyone, walking away with a shiny trophy and regal title as the city's new "Princess of Porc." As the local champ, Mar and her crew will travel to Aspen, Colorado, in June to compete against regional winners from nine other cities in the hopes of bringing home a national title.
Mar's entire six-course presentation, beginning with a strikingly carnal-looking "smoked loin Wellington" and finishing with a matrimonial-style "blood velvet cake" made with four different porcine ingredients, was dazzling to behold. The judges, including this writer, were clearly impressed.
"I don't like food that's tortured, that's like manipulated into something else," the victorious chef told me backstage after the awards presentation. "I like food to be what it is. And that's what we really tried to do here, to take this beautiful, beautiful pig and try to highlight its best qualities."
Despite these simple aims, Mar admitted that her menu was pretty far-out in places, especially when it came to the dessert. "I was like, 'Guys, we're making a red velvet cake with blood!' And they're like, 'Chef, how much weed were you smoking?'" said Mar, who insists that she wasn't smoking anything. "I was just like, 'This is crazy and we should do it.'"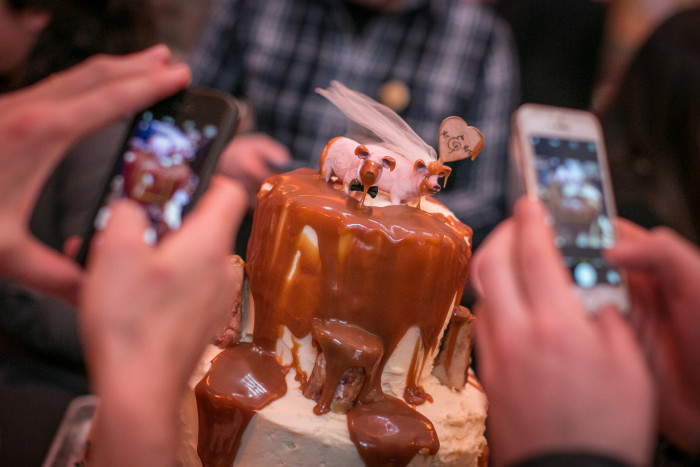 To make the cake, the chef and her team replaced about 70 percent of the usual egg-white content in the batter with an equal amount of pig's blood. For even greater utilization of the animal, she mixed lard into the cream-cheese icing and inserted candied guanciale in the middle of each layer. For added effect, she whipped up a pork-neck caramel sauce, which she ladled on top in front of the judges.
Equally creative: Mar's porky spin on the classic beef Wellington. "It took forever," she said. "We broke down the pig, took the loin, then we cold-smoked it, confited it, wrapped it in trumpet mushrooms and cherries, and then after that, we wrapped it in puff pastry. Then we actually put it back into the rib cage and baked it, which was really exciting."
Other highlights of Mar's menu included some lard-heavy meat pies (a nod to her heritage, she explains; her mother grew up in England and Taiwan), a pork-fat challah bread (the chef herself grew up in a Jewish neighborhood in Seattle) and a smoked bone broth, which one judge declared the best dish of the day.
Given her restaurant's own meat-centric sensibilities, Mar said her team was well prepared for an event like Cochon. "If you've eaten at the restaurant, you know we're all about meat, from start to finish," she said. "Like, I have one fish on my menu, and I cook it in pork fat. So if you're vegan, if you're vegetarian, or you're pescatarian, don't come to the Bea."
Mar is hopeful that her victory will help raise the restaurant's profile and perhaps even help it to transcend some of its old associations. "The Beatrice has been on this upward path, and it's taken us a couple of years to really hit our stride," she said. "It's a historic restaurant. It was a speakeasy in the 1920s, it was an Italian restaurant for years, and then it was the nightclub. It was the club. It was the Olsen twins and Naomi Campbell and nobody cooking in the kitchen. Then it had this reawakening as a restaurant. And it had a really bumpy start. It took some readjusting. We've taken the past two years to acquire this amazing crew. Now there's something really special going on."