Before we met, chef-restaurateur Daniel Castaño and I started following each other on Instagram. So he knew when he picked me up one brilliant morning last month in Bogotá, Colombia, that I'd be feeling a little rough — he'd seen the photo posted at 5 a.m. from backstage at the city's latest late-night club. Lucky for me, he planned to start our food tour at the sprawling Paloquemao food market with the perfect hangover cure.

Castaño, who is 38 and spent 12 years in New York cooking mostly at Mario Batali's restaurants (Babbo, Lupa, Otto), now owns eight places of his own in his native Colombia, most of them in the capital's tony Chapinero Alto neighborhood. However, for my condition he had something more humble in mind, an excellent version of which is available inside Paloquemao, where he'd offered to give me a crash course in Colombian food.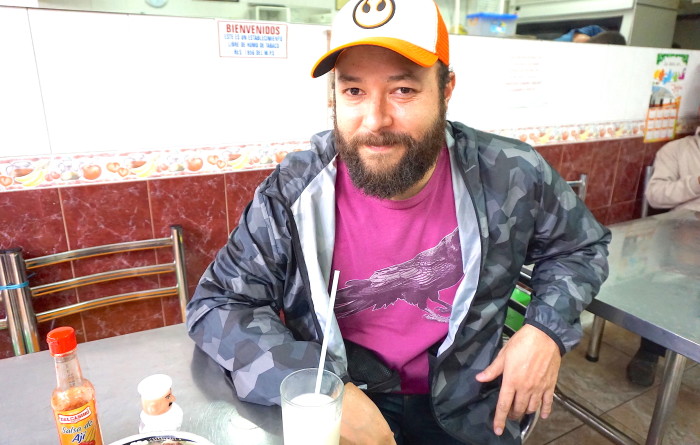 After parking his SUV outside the covered marketplace, Castaño led me to a small, family-run stall deep inside the market. There, he ordered us juice (guanábana for him, orange for me) and a bowl of the short rib and potato soup that's a popular breakfast renowned for its hangover-combating qualities. With the apt nickname levanta muertos ("raising the dead"), this sounded about right.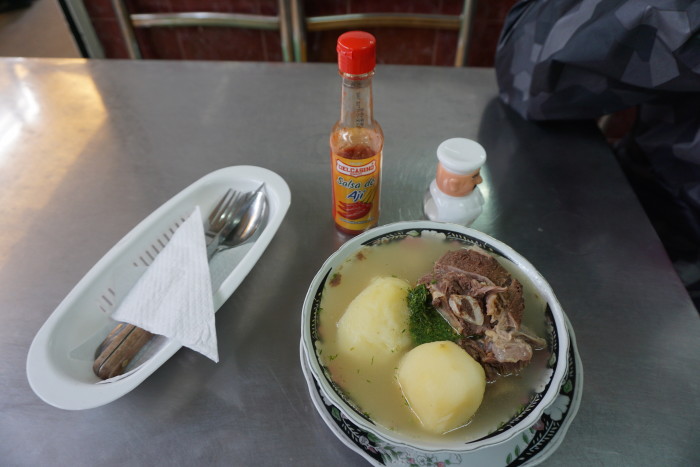 Sure enough, blood began to pump to my brain again as I spooned up the delicate broth, in which floated whole peeled potatoes and a hearty chunk of bone-in short rib. This was knife-and-fork soup. I'd tried this caldo de costilla once before, at a side-of-the-road restaurant, but this tasted way better. A generous dusting of some finely chopped green herb garnished the bowl: cilantro cimarrón, Castaño explained, a variety common in Colombia, whose texture resembles dill.
The chef had already eaten breakfast early that morning with his two young children, a 3-year-old boy and a 9-month-old girl, so he hopped up while I chowed down and returned a moment later with a basket full of carb-y delights. Bless this country. We dug into a warm, cheesy almojábana, a fried sphere made with yuca flour and cuajada cheese; a ping-pong-ball-size corn fritter known as a buñuelo that's especially popular at Christmastime; and a cheesy cornmeal-and-cassava-flour biscuit called pandebono. These are all typical snacks I'd seen around the country, and they're all a sensible part of your Colombian hangover strategy.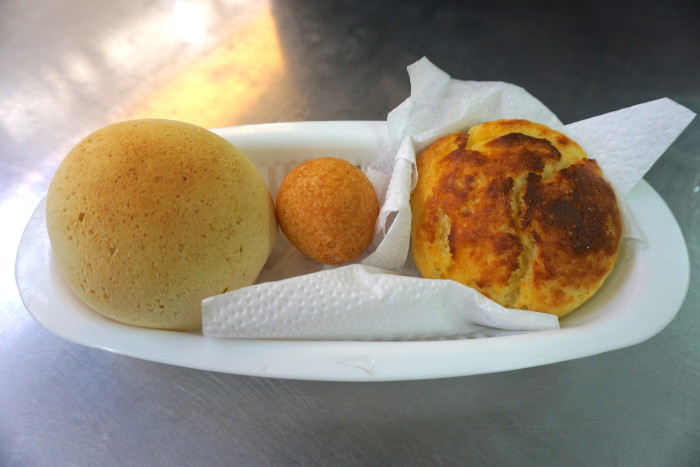 Fortified, we took off on a whirlwind market tour. Castaño has shopped here countless times for his family and restaurants, and he whisked me by his favorite stalls: the best vendor of chilies and Mexican ingredients, the one place in the market to get Asian vegetables and a fruit stand where we sampled Technicolor varieties like lulo and golupa, which don't even have English names since they don't grow anywhere near gringo-land.
As we breezed through Paloquemao's aisles, Castaño stopped to point out some exotic-looking root vegetables that resembled the palm grubs I once chomped in Myanmar. We gazed at pink cubios ("it's in between a radish and a potato"), chuguas ("like a mini-potato") and a few other oddball Andean tubers. "They're weird. It's not for everybody," Castaño told me. "There's a been a big resurgence where the young chefs are incorporating this so it doesn't go extinct." And if you've ever wondered why eggs sit around unrefrigerated in other countries and nobody dies of salmonella, mystery solved: "In the States they wash the eggs; here we don't," Castaño explained. "When you wash them, you're taking away the protective layer," which keeps bacteria out, he went on. "Without washing, they can be room temperature for weeks."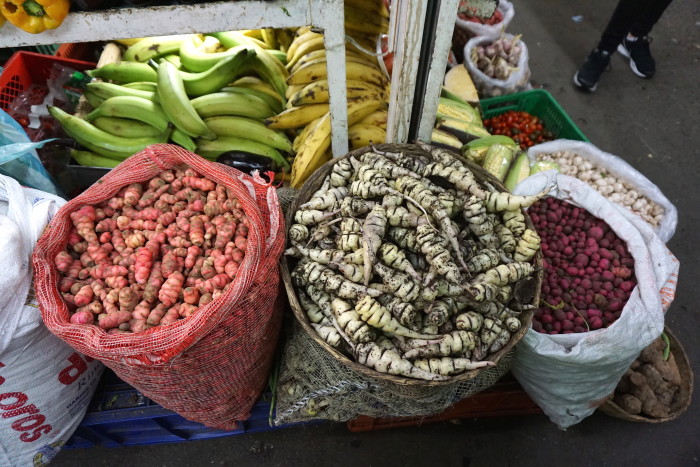 I also learned about Colombian corn, a diet staple with large, creamy kernels. "You find stalls in the street where people are grilling this with butter and salt, and they serve it right on the husks," the chef explained. He noted that the kernels are an important ingredient in ajiaco, a typical chicken soup made with several kinds of potatoes and garnished with avocado, capers and cream. I had tried this soup at Hacienda Venecia, a hotel and plantation in the coffee zone where I spent a blissful few days as part of a tour with Intrepid Travel, and I still dream of it. (Ajiaco is typical to Bogotá and is a must-try in the Colombian capital, or wherever you can find it.)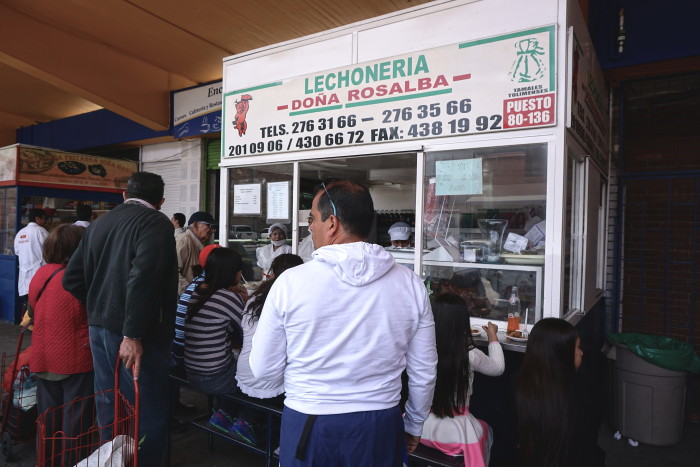 Finally, we'd earned another meal — and a poker beer, because hey, it was past 11 a.m. and this preferred beverage of the pool-hall set is practically water, anyway! Take note, budget travelers: "It's the cheapest Colombian beer, about 60 cents," Castaño said. While we drank this, we jostled over to the crowded lechona stand to order ourselves a plate.
So what is lechona? I hadn't tried it during my previous three weeks in the country, having assumed it was the same as Puerto Rican lechon asado (roast pork). Big mistake! Lechona's name comes from leche, or "milk," because this dish of enormously delicious proportions is made from a nursing mama pig (I know…) whose meat is removed, mixed with rice and other delicious things, stuffed back into the body and then cooked in a brick oven for about 10 hours — until the stuff inside is tender from pig juices and the skin is crunchy. "You have to order it 'con copete' — that's the crispy skin," my new chef friend schooled me. "'Crocante,' the back of the pig, is a prized possession," he added, charming the middle-aged lechona lady into bestowing some upon our plate.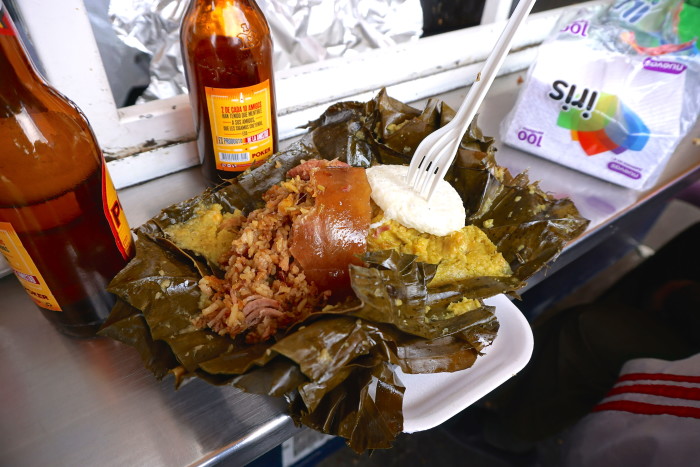 We ate sitting on some nearby concrete steps, adding a little ají piquante, the Colombian version of Tabasco. To go with it, we also got ourselves a tamal from the adjoining vendor. These aren't the Mexican tamales you know, all thick masa inside a corn husk. These were tamales "'Tolimenses' [from Tolima]," explained Castaño. "It's cornmeal mixed with chicken pieces and little cubes of pork fat. And yellow soybeans and rice," all wrapped in banana leaves. "I usually order it with a fried egg on top," he said, adding, "I could die eating this."
I did kind of feel like I was going to die then, so we decided not to have anything else at Paloquemao. Instead, we got back into Castaño's car and drove through the mountainous city, taking a route called Avenida Circunvalar, which offered great views, and finally reaching a part of the Chapinero Alto neighborhood known as the G Zone (for "Gourmet"), where the chef has four restaurants.
First stop: four-year-old Gordo, named for the Castaño family's full-figured bulldog and famous for its burger. This place advertises itself as a "Brooklyn Restaurant" right on the sign, after the borough Castaño called home for 10 years. Not too many years ago in Bogotá, the chef recalled, "you couldn't find a good hamburger to save your life." At this point, he'd already opened Emilia Romagna, in 2008, and Pizzeria Julia (which now has four locations around town) in 2011, and he had something non-Italian in mind, specifically, a place with "good cocktails, a nice bar and a nice hamburger to eat," he told me, while we sat at the long dine-in bar he'd envisioned.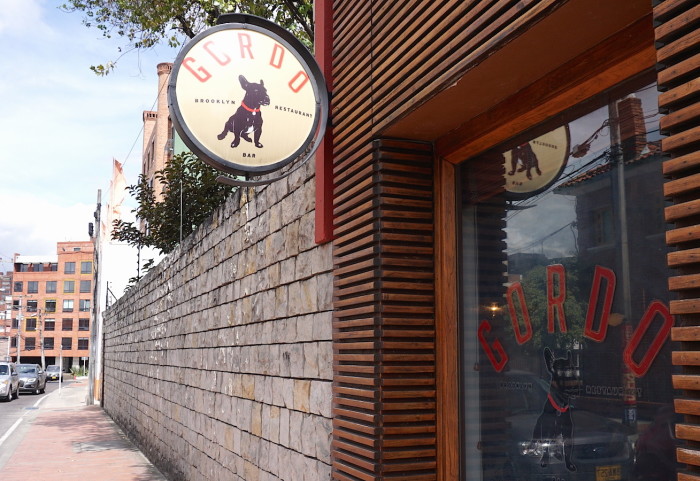 The resulting burger should give you a sense of Castaño's standards. Dude seemed relaxed and was super fun to hang out with, but damn, he's serious about every ingredient. The meat is a blend of fresh (not aged) chest, short rib, and a cut called morilla ("the hump"), which is ground in-house daily and served on a house-baked brioche roll. Garnishes consist of organic lettuce, the restaurant's own tomatoes grown for them on an organic farm and harvested ripe ("that's hard to find in Colombia," Castaño noted), house-pickled red onions, Heinz ketchup, Kewpie mayo and Gulden's Spicy Brown Mustard. Sounds pretty Brooklyn, doesn't it? It also sounds like the makings of an award-winning burger, which it is — the best in town, according to quite a few publications. Unfortunately, this publication can't weigh in at this juncture, since I was too full to burger it up.
I was, however, able to drink. We had margaritas, more savory than usual thanks to a smidge of olive juice, and then some of the house beer that a local craft brewery makes to Castaño's specifications. It tasted light and fruity, like a nice Belgian ale, which makes sense since it's brewed with local peach pits. Fine stuff.
After the boozing and a few pork cracklins, we waddled down the street a few blocks, passing several folks Castaño greeted with waves and hellos. Emilia Romagna has a decided Batali feel, but with more in the way of fresh herbs growing in planter boxes. Like at all of Castaño's restaurants, many things are made in house, from pastas to salumi. Around the corner, in what was originally an alleyway, lies the slice of a restaurant that is the first Pizzeria Julia. This place benefits from the basil grown over at Emilia Romagna and from the San Marzano tomatoes the farm produces, though "they're more Bogoteño," the chef laughs. Are locals into Italian food? "I think the world is into Italian food," Castaño said.
Nonna cooking, pizza, burgers — these are easy sells. But the last place, which opened last year, represents Castaño's biggest risk thus far: Tomodachi, named for his business partner's dog, is the city's first authentic ramen-ya. The narrow 24-seater is no bigger than Pizzeria Julia. It's not packed when we pop in mid-afternoon, but there are a number of slurpers chopstick-ing away at the single row of tables.
There's shoyu and tori paitan broth on the menu, and house-made noodles, plus small plates like dumplings and skirt steak to give people something more familiar to order. Because even in Cosmopolitan Bogotá, this is something pretty new. "It's been really interesting to see people react to ramen," Castaño reflects. "A lot of people see that it's a Japanese restaurant and they ask for sushi. Or they're asking for knives and forks." But then, his other restaurants involved a learning curve for diners, too. "At Emilia Romagna, it was teaching people to eat pasta al dente. Or when we opened the pizzeria, everyone wanted pineapple on their pizza. I feel like we've had that with all our restaurants at their time."
Plaza Mercado de Paloquemao, Calle 19, 25-4
Gordo, Carrera 4A, 66-84
Emilia Romagna, Calle 69a, 5-32
Pizzeria Julia, Carrera 5, 69 A-19
Tomodachi, Diagonal 70A, 4-66