Year five of the San Antonio Cocktail Conference revealed a city at a captivating crossroads. Originally planned as both a charity venture and a showcase of a then-nascent cocktail scene, the festival now finds itself in an on-trend city with more bar and restaurant hype than ever before. The festival did minimal format tweaking this year, choosing to repeat successful gala events from prior years and keeping a lengthy two-day program of seminars and classes. The talent on display in this portion of SACC was formidable, and the enthusiasm infectious. Here are a number of highlights from the talks.
1. Spicy cocktails are getting more balanced and smart thanks to new base spirits.
Austin bar owner Jessica Sanders (drink.well, Backbeat) displayed encyclopedic knowledge of her craft during a talk on the history and future of spicy cocktails. She also surprised the crowd by preparing a spicy "Indochine Gimlet" not with gin but rather with St. George's reasonably new Green Chile Vodka. The vodka's mixture of lime, cilantro, bell pepper and hot chili spice was striking in both spice complexity and balance. Sanders used a locally produced ginger syrup from Liber & Co., lime juice and sprigs of fresh Thai basil with the vodka, for a cocktail that's sure to be a strong seller at her bars and a favorite on Texas porches during warmer weather.
2. While a crowd favorite, spicy cocktails can embarrass a bar (and sicken a guest) if not done properly.
During the same seminar, Sanders lamented the long-common practices of "spicy" cocktail options relying on either muddling raw peppers or utilizing large infusion jars. The reasons to second-guess each were quite different: With fresh peppers, a risk exists for salmonella and E. coli. This can be compounded if the bartender doesn't properly wash the pepper before slicing and muddling it, unintentionally putting guests at risk. For infusions, the grievances were more subtle: If not tasted often and consumed quickly, the results are often poor, especially when done with cheap base spirits. Sanders suggested that bartenders move toward compound syrups, spicy bitters and extracts to exert more quality control while still maintaining a great spice profile.
3. White (Blanche) Armagnac cocktails may make a push to prevalence in the cocktail market.
While the product itself isn't new (it's a favorite regional tipple in the Gascony region of France), a seminar on Armagnac noted that bar demand is spiking for Blanche Armagnac. It isn't like traditional aged Armagnac: It is slightly higher in proof, rested for only a few months and sees no aging in wood. The resulting spirit is floral, rich and sweet, adding new dimensions to traditional cognac cocktails, like the Sidecar, or providing surprising riffs on gin-based favorites, like the Last Word or the French 75.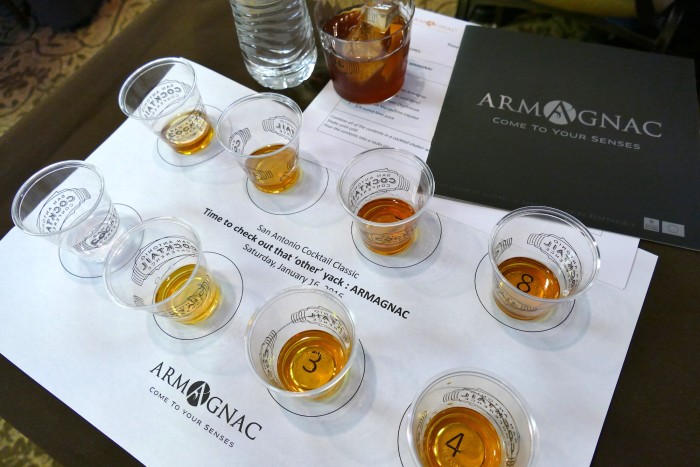 4. Aged Armagnac is also more affordable than you may realize.
Brand ambassador May Matta-Aliah described the marketing challenge of Armagnac competing with heavily funded Cognac labels: "They have Snoop, Ludacris and Jay Z in their crew. I have some friends in the country, like Francois and Benoit." She then made the argument that this lack of market awareness benefits American Armagnac enthusiasts in the form of value pricing when compared to foreign competitors. Some examples that stood out in a strong field were the high-toasted tobacco notes of a Dartigalongue Hors D'Age ($65) and an Armagnac Castarede Reserve de la Famille ($90) with notes of pears, walnuts and spice that many in the room gave "best of tasting" nods to. These spirits may be underappreciated, but they're worth hunting down.
5. Irish whiskey can be more versatile than bourbon in some cocktail applications.
In a talk on "Irish Cocktails That Changed the World," Tim Herlihy smartly acknowledged both the Irish coffee and the highball as reasons for the Irish whiskey industry's survival, but he also showed the spirit's ability to balance big flavors in a cocktail. Notable examples included Manhattan riffs like the Brainstorm (which uses dry vermouth and Bénédictine) and the Tipperary (which pairs the whiskey with green Chartreuse and sweet vermouth). Those seeking less assertive spice and more honeyed and fruit-forward notes in their drinks, take note. The simplest recipe changes can sometimes be the best ones.
6. The Dead Rabbit's Precision Pilot is an all-time great whiskey cocktail.
While many drink enthusiasts know the reputation of classic New York bars like PDT, the Dead Rabbit, and Death & Co., few of them are regulars. The Irish whiskey seminar's conclusion with a Precision Pilot cocktail was a revelation for many: The Dead Rabbit favorite from the spring cocktail menu mixes higher-proof Tullamore D.E.W. Phoenix with Lillet Rose, Campari, Combier Pamplemousse Rose and Peychaud's Bitters. The result has some similarity to the classic Boulevardier, but the grapefruit and floral notes of the accent ingredients make it both seasonal and more approachable. This is the rare cocktail that is worth buying extra ingredient bottles for: It seems impossible to dislike.
7. Home bartenders should focus less on recipes and more on their process and craft.
As a cofounder of both legendary bar Employees Only and the 86 Co., Jason Kosmas keeps a close eye on bartending details. When asked before his "Bartend Like a Jedi" class about what home bartenders do incorrectly, Kosmas didn't opt for easy answers, like prepackaged citrus juice or simple syrup. Kosmas feels the biggest error is personal. "For the home enthusiast, it is important not to be too mindful. Many people focus on the instructions [rather than] the actual making of the drink. It is important to climb into the glass with your nose, feel the temperature changes with your hand, and feel the viscosity lighten as water dilutes. Listen to the shake, and watch the pour! Be in the moment, and try and become fluid with your motions. Every [drink] is an exercise in bettering your craft."
8. When throwing a party, some smart planning can reduce work and improve your experience.
Kosmas also answered another tough question for home entertainers: How to serve great drinks without getting stuck behind the bar all night? His answer: Find a way to keep your guests entertaining themselves. One smart method Kosmas proposed was building a step-by-step instruction table with ingredients and tools at the ready. He proposed the popular Spanish Gin-Tonic as a template: Give your guests a good gin, a tonic, and display a variety of garnishes, fruits, and spices. Said Kosmas: "Inspire them! Allow [guests] to create their own concoctions and flavor pairings. It becomes a conversation piece and is infectious."
9. Mezcal's prolonged boom will continue, with a rising focus as an accent ingredient for smarter palates.
The Esquire Tavern's Houston Eaves continues to preach mezcal's merits through both the Esquire and his work with revered brand Mezcal Vago. When asked for a favorite accent drink, Eaves chose to reconstruct the classic Aviation from the ground up. His "Aviación" is made with a hibiscus-mezcal cordial in place of the traditional creme de violette, and subs blanco tequila for the gin and lime for lemon. "I think the bartenders who understand mezcal best use cocktails as a vehicle to introduce guests to the complex world of mezcal," said Eaves. "It starts a dialogue about the special connection these spirits have to the people who make them and the place they are produced."
10. The cocktail conference's success has quality drinks proliferating in South Texas.
When the SACC was first held in 2012, Bohanan's and the Esquire Tavern were some of the only craft cocktail options in San Antonio. Visiting journalists openly questioned whether the city was ready to host a seminar given the relative scarcity of great drinking establishments. This year, the conference's enthusiasm (along with a host of relocation growth) seems to have reaped big dividends. From downtown-adjacent venues like Irish tavern Francis Bogside and rooftop bar Paramour to smart and focused Olmos Park spots like Mezcaleria Mixtli and Park Social, the cocktails on display were leagues removed from the well margaritas of the aughts. The SACC's message now finally appears to have resonated and amplified within its amiable home base.