How To Start A Food Truck Business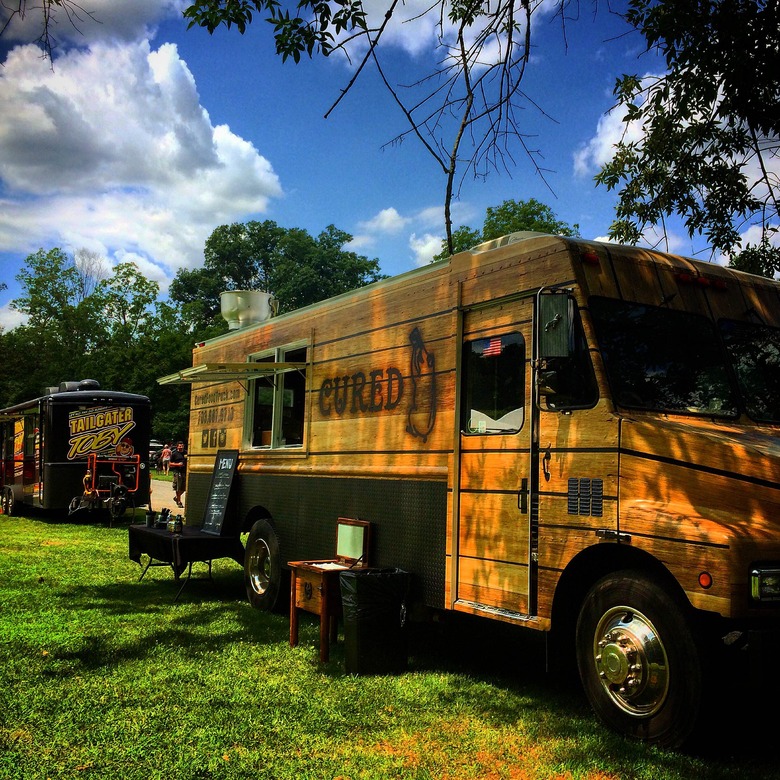 Ed Hardy is the proud owner of a popular chef-driven food truck in the Washington, D.C., area. By that, we mean that Hardy is a chef and he literally drives the truck. Check out his website: Mobile Gourmet Kitchen. And follow him on Twitter: @chefEdHardy.
So. Despite all of my warnings and my cautionary tales of woe in my last article, you still want to start a new career in the exciting mobile food industry. A future where the air is thick with kebab fumes and the hum of generators. Well, if it's worth doing, it's worth doing right, I suppose. Here's how to build a food truck business:
1. Pinpoint a concept.
Every decision about how you build, renovate and finish your truck will be informed by your concept. It's a smart idea to test every part of your menu to see what sells and what doesn't. Also, it will answer questions about cooking time, what type of equipment gets used most and so on. It's a bad idea to approach it the other way and just buy the first bargain-priced used vehicle you see; you'll end up with a lot of equipment you might not need and none of what you do. Every concept presents unique challenges. Coffee truck? You better have storage for a lot of extra water for brewing. Ramen/pho truck? That's a lot of slosh-y liquid — how are you serving it? Pizza truck? That brick oven weighs a ton, and how are you storing the notoriously hard-to-handle dough? If you have a simple enough concept, like hot dogs or lobster rolls, do you even need propane and an exhaust hood when a steam table and a hot plate will do?
2. Decide on a vehicle.
Since the dawn of the food truck species, the answer has been the venerable Grumman Stepvan. It's the gold standard, but also the lazy answer. What about renovating an antique panel van? A used bus? A pizza oven can be mounted on a trailer and towed behind any SUV. Or consider my route of buying a trailer and outfitting it. Although I'm a bit of an outlier in the Washington, D.C., area, I've kind of enjoyed being different. If you have one of the aforementioned simpler concepts, a smaller van will do and allow greater access to tighter spaces.
3. Ask the hard questions.
Who will be doing the work? You? That's funny, I didn't know you could weld. Call me when your truck explodes. There are experts in food truck construction, renovation and repair in many large cities; it's advisable that you contact them. Get two or more quotes! I approached two different operations in D.C. but finally settled on S&L Customs in Manassas, Virginia.
What is the practical range of your operations?
Then double it. It's a mobile vehicle, and it has to travel to make money. If you're looking at a used vehicle, make sure the engine and the drive train are in good shape before you spend a dime on cooking equipment.
Is it too big?
I've seen vehicles lose out on prime spaces at festivals because they can't physically maneuver into spaces. A width of eight feet is more than enough; seven feet is more practical. Trust me on this one — my trailer is eight and a half feet wide. (What can I say? Some are bigger than others....)
Are you spending too much money?
Why do you need three refrigerators? Couldn't you just use a cooler instead?
Where are you sourcing your equipment from?
Many of the guys who build trucks can source equipment, but you'll save money by looking for deals from restaurant supply stores (especially online restaurant supply stores).
Are you cutting corners?
Should you be? Do you really need a ten-foot exhaust hood instead of an eight-foot hood? I've seen trucks and trailers that cost $120,000 that could have cost $60,000.
Do you have access to a commissary kitchen?
Can you afford it? If you're not going to cook the majority of your food on the truck like we do, then you'll need a place where you can bake, braise and wash dishes.
4. Start on your paperwork early.
Ah, the Department of Motor Vehicles: everyone's idea of a good time. What could possibly be better? How about combining the DMV with the Health Department? Great! Let's go ahead and toss in some great ideas from career bureaucrats in the planning commission with no idea of how the private sector works and sprinkle liberally with taxmen and other enforcement officials that nominally have nothing to enforce. Yay! That's the paperwork jungle you're attempting to tackle. Vehicle + Food Operation + Mobile Business that no one bureaucratically understands.
In Northern Virginia, where I'm based, I had to obtain the following:
A Business and Professional License, which required a certificate of incorporation
A Health Department Permit, which required my staff to also obtain a Food Safety Certificate
Zoning Approval, which required some hard-to-understand forms
A separate Mobile Food Vendor's Permit for the Park Authority. (Apparently, the governing county's certifications weren't good enough.)
A Solicitor's license, which is an ancient bit of bureaucratic nonsense that is only applicable to, apparently: (a) food truck vendors, and (b) door-to-door vacuum salesmen. (Thank you, Willie Loman.)
A state tax ID
A federal tax ID
Certificate of Insurance
Certification from the County Fire Marshal
Membership in the District/Maryland/Virginia Food Truck Association (optional)
All of the above allows me to operate in one Virginia county. (Repeat steps 1-5 separately to operate within Washington, D.C., itself.) I'm led to understand that food trucks based in D.C. and New York City have even more hoops to jump through.
5. Make it flow
The arrangement of the equipment is important in the truck because it affects how fast you can serve the customer. Orders and food should move in a circle, from the order-taker in the window to the grill/fry guy to the finisher/wrapper, then back to the window. So make sure to put the fridge for the meats next to the grill, and make sure those condiments can be refilled without swimming past everyone else in the truck.
6. Make it stand out.
Finishing touches are important. I went with a minimalist retro-1950s kind of statement meant to evoke a midcentury Airstream. I avoided the full graphics wrap and saved money. A full graphics wrap will cost you a bit more than $6,000. I spent $2,000 for graphics on all four sides. You could go whole hog and make your truck look very special. No one will ever forget the Maximus/Minimus Truck. The Fojol Brothers have costumes that fit their theme. If you have a bratwurst truck, then consider broadcasting Austrian yodeling music wherever you park. If you have a wing truck, why not have sports highlights on an integrated flatscreen? Above all, don't settle on something boring. "Bob's Lunch Truck" doesn't cut it out there anymore.
7. Don't forget the flooring.
My number one recommendation for anyone building or renovating a truck is: stainless steel diamond floor plate. Easy to clean and impossible to damage, it literally forms the base of my operations. Don't skimp on the floor — it gets dirty when you park at muddy concerts, and you need to be able to clean it easily.
For advice on where to park your food truck to make the most money and other insider tips, check out 10 Things I Learned From Operating A Food Truck.