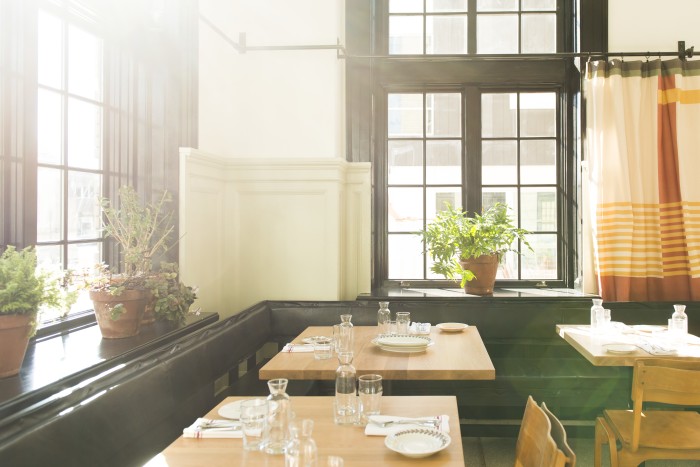 In Hungry Concierge, we travel the world to spot hotels that operate with their guests' food and drink needs squarely in mind — hotels, both big and small, that are located in neighborhoods rich with bar and restaurant options. Because there's nothing worse than having your trip derailed by crummy room service.
It's easy to rest on the laurels of a good name. Unless that is, you forged your name with steel. Pittsburgh, the Steel City — a city that built other cities — has long buckled under the weight of the erstwhile century. Much of the nation's steel came from this river-lined metropolis, until of course, it didn't. When the industry vanished in the 1980s, Pittsburgh was left blighted, more known as a former glory, a cautionary tale for other industrial cities, and no place for tourists.
But now, a new name lands in the city suggesting new blood: Ace Hotel Pittsburgh. Those familiar with the historically hip Ace Hotel brand know its penchant for locales we already want to visit — Seattle, New York, Portland, Los Angeles, New Orleans — and not destinations we didn't even know to visit. Besides Steelers, Pirates and Penguins fans, what cultured traveler needs a room in this insular city?
For the record, Ace Hotel Pittsburgh is just part of the city's comeback. Since the turn of the century, Pittsburgh has quietly, steadfastly shaped its own cultural renaissance. When blue-collar factory jobs grew scarce, Pittsburgh got smart: Tech and medicine supplanted. Abandoned mills and riverfront factories found new life among entrepreneurs opening trendy, ethnic eateries and well-curated shops. A city that waned for decades now embraces a bolstered art scene; world-renowned museums and local galleries abound.
Maybe it's the Andy Warhol Museum in downtown Pittsburgh that will draw you; you want to see those vibe-y portraits in person, right? Perhaps you're more inclined to take to the outdoors, coursing along the city's 20 miles of riverfront biking trails. Or maybe you want to cheer alongside fiery fans at Heinz Field or PNC Park (highly unlikely).
For whatever reason, Ace Hotel Pittsburgh's opening will give you another good reason to stick — and sleep — around newfound Pittsburgh.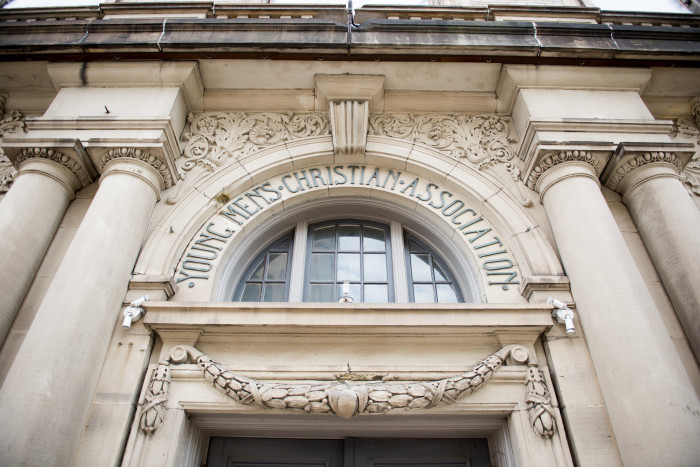 The Look
Located in East Liberty, a neighborhood that even locals still consider to be up-and-coming, the hotel is situated in a squat, century-old former YMCA building. If it weren't for the svelte, often scruffy doormen in baseball caps posted outside the front door, you might pass Ace Hotel Pittsburgh without knowing it was a hotel. The five-story property needed few enhancements to its grand exterior, unassuming among the area's classic architecture (just across the street, the gothic East Liberty Presbyterian Church stands formidable as the tallest structure in the neighborhood).
But just inside, Ace Hotel's deft craftsmanship flexes through the tall, broad lobby, easing a restaurant, reception, bar, Stumptown Coffee Roasters and lounge into one open space. As with all Ace Hotel properties, local nuance is elemental, so nearby artisans were pulled in to lend a hand; tables made of recycled planks from barns in the surrounding Allegheny County are set alongside textiles woven by neighboring artists.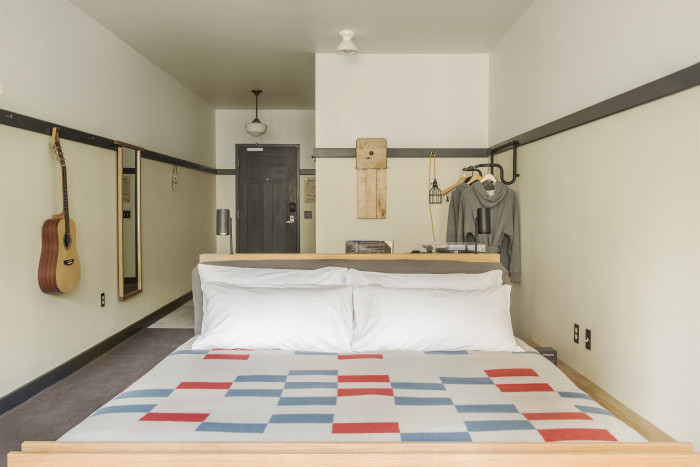 The Rooms
With the door to my room shut, I forgot I stood in a once-upon-a-time utilitarian YMCA. Attention to emollience is explicit in the hotel's 63 rooms, and not just with the Rudy's toiletries in the bath. Formerly harsh surfaces and edges are cozied up with brazenly plush, wall-to-wall carpet, while a custom-made Pendleton blanket on a king bed (a contemporary version of an Amish quilt pattern) is the focal point of the room. Bright woods, cheery oddities like a wall-hanging guitar (not just for show — strum away, musically gifted), and an overall cool palette with warmer strokes (primarily blues with reds) all match the brand's signature aesthetic, a look that's  handmade and impossible to duplicate.
The Neighborhood
Not without its history, East Liberty, where Ace Hotel Pittsburgh calls home, was once a popular retail district. Here, small business largely catered to moneyed businessmen during the city's golden age with luxuries like department stores and proper theaters. The neighborhood declined during the second half of the last century, but history repeats itself, and a scene has blossomed once again.
Pittsburgh's vast cultural palate — which lingers still from an influx of immigrants during its prosperous industry days — is available a stone's throw from the hotel. New staples like Noodlehead dish rustic Thai street food while Nak Won Garden, operating out of a former flower shop, offers Korean barbecue with prime cuts like pork neck and duck sirloin.
Just two blocks away, Union Pig & Chicken continues the city's meaty tradition with BBQ — smoked with local maple and cherry wood — like classic beef brisket, a peculiar smoked meatloaf, and even tofu. Likewise, Eden furthers new grain nearby with raw, vegan dishes like cashew dumplings and enchiladas with cacao chili sauce. African cuisine gets its fill, too, at Tana Ethiopian, an under-the-radar joint where classic split peas and sourdough are served with live jazz on certain weeknights.
In the belly of Ace Hotel Pittsburgh, Whitfield is apposite to the reinvigorated scene. Helmed by a Pittsburgh native — Brent Young, who's also behind Brooklyn's Meat Hook — the restaurant bills itself as a bumped-up local tavern; expertly butchered meats, like pork shank, slip from the bone. By night, rub shoulders with folks from the neighborhood at Kelly's Bar & Lounge. Known as an original Pittsburgh dive bar, the joint has craft cocktails, worthy bar food, and it had it all long before anyone else came to town — especially you.
Ace Hotel Pittsburgh
120 S. Whitfield St.
Pittsburgh, PA 15206
-412-361-3300
acehotel.com
Rooms from $189 per night