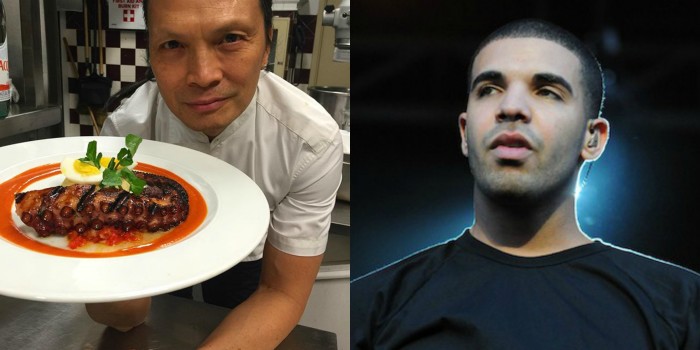 Listen up, Drake fans: Now you know where the Canadian hip-hop star's favorite scallops came from.
In an interview with Canadian Business, Toronto chef Susur Lee discusses his recent business dealings with the popular rapper. Lee and his sons, Levi and Kai, have partnered up with their hometown music hero on a Toronto restaurant called Fring's. "Drake is my sons' friend," Lee tells the magazine. "He's been to my restaurants, he loves my food, and he's such a good ambassador for Canada and the [NBA's Toronto] Raptors. He always talks about Toronto in his music. He has a song where he says something about my scallop dish."
Food Republic's resident Drake expert, Danny Carnaje, identifies the song as "30 for 30 Freestyle," from the 2015 album What a Time to Be Alive, in which the rapper gushes about "some well-done seared scallops that were to die for." (By "well-done," we're presuming he means "well prepared," and not, like, burnt.)
It's not immediately clear which scallop dish he's referring to: Chef Lee runs four restaurants in Toronto, including Fring's, and most of them serve the mollusk in one form or another. At his eponymous restaurant Lee, the chef has a fennel-crusted diver scallop on the menu for $29; at Bent, there's a roasted diver scallop with sun-dried tomato crust for $31; and at Luckee, you'll find quick sautéed scallops with a sweet soya glaze for $24. (No scallops are listed on the current menu at Fring's, strangely; maybe it's a special?)
Lest you think that Drake is just some big-name fanboy who brings nothing but celebrity cachet to a restaurant like Fring's, chef Lee is quick to make note of the rapper's other contribution to the operation. Call it an x-factor.
Per Canadian Business:
What has Drake brought to the business?
I'm in the food industry, so I'm thinking food, food, food. Drake is [great at coming up with] some of these "cool" things. I'm trying to catch on. For example, I said, "What the hell is Fring's? What does that mean?"
So what does it mean?
You'll have to ask Kai. I have to keep that a secret.
I heard it's Drake's nickname for Rihanna.
[Laughs] Maybe.