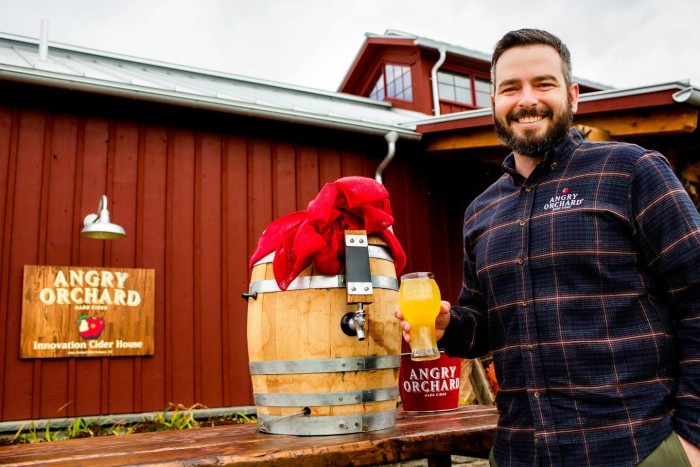 It's a chilly, cloudy day in November, but cider maker Ryan Burk is prepared, dressed in a red flannel shirt and puffy beige vest that, along with his beard, protects him from the winds of the Hudson Valley. He looks très Johnny Appleseed standing among the trees, still hung with apples, while many lie fallen on the ground below.
"Welcome to the Angry Orchard research and innovation facility," Burk says, as my media tour group is led into a room with large fermentation tanks. Given the laboratory-like setting, you might wonder why he's not wearing a white coat. But the flannel is perfect, because the kind of experimentation Burk is doing at the new facility is more like something he might do in his own garage, or like what some other cider makers are already doing: playing around with wild yeast fermentation, barrel aging and bourbon-infused ciders.
Back in America's colonial days, cider was so ubiquitous as to be considered practically the national drink. But its popularity eventually faded, thanks to Prohibition, and later it continued to languish amid the boom in domestic wine and beer production. Now the drink is making a comeback, and at scales ranging from the most artisanal to corporate. This past spring, New York City's first cider-focused restaurant, Wassail, opened its doors to much hype, and for two years now, an annual Cider Week has kept the city's residents tipsy on fermented apple juice. Every passing month, new artisanal ciders appear on the scene, and orchards are being planted all over Vermont and New York — right in the heart of the old cider country.
All of which has prompted Angry Orchard, the country's largest cider producer and a subsidiary of the Boston Beer Company, to rev its creative engine by hiring the talented, young and ambitious Burk. His position involves launching an experimentation program that will offer on-site tastings of special cider brews, carefully observing what people like — essentially, with the goal of making sure the company does not fall behind as Americans become increasingly adventurous cider drinkers. Burk was brought on this past March to shake things up at the company. He grew up in the Finger Lakes area of New York state, ironically in a dry town where people secretly made cider in their basements. Until recently, Burk was the cider maker at midsize producer Virtue in Michigan. When Angry Orchard offered him the position, he saw it as an opportunity to not only return to his roots, but also to take the company in new directions.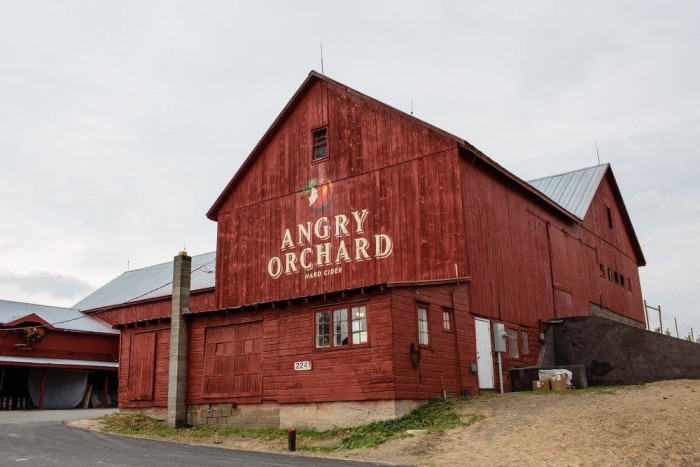 Those new directions include wild fermented and barrel-aged ciders, which are not on the market yet but may be eventually, and a partnership with the United States Association of Cider Makers to create the first-ever cider-training program for sommeliers and other industry professionals. For the barrel-aged ciders, Burk has chosen neutral French oak, which he says matches cider-making, a "more delicate process than wine," as he puts it. We tasted a few of these experimental ciders: one, aged in a muscat barrel and fermented completely with wild yeasts, had a dark golden hue and honeyed flavors; it was unctuous, savory and tannic, a bold and unusual beverage, even for the adventurous palate of a wine and food journalist. We also tried a bourbon-infused cider, which was boozy and warming, with notes of orange zest and wonderful acidity. Not your average ciders, and not what you'd expect from Angry Orchard. But perhaps it is the moment for brewers to seize Americans' interest in craft ciders — and spirits as well — and give them something surprising, rather than same old spiked apple juice.
Burk's forward-thinking approach is actually rooted in an appreciation of cider's history in the U.S. "Without cider," he says, "so many of these varieties would disappear." He's referring to American heirloom cider varieties, which over time have faded from use as companies — Angry Orchard among them — have turned to European countries such as England, France and Spain to source their apples. At the new innovation center, Angry Orchard has taken over an orchard where apples have grown since 1900, one that is run by a fourth-generation apple farmer. The orchard is currently planted with culinary fruit (the kind of apples you'd find in the grocery store) but will soon be partly planted with cider varieties, which are more bittersweet. At the new center, Angry Orchard has also repurposed a picturesque 18th-century cold storage barn, where apples were held after picking until they were ready for fermentation; now it will be used for barrel-aging cider.
Although the season for visiting the new research and innovation center is coming to an end, it will start back up again once the weather is warmer. At the center, you can try whatever Burk is experimenting with at the moment — a taste of possible great things to come. "One of our goals at the Innovation Cider House is to develop recipes that will become part of our family of cider styles," he says. "Once we have something we really like, we'll make it available more broadly."
Angry Orchard's move toward the artisanal and experimental is an interesting example of an industry leader taking a cue from smaller producers, and it's indicative of just how strong the cider revival is. For industry folks, there's some really exciting cider news: The United States Association of Cider Makers, whose board Burk serves on, will offer the country's first-ever cider training course for beverage professionals. The course takes place in Portland, Oregon, in early February, and is designed for distributors, servers and others who are interested in becoming trained experts in all things cider; registration is open now. This is an interesting turn toward professionalizing cider, just when its revival appears to be reaching an apex. One wonders whether cider somms are the next big thing, and if we'll soon be enjoying artisanal cider bottles at top restaurants everywhere, served with tasting notes and descriptions of the apple varietals.